Salespage Snapshot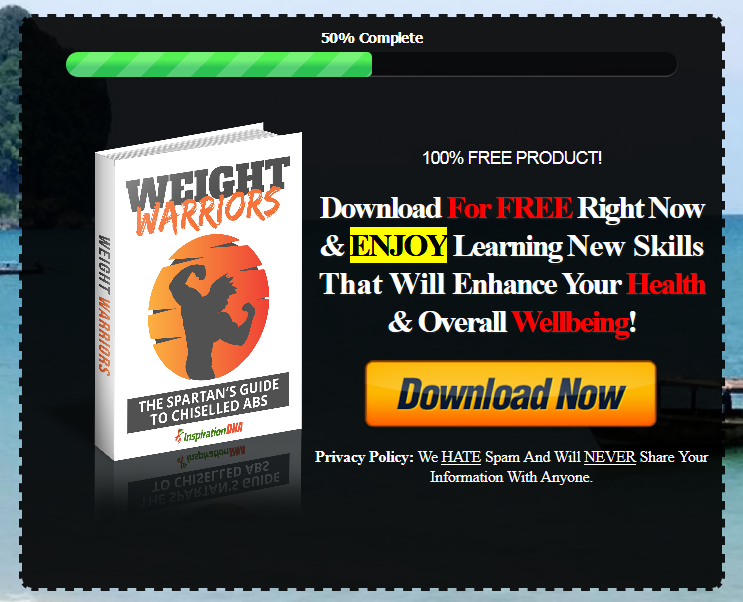 >> Click Here To View Sales Page...
Table of Contents
Foreword
Chapter 1:
Introduction
Chapter 2:
Eating Your Way To Abs
Chapter 3:
The Why Is More Important Than The How
Chapter 4:
Basic Exercises For Beginners
Chapter 5:
Taking Your Workouts To The Next Level
Chapter 6:
Secret Fat Burning Tips
Wrapping Up
Sample Content Preview
Chapter 2:
Eating Your Way To Abs
When it comes to getting those flashy, A-list Abs, is your first choice to jump into that celebrity diet everyone's been raving about? Where all they take is some exotic jungle juice?
Often times a quick five to ten pounds will come off, but then pretty soon your old eating habits come right back because of the drastic changes in your eating habits.
If you're really dead set on knocking off those pounds via a diet, then you must make sure to be very devoted to it. Stick to something that you'll be comfortable with. A Diet is a life-style, not a one-time shindig.
The Food
When you're on a diet, you won't be able to eat a lot of the things that you used to. It's a sacrifice you have to be willing to make, but by the end of the day it's all worth it. But don't worry because the wonderful world of substitutes and alternatives are here to help.
In diets you might consume food you might not like a great deal and don't find comforting or easy to stomach. But that's why you need to have a diet that caters to your dietary needs.
You're going to need to be happy and comfortable with it so that you won't go quitting after a few days. Plus you'll be working out an appetite because of all the strenuous activity, so you've got to love the food.
The very word Diet already calls for a horror movie worthy scream. That's because we have this idea of diets equating to bland food and starvation, which is definitely not the case. A diet is basically just a healthier packed plate with better portions.
Therefore it's time to stop sitting in a party settling for celery sticks while all the other guests are having the time of their lives stuffing their faces with those crab puffs.
It's time to stop hiding from the social scene as food is such a big part of how we interact. When there's food presented that you'd love to eat but can't, simply because of the fear of having to sweat it out somehow while the others don't have to worry about a thing, we feel stripped, alienated, alone and insecure. It's time to stop feeling so because now, we're trying to become better. A whole new healthier and happier person.
Studies have discovered dangers in the yo-yo diet cycle of slimming down. Gaining it back plus a bit more, losing, and gaining again. It's stressful on the body to have wide sways in body weight. We think each time that we might not gain it back, but the statistics show that most of us will. And the idea as a whole is crazy and unsafe.
At the start the diet gives you a feel of control. You're taking control of your eating patterns. You might witness success as the scale drops. But soon you're fighting cravings for disallowed foods, as well as hunger twinges and a lack of energy from the lower calorie level. Finally you rise up against the diet and begin "cheating." And before long you're back to your midnight snacks and old tricks.
A relapse is something we'd all like to avoid.
Your body responds to fewer calories by decelerating your metabolism. Burning fewer calories daily is crucial in maintaining your body functions.
A slow, steady system is best to stick to. Don't rush things as your body reacts to even the slightest changes. Taking care of our bodies is of utmost importance. If you don't impart exercise along with the diet, you'll lose lean muscle mass as well as fat and water weight. When you lose muscle, your metabolic process is slowed even further and you'd have to eat even fewer calories per day to continue to slim down.
It takes a conscious effort to take a step-up with exercise when on a diet. If you don't exercise then you'll fall off of the diet, and dreadfully, the weight will come back on even quicker, as your body is burning fewer calories per day. Even worse, the weight will return as fat instead of the muscle you lost. Your body will look even less lean and healthy as it did before.
That is why every diet needs to have a harmonious relationship with exercise.
Your opening move to improve your health and appearance is to start daily exercise. The exercise doesn't have to be intense. Pick things you would like to do such as walking, biking, or swimming. Gets your body going most days of the week, leaving a day for resting up from all the toning processes your body is going through.
Find a 100-calorie change you are able to make for this week. Perhaps it's drinking one less can of cola daily, or having fat-free milk in your coffee instead of cream.
Grab a baked potato instead of that unhealthy bag of chips, or a small plate of apple and cheese instead of that butter cream cupcake. Make a 100-calorie change weekly for the next 6 weeks and you'll have made a significant alteration in your eating habits.
Don't think in terms of being deprived of the food you love, because instead you are eliminating calories you could do so much better without. By making these alterations, you are able to tip your energy balance to building and upholding lean muscle while burning and dropping off fat. Now isn't that just music to your ears?
This will be gradual instead of dramatic. You will eventually notice clothes fitting looser, your waistline shrinking, and your energy level greater. Time to go shopping for that new suite you've been dying to get into!
Friends who haven't seen you in awhile will be struck by the difference. Best of all, you didn't suffer through a grueling diet, but you fed your body right with better food options and great exercise. Way to go champ!
Chapter 3:
The Why Is More Important Than The How
Now it's time for you to dream up fun activities instead of that super cheesy party-sized pizza. It's a little tricky, so we can start of with an easier request.
When you're thinking about what to have for breakfast, lunch or dinner, it's always good to attach some sort of physical activity that goes along with it.
For example, after dinner you can take a nice walk around the park. Drilling the idea of exercise after meals is vital for creating the perfect mindset to shed those pounds.
Have A Look
Change Thinking Patterns
Physical activity works best when it's a steady part of your life, and exercise at home may be much more convenient than going out of your comfort zone and attempting to find time to get to the gymnasium.
Also, physical exercise is commonly more gratifying if it takes place in a comfortable environment, and what's better than doing all the strenuous activities all in the safety and comfort of your home? Exactly.
When you start off with easy exercising patterns, you will be able to stick with it more readily and move on to more formal physical exertion more quickly.
Many of us are hooked on our automobiles, but if we simply make a little change and ditch our rides and opt to walk there ourselves, we may turn daily errands into a great work out. Instead of driving to the corner food market, why not walk or ride a bicycle?
Try exchanging your regular drive through around town with casual runs and brisk walks instead. Doing so will not only help save a lot of cash for gas but you'll also be helping Mother Nature instead of contributing to pollution. Fantastic, I know.
Take the stairs instead of the elevator in your apartment building. Walk your neighbor's dog. Join a fun run. There are so many fun ways to get fit!
If you have any kids, that's great! Kids love to move and play about. Get your kids walking around with you, and instead of packing the whole family into the mini-van, opt to walk instead. Fresh air and great exercise is wonderful.
Another great way to get as much physical activities in is through multi-tasking. Get yourself a wireless handheld and have a conversation with your friend while lifting weights. This is stealthy and effective.
Tasks that entail standing up, like vacuuming or dusting, don't need to be unappealing anymore. Plan to engage in them a couple of times each day. Utilize ankle weights and take little "walking breaks" to stretch out your legs if you are able to.
Do five or ten push-ups each time you enter or leave a room. Not too long, simply a couple of seconds to get your motor running.
A lot of people view their television set as the foe when it comes to physical activity, but it doesn't have to be that way. Think about the amount of time you spend on the sofa watching television, and then simply have yourself on a treadmill while you're watching. Presto!
Pick a particular show you love, and make it your "physical activity show," which you view while working out. Many shows are available to purchase or rent on DVD, and hour-long programs which last forty-five minutes without the commercials are the perfect length for a great workouts!
Other Details
- 1 Ebook (PDF), 33 Pages
- 2 Graphics (PNG)
- 1 Salespage (HTML)
- Year Released/Circulated: 2018
- File Size: 2,557 KB
License Details:
[YES] Ebook Can be given away against an email address
[YES] Can sell the WHOLE product and keep 100% of the sales
[YES] Can sell the WHOLE product for Resale Rights
[YES] Can sell the WHOLE product with Master Resale Rights
[YES] Can edit the Squeeze & TY + MRR Upsell Pages
[YES] The WHOLE product can be packaged with other products you sell
[YES] The WHOLE product can be offered as a bonus with other products you sell
[YES] The WHOLE product can be added to paid membership sites
[YES] The WHOLE product can be offered through auction sites
[NO] WHOLE Product can be given away
[NO] WHOLE Product can be added to free membership sites
[NO] Ebook can be modified in any way
[NO] Can sell with Private Label Rights