Salespage Snapshot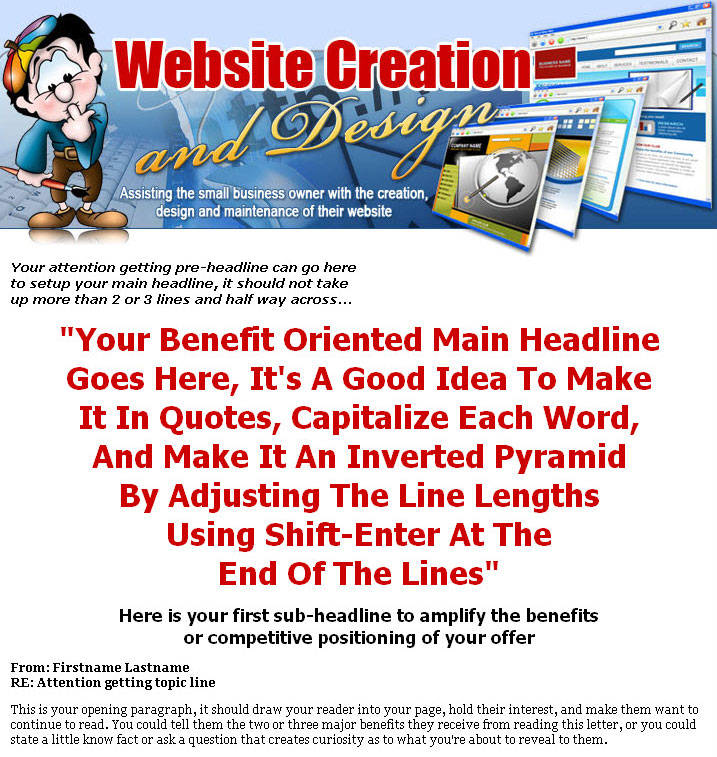 >> Click Here To View Sales Page...
Table Of Contents
How to Choose the Best Website Design for Your Business    3
What's in a Domain Suffix    4
Website Design Terminology    5
CSS Explained    6
Website Designs with Staying Power    7
How Can I Build my Website for Free    8
Six Steps to Website Design for Beginners    9
Dreamweaver or CoffeeCup for Website Design    11
Using Dreamweaver to Create your Site Layout    11
Three Crucial Steps to Creating Your Website    12
Dos and Don'ts of Website Creation    13
SEO Basics for Effective Website Design    14
Ideas for Your Internet Business Website Design    15
Immediately Applicable Design Tips for a User-Friendly Website    16
6 Reasons to Create a Website    18
Common Website Design Mistakes    19
Too Much or Too Little    20
Why Successful Website Development Does Not Stop at Design    21
Ideas for Your Personal Website Design    22
How to Create a Social Networking Website to Enhance your Business    22
Tips for Designing an Affiliate Website    24
How to Use WordPress for your Website    25
Top 14 Reasons to Create a Blog    25
Tips for Designing a Successful Blog    27
More Tips for Designing a Successful Blog    28
Ebook Sample Content Preview
How to Choose the Best Website Design for Your Business
Whether your business has been established offline for years or whether it is a new business altogether, the design of your website must coincide with your overall brand image and sales goals.
Evaluate the Purpose of your Website
The first obstacle in determining your website design is to evaluate its purpose. If you are a retail business, you most likely will need a shopping cart feature. However, if you are a consulting firm, you may only want to list your contact information or an application for service. Evaluating the purpose of your website will help determine the features you need and those you can live without.
Determine the Complexity of your Site
Again, if your business sells many different kinds of widgets, then you will need a shopping cart. If your widgets are self-explanatory, (i.e. impulse items), then perhaps you simply need a page for each category of widget. The page can list each item, a short description, and a link to add it to the customer's shopping cart.
However, if your business is selling widgets which need more explanation, perhaps bigger ticket items, then you might need a single page for each widget. You may even need several pages for each widget's specifications.
Other Details* Sales Page:
Included, HTML
* File Format:
MS Word Doc, PDF
* Number of Pages:
28
* Included Graphics:
Ecovers
* Extras:
eBay Sales Page
* Download File Size:
2,218 KB