Salespage Snapshot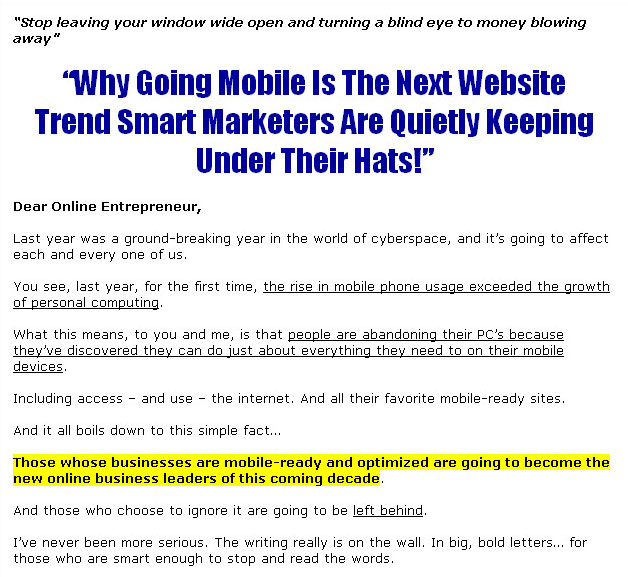 >> Click Here To View Sales Page...
PLR Ebook Table Of Contents
Table Of Contents    3
Section I: The Overview    4
How Does Mobile Technology Actually Work?    4
What Is GSM and CDMA?    5
Thinking Outside the Box    6
Section II: Getting Your Website Mobile Ready    10
Does Your Design Help – or Hurt – Sales?    10
Differences between Mobile and PC Browsers and Operating Systems    13
Easy Ways to `Mobilize' your Site    14
SEO and your Mobile Website    16
What to Do About Network Coverage Issues    18
Section III:  Money Making Ideas    19
1. Become a Mobile Website Reseller    19
2. Create a Strictly Mobile Blog    19
3. Specialize    20
4. Create Websites with Free or Paid Mobile Phone Ringtones    21
5. Create a Mobile Website Blog Specializing in All Things Mobile    23
6.  Build your Mobile Sites around "Most Searched" Information    24
7. Create an eBook specifically for a Mobile reader such as Mobipocket.    25
8. Upload your Podcasts to Mobile Directories.    26
9. Create a Widget    26
10. Make Money with CPA, Mobile Ads and Apps    26
What To Do If you Don't have the Skill to Develop an App    30
Testing your Apps    31
Using Mobile Technology to Attract Customers    31
Mobile Websites and Affiliate Marketing    32
Where to Submit your Mobile Site    34
6 "Mobile Must" Profit Maximizing Tips    35
Sample Content Preview
Section I: The Overview
It's not enough merely to have your own website mobile-ready for contact purposes. You need to look into the many other ways in which mobile websites can help you maximize your profits.  We're going to quickly look at all the ways we can utilize them, and then zero in specifically on ones that you may be less familiar with.
The first and most basic way, of course, lies in making your websites mobile ready, so that people can access your sites and email links just as easily when they're out and about as when they're sitting in front of a computer.
But why stop there and neglect this rapidly-exploding trend, when it's gaining ground over personal computers in leaps and bounds?  People are not going to abandon their mobile devices any time soon – far from it: Mobile usage has increased, and it's here to stay.
This being the case, it pays to examine all the ways in which mobile websites can help you increase your income – and, more importantly, your profits.
How Does Mobile Technology Actually Work?
Before we get into ways to make money with mobile websites, let's hit the most basic high points of how mobile technology works.
First of all, it's wireless. No plugs, no cords. You can take it with you. In your pocket, most of the time.
Other Details* Sales Page:
Included, HTML
* File Format:
MS Word Doc, PDF
* Number of Pages:
36
* Included Graphics:
Ecovers, PSD
* Extras:
5 Followup Emails
* Extras:
Promo Email
* Extras:
Affiliates Programs
* Extras:
Articles
* Extras:
Squeeze Page
* Extras:
Blog Posts
* Extras:
MS Word Doc, PDF Report
* Number of Pages:
10
* Download File Size:
29,401 KB