Salespage Snapshot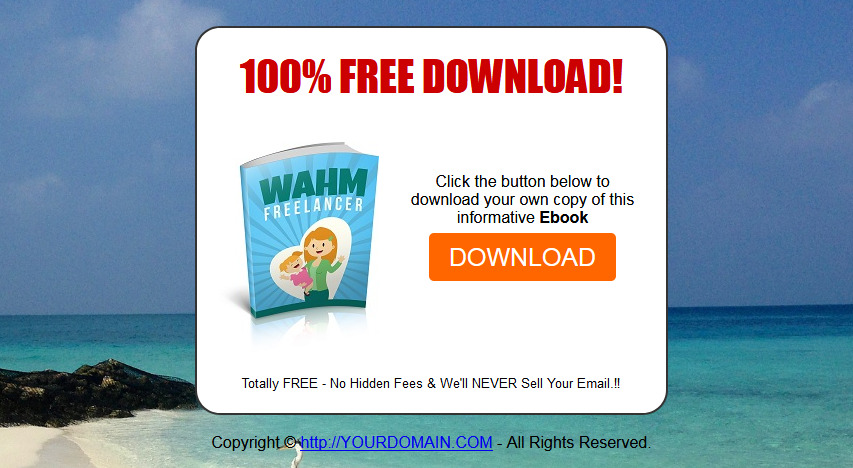 >> Click Here To View Sales Page...
Table of Contents
INTRODUCTION …… 5
CHAPTER 1: DO YOU WANT REALLY WANT TO BE A FREELANCE CONTRACTOR? …… 11
DO YOU RESEMBLE THESE REMARKS? …….. 11
SO YOU WANT TO BE YOUR OWN BOSS …… 14
HOW YOU ACCEPT MONEY CAN IMPROVE YOUR IMAGE ……. 17
CHAPTER 2: YOUR ONLINE CASH REGISTER …… 19
HAVING DOUBTS ABOUT YOUR MARKETABILITY? ….. 22
Who are these freelancers? How do they become rich? How do they find their clients? …. 23
FREELANCE DOING WHAT? … 24
CHAPTER 3: WHAT ARE JOB BOARDS – HOW DO THEY WORK? 26
FREELANCER: PROVIDING JOBS TO FREELANCE ……. 28
Writers Around the World …. 29
1. RENT A CODER? WHAT'S THAT? . 29
2. A COMMUNITY OF BUYERS AND FREELANCERS …. 30
OPEN YOUR EYES TO THE PROFIT POTENTIAL OF THIS JOB BOARD .. 30
1. How Much Can I Make? … 30
2. How Does The Money Change Hands … 31
3. It Is A Simple System ….. 31
5. Getting Jobs Is A Simple Process …….. 33
6. Beating Out The Competition ….. 33
Example . 42
Do You Have Voice Over Esperience? …… 42
ELANCE – SOUNDS LIKE AN ELECTRONIC WEAPON? MAY BE! ……. 43
I. Registering To Bid .. 43
II. The Upsides For Members …….. 45
Additional Benefits For Pros . 46
III. How You Get Work …….. 47
IV. Starting Out On The Right Foot 47
Heads Up Tips – Starting Out On The Right Foot 48
V. Ways To Get Work Consistantly . 52
Example . 54
Internet Freelancing: How to Subcontract Jobs for a Profit …. 54
SUCH IS THE BEAUTY OF ONLINE FREELANCING. ……. 56
CHAPTER 4: SUBCONTRACTING TO OTHER FREELANCERS 58
1. YOU HAVE TO HAVE THE SKILLS .. 58
(a) Better Than Standard . 58
(b) Keeping Yourself Covered …. 59
2. YOU'LL NEED A POOL OF SKILLED SUBCONTRACTORS….. 60
3. BE A SHARP BUSINESS PERSON … 61
THREE CONSIDERATIONS TO SUBCONTRACTING …… 62
1. Be Detailed In Your Job Descriptions … 62
2. Don't Underestimate Yourself Or The Job …… 64
3. Building Your Pool Of Subcontractors ……. 65
4. Keep Your Customers Coming Back 66
CHAPTER 18: MINIMIZING ALL COSTS FOR MORE PROFITS 68
COST OF DOING BUSINESS …. 68
AVOID IMPULSE BUYING ……. 68
CUTTING COSTS ……. 69
IT ALL ADDS UP ……. 70
Try to negotiate for prices. .. 70
Uncle Sam's cut! ……. 72
CHAPTER 20: PROFESSIONALISM GETS YOU MORE BUSINESS 74
STAY ON TOP OF YOUR GAME 74
TOO MUCH CAN SIMPLY BE TOO MUCH ……. 75
MAKE THIS WORD PART OF YOUR VOCABULARY …… 76
COLLABORATING ON A JOINT VENTURE ……. 77
STAYING ON TOP OF YOUR WEBSITE 78
Pretty Is Nice But Speed Is Better . 78
THANK YOU FOLLOW UPS ARE A PROFESSIONALS SIGNATURE MOVE 80
MAKE CASH FLOW KING IN YOUR BUSINESS . 80
Sample Content Preview
However, there is another unspoken caveat that's becoming more essential than ever: If you sell online, at eh very least, you must accept credit cards.
Many of today's Internet consumers are used to the ease and convenience of paying with credit cards online. For these 'net-savvy buyers, the inability to pay with a credit card is a deal-breaker. They don't want to bother writing out a check or a money order and mailing it to destinations unknown, then waiting six to eight weeks for their services to be rendered.
Instant is in, and the more purchase options you can offer, the more buyers you will get. So being able to accept credit cards is ABSOLUTELY mandatory. However, there are other ways of accepting payment you don't want to overlook. I'll get into those options later.
When e-commerce first took off, there were several security concerns among consumers and businesses alike. Scams and cyber-crime made buyers wary of entrusting their credit cards and bank account numbers to websites. Now, more people are buying online than ever before, and improved security and encryption processes are keeping financial information safe. Today credit card purchases online are literally more secure than off line where a card can be swiped by hand in the case of a crooked employee or literally stolen out of thin air through major stores with payment terminals set up on wireless networks.
If your website does not at least accept credit cards, you could be missing out on a huge amount of business. What are you waiting for? Now let's take a look at who's making money and why.
Having Doubts About Your Marketability?
Are their times you have some apprehension about your marketability? Do you wonder if you have what it takes to do freelance work? Do you wonder if you have what it takes to project the image of a professional business person in the online world?
The best part of freelancing is that there is a niche for almost every skill. If you are good the demands upon your skills will be greater than the supply you can produce. Through the use of this book, you can identify your skills and make the most of them for the greatest profit.
Why is freelancing so lucrative but can be so much more so if you are perceived as a real professional? Companies are outsourcing more and more work every year. Other individual business people like yourself in different markets but that may require your services are growing almost exponentially in the last 5 years primarily due to the Internet.
It is much more cost effective for a company to outsource work to a free agent than to pay and maintain one full time employee. A company can find the right professional for a particular project rather than relying on a few employees who may not have the expertise needed to complete the project.
The people who are making money are those who market themselves and develop working relationships with companies and long term clients.
Who are these freelancers? How do they become rich? How do they find their clients?
In future chapters you will discover how to make contacts and find freelance jobs. The immediate answer is technology. The days of typewriters are all but gone. The days of waiting for a response from a client by postal service are gone. We live in a world of modern technology. Documents can be written, saved, and transmitted over thousands of miles in just a few short seconds. Words can reach thousands of people instantly. And I'm not just talking about email. In fact, you can chat online with clients on a real time basis or literally set up real time video conferences. Information is easy to find, store, and send. That is why you can live anywhere you like as a freelancer. You are not confined to any one geographical address as long as some type of internet access is available. (Preferably high speed.)
Another advantage of modern technology is the ability for freelancers and their clients to find one another. There are many websites where a client can post a job and a freelancer can instantly respond to it. Again, geographical distance is not an issue. A client can be in Japan and the freelancer can be in sunny Florida and they can have a successful contract agreement. The answer to global connections and opportunities is technology. This allows a freelancer to work for clients around the world. This opens a multitude of opportunities to find freelance work.
But this technologically advanced time we live in can be a double edged sword. At the same time technology is allowing customers to find us and hire us, customers look for the freelance contractors to be technologically advanced enough to not only provide top quality service but they want to deal with contractors that are willing and able to work outside the confines of a job board like Elance or Freelancer and accept payment any way the buyer wants to pay.
Other Details
- 25 Articles (TXT)
- 1 Ebook (PDF), 60 Pages
- 1 Squeeze Page (HTML)
- 2 Ecovers (PNG)
- Year Released/Circulated: 2018
- File Size: 2,139 KB
License Details:
[YES] Can sell and keep 100% of the sales.
[YES] Can edit the squeeze page.
[YES] Can be bundled into another paid package and sell at a higher price.
[YES] Can be used as a bonus to another product you are selling.
[YES] Can be sold in a Dime sale event.
[YES] Can be added into a paid membership site.
[YES] Can pass on the Master Resell Rights privilege to your customers.
[YES] Can be given away for free AGAINST an email address (lead generation)
[NO] Contents of the product can be edited, modified or altered.