Salespage Snapshot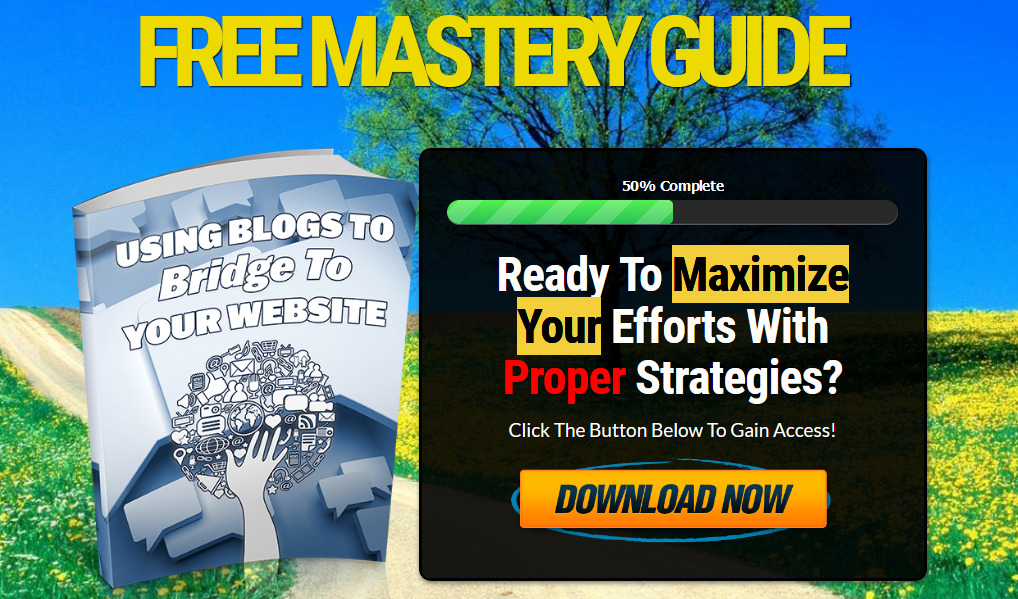 >> Click Here To View Sales Page...
Sample Content Preview
Grabbing Traffic From Third Party Sites
Once you've set up the blog and understand how you will take people from there to your website pages, either via links in your blog posts or sidebar, you still need to get people to visit your blog from other third-party sites. And, which third-party sites should you try to get a web presence on? Let's go over a few of the different places you can begin to cultivate a web presence for the purpose of grabbing traffic, and how to use each one with your blog to lead people from that area to your own. Other Blogs
Once you've set up a blog, the natural place to start looking for traffic is other more high profile blogs in your market niche. If you don't know who these people are, you need to visit Technorati.com and put in a few keywords that are in your market niche to determine who the big players are. You should make it a point to build a list of blogs that you can add to your blog roll and see if by doing so, they add you to their blog roll. The blog roll is a list of blogs that other bloggers recommend and by getting added to a blog roll on a popular blog, you'll automatically get more traffic from the target niche that you've selected.
Another way to get more traffic from blogs is to comment on the top profile blogs and leave a link to a blog post that addresses some aspect of the post. This way you play off on an already popular topic and you contribute to the conversation too. It's not considered spam to put your URL in a comment if it points to something that contributes to the conversation, not just a sales page. Again, you are using the bridge of your website to grab eyeballs and then once they get to your blog, you can market them there.
Finally, you can also go to blog communities like WordPress.com and look on their featured stories and categories. Find one or two blog postings that you can reply to and contribute to the conversation. Once these blog posts are put on their featured page, you will get a lot of traffic if you post something interesting with a link back to your own blog. Since you're dealing with people who already to subscribe to blogs, it's a natural for increasing your blog subscribers too.
Digg.com
Digg is a social news site where people submit stories and other people vote on them. The more popular the news story becomes, the more it is highly ranked by Digg. It can even land on the front page of Digg, which will provide a megaboost of traffic for anyone who happens to land there. You can submit your story to Digg and get your friends and associates to vote for it. It can be a story you put on your blog on a popular subject. It doesn't matter than you're not an expert, as long as you can talk about the subject intelligently and make the story entertaining. If you know what subjects are generating controversy on the web, those are always a good subject to try to get into Digg, just be careful not to draw negative attention to your blog instead of positive attention.
Social Bookmarking Sites
Delicious.com is social bookmarking site that allows you to add different pages of your blog to a site where others can view it. Just be sure to use a permalink to a particular story, and not the entire blog URL. That way, you can tag each story with different tags and people will be able to zoom to them when they search the social bookmarking sites. There are many different social bookmarking sites, like Reddit too. They tend to have a large number of people and can be searched very easily.
Social Networking Sites
Facebook and MySpace are two examples of social networking sites. These sites tend to have strict rules about what you can post online on your profiles. Facebook, in particular, does not want people using their profiles to spam or soliciting other people on their business offerings and this activity can get you banned. However, there are ways to mine the rich vein of users that come to social networking sites to mingle online.
First, you will have to set up a profile with your own name, not your business name. You can put up a Facebook page for your business, as a newer feature for those people who are trying to use Facebook to market. However, the Facebook profile should be all about you, not your business. There is an area in your profile where you can list your URLs of interest, and that's where you can add some of your business sites.
The key to Facebook is to join in the casual atmosphere and network your way to more contacts. You can do this through groups, pages, friends, and networks. You should try to meet people who are in your market niche, but not to solicit them directly on Facebook. Instead, you can email and network through different commenting areas to get people interested in your blog. There are different applications that can help you insert your blog into your profile too.
There is a Blog Network application, now formally called NetworkedBlogs, that allows you to post your blog, claim it, and get people to become a fan of it. You can network with other bloggers on Facebook too, by visiting their blogs and becoming a fan of them too, since it lists them too. It allows you to see blogs in your category fairly easily and to promote your blog to readers through the network. Send them a friend request to anyone that becomes a reader, to any other bloggers in your market niche, and now you have access to some of the audience that is in your market niche.
When you comment on the wall of people you have friended, all of their friend's will see your comment and it can lead them to your blog. Just be careful not to spam their wall and make any comments relevant and not a solicitation. The blog network will take them directly outside Facebook to your blog and provide a steady stream of new people looking at your blog who are involved in your market niche. It's actually pretty simple when you know what applications to use.
Another great feature on Facebook is the ability to create a page for your business, a brand or product, or if you are a performer, you can create one as an artist, band, or public figure. The difference between a Facebook page and your profile page is that you are allowed to actively promote your business on the page, but not the profile. And, your profile is limited to 5,000 friends, whereas the Facebook page is not. Some people even create a page for themselves when they hit the 5,000 friend limit, so they can continue to network on Facebook and add fans, if not friends.
Another feature is groups, where you can add a group on any topic and get people to sign up. Like the Facebook page, people will become a fan and then you have a captive audience there. You may not have their email address, but it's the perfect place (both on the page and in the group) to promote your blog and get many people to go from Facebook back to your bridge, so that you can start to collect their email addresses.
The funny thing about Facebook is that they are super paranoid about having marketers harvest emails. So, they don't add the email contact information in as text, it's an image. You can write the email down for each friend that you have, if it is showing in their information tab, but even sometimes it's not there either. So, it takes a bit of work to collect an email list from Facebook and if they catch you spamming or soliciting people with it, you risk losing your account. The smart way to do this is to simply entice them off Facebook back to your web log, where you have an offer that gives them something for free for providing their email. And, since Facebook has a culture of non-commercialism, the blog is a perfect intermediary step from Facebook to your sales page eventually. If you were to link in to the sales page directly, you might end up being banned by Facebook or at least dropped by a few friends. No one really wants to be marketed harshly on Facebook, and it takes some finesse to get people to trust you enough to buy from you. So, don't spoil it by being overenthusiastic with your business on Facebook. Master the art of the soft sell, and use an intermediary space to set the stage for your marketing offer.
Other Details
- 1 Ebook (PDF), 13 Pages
- 1 Squeeze Page (HTML)
- 2 Ecovers (PNG)
- Year Released/Circulated: 2020
- File Size: 3,275 KB
License Details:
[YES] Can sell and keep 100% of the sales.
[YES] Can edit the squeeze page.
[YES] Can be bundled into another paid package and sell at a higher price.
[YES] Can be used as a bonus to another product you are selling.
[YES] Can be sold in a Dime sale event.
[YES] Can be added into a paid membership site.
[YES] Can pass on the Master Resell Rights privilege to your customers.
[YES] Can be given away for free AGAINST an email address (lead generation)
[NO] Contents of the product can be edited, modified or altered.