Salespage Snapshot: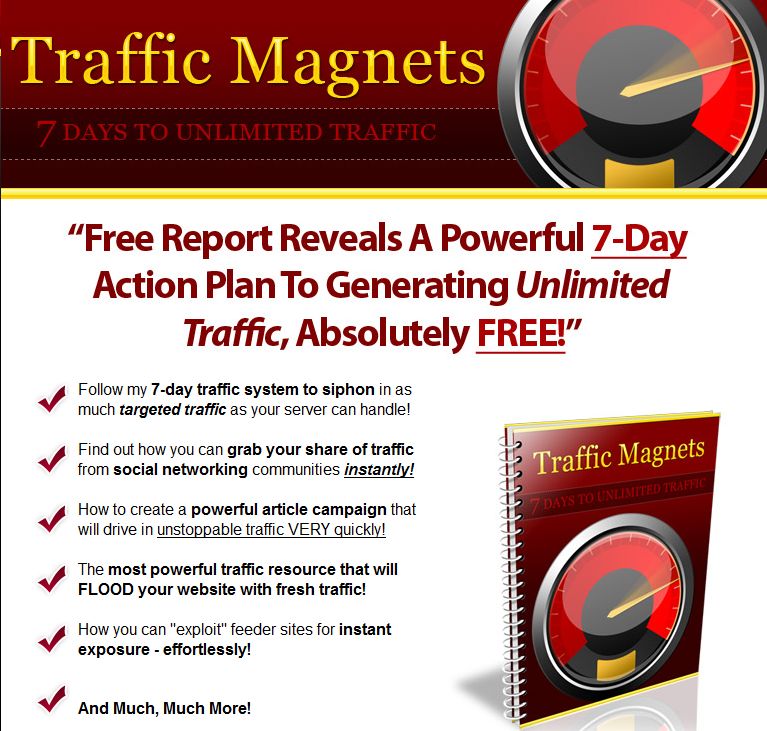 >>> Click Here To View Full Sales Page…
Table of Contents
Feeder Site Traffic … 3
Generating Traffic From Authority Blogs . 8
Traffic From Online Directories ……. 9
Quick Traffic From Free Download Sites …… 10
Social Bookmarking for Traffic …… 11
Quick Traffic From Online Forums 12
Sample Content Preview
There are two types of linkwheels, in general – open linkwheels and closed linkwheels. While this may seem complicated all it really means is that with open linkwheels you create sites that all link to each other.
For example (closed linkwheel)
Site A links to Site B | Site B links to Site C | Site C links back to Site A With open link wheels there is no closing, so your wheel might go something like this:
Site A links to Site B | Site B links to Site C | Site C links nowhere With each feeder site, your objective is to create simple webpages that incorporate your primary keywords into both the page titles and the content itself. This will help you rank within the search engines, attracting organic traffic.
For sites like Squidoo, you also want to inject 'tags' into your pages (known as "lenses").
You can build as many lens pages as you wish with Squidoo, and each time you create a lens page, you will be given a unique URL that leads visitors to your pages. You should always focus on incorporating your keyword phrase into your Squidoo lens URL.
Your URL should also include your most relevant keyword phrases as well. This URL can't be changed at a later date, so be careful with what you choose. (You can however, change your Squidoo page's title at any time). Tip: Some marketers are using Squidoo lenses as squeeze pages as well, since they allow you to implement your autoresponder code directly into your lens pages.
Another similar service that allows you to develop one-page websites that rank heavily within the search engines is available at www.Hubpages.com With Hub Pages, you can also earn revenue from different add ons that you decide to implement, but are also able to add tags to your hub pages for better ranking within the search engines, as well as within the HubPages community itself.
Two other exceptionally valuable feeder sites are found at:
http://www.Blogger.com http://www.Wordpress.com
You can also connect your Squidoo lens to your Twitter account, so that whenever you update your Squidoo lens with fresh content, you can instantly send out a tweet from within the Twitter community, informing your followers that you have recently updated your lens. This is a great way to cross promote your social marketing activity.
Both of these services provide you with the option to set up free, remotely hosted blogs, and by doing so, you can generate an instant authority back link to your own website, while maximizing exposure from the high ranking both of these sites hold within search engines like Google.com
Tip: Once your linkwheel is set up, make sure that you ping each individual website URL by visiting http://www.Pingler.com
Generating Traffic From Authority Blogs
When it comes to adding comments to popular blogs as a way of generating a back link to your website, you want to ensure that your comment is useful or informative, so that you don't run the risk of having all of your comments removed by the blog author.
To determine whether a specific blog will count as a link back, you can download the free Firefox plugin at: http://www.quirk.biz/searchstatus/ It's also important to use anchor text within your blog comments, especially if you want to rank for various keyword phrases.
For example, if a blog or website is linking to you, rather than feature a link like this:
Traffic Magnets Page 9
You would want to use something like this:
Traffic From Online Directories
With online directories, you can add your website into specific categories and instantly establish traffic (and backlinks) to your website, just be careful not to over-do it!
You want to develop a natural back link campaign, so that you are not penalized by the search engines .
A few directories to consider are:
http://www.DMOZ.org
http://www.Lii.org
http://www.Info-Listings.com
http://www.Buzzle.com
http://www.MasterMOZ.com
http://www.maxpromo.com
You can also hire a service that will submit your website into specific directories. Just be sure to provide a listing of relevant categories that you would like your website to be submitted to, as well as a keyword list to be used with anchor text.
Here are a few services worth checking out:
http://www.blendz.net/
http://www.directorysnob.com/
Quick Traffic From Free Download Sites
The easiest way to kick off your campaign and gain quick exposure is by uploading the new report or ebook to free ebook directory sites, including:
http://www.Tradebit.com
With Tradebit, you can instantly upload your PLR ebooks and start selling or distributing them for free. You can also connect your Tradebit account with eBay, Myspace and even Facebook.
You also want to upload your ebook to www.Scribd.com which will begin to generate free traffic almost instantly.
With sites like Scribd, just make sure that you include relevant tags and keywords with your ebook listing so that people browsing the site are able to find and download your ebook based on keywords entered into Scribd's internal search option.
Another fast and easy method of generating mass exposure for your private label ebooks and reports is by uploading it to http://www.Docstoc.com
Here is a listing of other ebook directories:
http://ebookdirectory.com/
http://www.ebookslibrary.com/
http://www.ebookjungle.com
http://www.ebookbroadcast.com
Social Bookmarking for Traffic
With social bookmarking, you can easily generate traffic to your website, by submitting your website URL into social communities like www.StumbleUpon.com or www.Digg.com which allow users to share their favorite sites with other members of the community, as well as post comments regarding the website content.
Here are the top social bookmarking websites for generating fresh back links to your site. All of these contain DO follow, ensuring links leading to your website will count within the search engines as a valid back link:
1 – http://slashdot.org (PR9)
2 – http://digg.com (PR8)
3 – http://technorati.com (PR8)
4- http://www.furl.net (PR7)
5 – http://www.backflip.com (PR7)
6 – http://www.hugg.com (PR7)
7 – http://www.mixx.com (PR7)
8 – http://ma.gnolia.com (PR7)
9 – http://www.connotea.org (PR7)
10 – http://mystuff.ask.com (PR7)
Quick Traffic From Online Forums
One of the easiest methods of building back links to your website, while exploring potential product ideas, evaluating niches, and communicating with your target audience is by spending time in forums and community boards that are focused on your market.
Other Details
- 1 Ebook (PDF, DOC), 13 Pages
- 7 Part Autoresponder Email Messages (TXT)
- 1 Squeeze Page (HTML, PSD)
- File Size: 3,991 KB