Salespage Snapshot: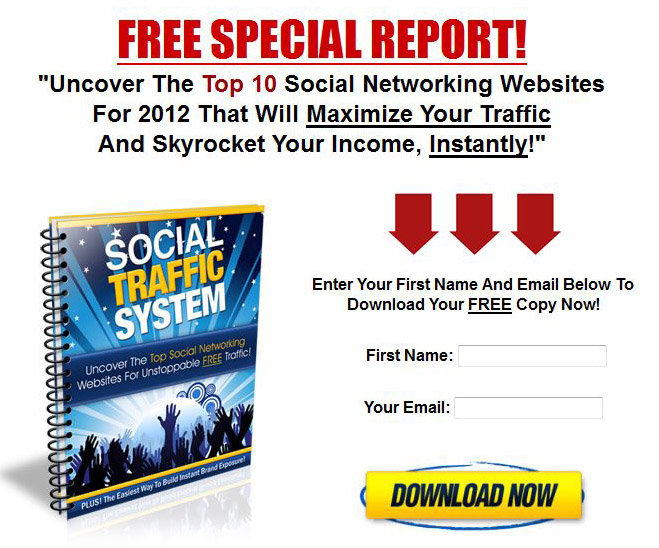 >>> Click Here To View Full Sales Page…
Table of Contents
Edition .. 3
Top 10 Social Networking Websites for Your Business ….. 5
Last Minute Tips …………. 19
Social Marketing Resources ……. 21
Sample Content Preview
Market Research
With just a few clicks, you'll be able to record an ongoing log of traffic, just by browsing through your data feed and active conversations that take place every day within social media networks!
You can easily find out what the hottest products are, shifts in market trends, keep tabs on upcoming launches, explore potential networking opportunities and maintain a steady pulse on what is important to your market, and what isn't so that you can build better, smarter products.
These are just a few of the many benefits you'll receive by becoming a part of the leading social media networks. The only downside to social networking is that it can take up a bit of time developing accounts, and keeping them up to date which is an important part of maintaining an active conversational stream with your audience.
To save you time, we've created a complete overview that outlines the leading social media websites online and how they can help you maximize your business's exposure and your profits.
Top 10 Social Networking Websites for Your Business
Facebook | http://www.Facebook.com
Facebook continues to be the first choice for online businesses and marketer's who wish to maximize their exposure and connect with their target audience quickly, and easily.
Facebook is the leading social networking site amongst business owners with more than 840 million users active on site. This social utility makes it easy for you to build brand awareness, connect with your target audience and open new channels for potential joint venture opportunities.
What is most exceptional about Facebook is in just how customizable your account is. You can create "fan pages" (otherwise referred to as "like pages, fan gates and customer portals") where you can build a loyal following of customers and contacts with enhanced entry pages.
You can also offer discounts and coupon codes available only to your Facebook contacts, making it easy to build a large business following. The key is to get personal with your audience and to actively look for ways in which you can truly form a connection.
FB Income System available at http://FBIncomeSystem.com reveals a powerful system to maximizing your income with shocking Facebook marketing strategies, which will work for any online business (even if you are just starting out!).
And if you're interested in hijacking premium traffic from Facebook that will instantly skyrocket your income, you will want to visit http://FBTrafficJacker.com for a powerful underground strategy to blasting unlimited traffic to your website.
Remember, some of the most successful Facebook marketing campaigns are those that offer a more personalized experience, sharing information, current events, news and announcements that offer a blend of personal and business updates.
Twitter | http://www.Twitter.com
Twitter remains one of the leaders in social networking by offering users a microblogging system where you can post short messages and updates to all of your contacts. Its interface is simplistic and you can build heavily targeted campaigns around your market quickly and easily, even if your business is still being developed.
Twitter also integrates with every type of website, from blogs to static websites where you can add your twitter updates and attract new followers by simply adding your twitter feed into your website's navigational system.
Since twitter works on a microblogging basis, it doesn't take a lot of time or effort to keep your account active. Just by posting quick updates, news and important information within your market, you'll be able to keep a pulse on your industry while continuing to further your brand.
Features:
· Quick and easy set up. You can build a fully customizable profile page for your business in a matter of minutes.
· Easy demographic targeting. You can find relevant contacts and people interested in your market using their powerful on-site search utility, or by importing your existing email contacts.
· Easy to maintain. You can post quick updates and up to the minute news in a matter of seconds, while keeping track of all previous twitter updates via your timeline.
· Integrates easily into all website types making it easy to build awareness and motivate site visitor's into becoming a follower.
· Attract potential customers and contacts based on keywords used within your twitter updates (tweets)!
Con's:
· Twitter is primarily a microblogging system that is best suited for up to the minute updates, news clips, and announcements. If you are looking to build a more informative business page, you should consider Facebook and Twitter within your marketing campaigns.
· Easy to get lost in the "noise". You will want to create a targeted profile page that clearly explains what your business has to offer as well as who your target audience really is. Make sure to implement powerful branding components into your twitter account, such as a direct link to your main website or squeeze page, a photo that represents your company, and keep your twitter updates focused and relevant.
Tips:
Use the on-site search function and type in keywords associated with your market or industry to connect with people interested in your business. Reach out to everyone – from established marketer's to new customers and get the conversation going.
Do not re-tweet the same post over and over again. People who interact with you will quickly unsubscribe from your updates if you are found "spamming" the system. Choose your tweets carefully, ensuring that they reflect a positive brand image. Provide value. Your tweets should be in the form of conversational messages that encourage conversation, rather than just "salesy" messages designed to take a user off-site. Demonstrate your commitment to engaging with your audience, and in providing true value with every update.
Blend personal with business. Your posts shouldn't be just about your business. People want to be entertained and to connect with you on a different level. Social networking is all about building relationships, which in turn, can fuel your business's brand. The key is to actively engage and to not be afraid to stand out.
LinkedIn | http://www.Linkedin.com
LinkedIn is a business focused social networking site that was founded in December of 2002. With a strong focus on professional networking, you are given the opportunity to quickly find and connect with other professional's in your industry. LinkedIn reports more than 142 million registered users in more than 200 countries and territories worldwide, holding an Alexa ranking of 13, and continues to grow every day.
LinkedIn is a great way for you to showcase your experiences, skills and your resume, attracting both potential partners and customers. You can easily share your expertise, expand your contact base, and build stronger client relationships and track key contacts all within one profile center.
In addition, you can also seek out recommendations from past employers, clients, customer's and peers that are all added to your primary profile. LinkedIn also offers the option to set up paid advertising campaigns within a very active and focused group.
If you wish to identify social influencers and authorities within your market, and you are looking to build brand awareness for your company, LinkedIn may be a great choice for your business.
Tip:
Website links featured on your LinkedIn profile page will quickly rank within the search engines and by modifying existing labels and tabs to feature relevant keywords relating to your niche market, you will be able to quickly optimize your LinkedIn account and boost your search engine ranking!
Google+ | http://plus.google.com
Google+ continues to grow, with over 100 million users on site since their inception in June of 2011. Google+ integrates a variety of social networking tools into one complete interface including videos, Circles, Hangouts, Google Profiles and Sparks providing businesses with the opportunity to create conversational-style marketing campaigns.
Other Details
- 1 Ebook (PDF, DOC), 21 Pages
- 7 Part Autoresponder Email Messages (TXT)
- 1 Squeeze Page (HTML, PSD)
- File Size: 15,582 KB