Salespage Snapshot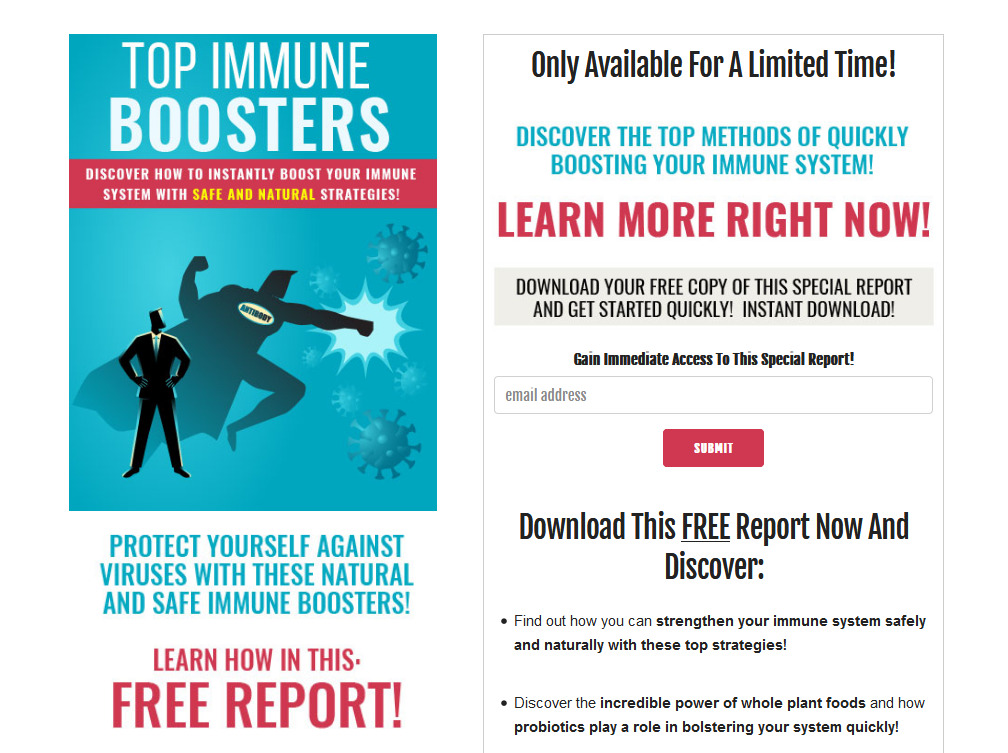 >> Click Here To View Sales Page...
Table of Contents
Table of Contents 3
Introduction 5
Get Plenty of Sleep 8
Stay Active 12
Eat Whole Plant Foods 15
Eat Healthy Fats 20
Eat Probiotic-Rich Foods 22
Limit Sugar Intake 24
Stay Hydrated 26
Reduce Stress 29
Quit Smoking 32
Conclusion 34
Resources 37
Sample Content Preview
Stay Active
Prolonged intense exercise has been shown to lower your immune response – however, moderate exercise actually boosts that response. Studies show that even one session of moderate exercise can increase vaccine effectiveness in those with compromised immune systems.
"Working out is a powerful way to boost your immune system," says Mark Moyad, MD, MPH, Jenkins/Pokempner director of preventative and alternative medicine at the University of Michigan Medical Center.
Exercise circulates your antibodies and white blood cells more rapidly, which helps them detect germs more quickly. "Being active this way also lowers stress hormones, which reduces your chances of getting sick," Moyad adds.
According to a recent study of over 1,000 people, those who exercised at least five days a week had almost half the risk of coming down with the common cold than the more sedentary folks.
Regular moderate exercise can reduce inflammation, too, and that is known to improve your immune system. Exercise can also help your immune cells to regenerate regularly.
Examples of moderate exercise include 30 to 60 minutes of brisk walking, jogging, swimming, steady bicycling, and light hiking three to five times a week.
Notice that most of these are associated with the outdoors. There's a good reason for taking your exercise outside.
Sunlight can stimulate your T-cells, special parts of your immune system that help fight off infection. And being outside brings you into contact with phytoncides and other plant products that can boost your immune function. It also boosts Vitamin D levels in your body, which help your immune system further.
You should also be doing strength training exercises twice a week to stay at your healthiest. The CDC (Center for Disease Control and Prevention) recommends two and one-half hours of moderate-intensity exercise every week as well as one hour and fifteen minutes of high-intensity aerobic exercise.
So, you should exercise regularly and get enough sunlight to boost your immune system and increase your overall health.
Eat Whole Plant Foods
Today's processed diet is a major cause of inflammation in the body. Our ancestors ate more raw fruits and vegetables and doctors have proven this is a healthier diet for your immune system (as well as other systems in your body).
Whole plant foods are rich in antioxidants and nutrients that strengthen your immune system.
Registered dietician Julia Zumpano, RD, LD, had this to say about eating your fruits and vegetables: "Try to eat a wide variety of foods and aim to eat fruit and vegetables from every color of the rainbow."
Eating a colorful diet is not only artistically pleasing, but fresh fruits and veggies are far better for you than processed foods and supplements.
Protein is also needed for immune health. Amino acids help build and maintain immune cells and a low-protein diet may reduce your body's ability to fight off infection.
In a 2013 study, mice with a diet of only 2% protein were more severely affected by flu than mice who ate a normal (18% protein) diet.
There are three main vitamins needed by your immune system: Vitamin C, Vitamin B6 and Vitamin E.
Vitamin C is one of the essential vitamins needed by your immune system. It's important for you to get plenty of natural Vitamin C from your diet because your body doesn't store that vitamin.
Anything you don't use is flushed from the body by your kidneys.
The good news is that you can easily get enough Vitamin C from food without spending money on supplements. Fruits and vegetables rich in Vitamin C include citrus fruits (and their juice), strawberries, bell peppers, broccoli, kale, and spinach.
Another immune system-boosting vitamin is B6 or pyridoxine. It's a water-soluble vitamin that isn't made in your body, so you need to eat the right foods to get enough for your immune system.
Natural sources of B6 include chicken or turkey and cold-water fish like salmon or tuna. You can also get Vitamin B6 from green vegetables and chickpeas (the main ingredient in hummus). So even if you're vegan you can get plenty of B6 to strengthen your immune system.
Vitamin E is a fat-soluble vitamin that is a powerful antioxidant. It's found in nuts, seeds, and spinach. You do need to be more careful with Vitamin E because, since it's stored in your fat, can actually build up in your body to dangerous levels.
Other Details
- 1 Ebook (PDF, DOC), 38 Pages
- 7 Part Autoresponder Email Messages (TXT)
- 1 Squeeze Page (HTML)
- Year Released/Circulated: 2020
- File Size: 2,431 KB
License Details:
[YES] Can be sold
[YES] Can be used for personal use
[YES] Can be packaged with other products
[YES] Can modify/change the sales letter
[YES] Can modify/change the main product
[YES] Can modify/change the graphics and ecover
[YES] Can be added into paid membership websites
[YES] Can put your name on the sales letter
[YES] Can be offered as a bonus
[YES] Can be used to build a list
[YES] Can print/publish offline
[YES] Can convey and sell Personal Use Rights
[YES] Can convey and sell Resale Rights
[YES] Can convey and sell Master Resale Rights
[NO] Can be given away for free
[NO] Can be added to free membership websites
[NO] Can convey and sell Private Label Rights