Salespage Snapshot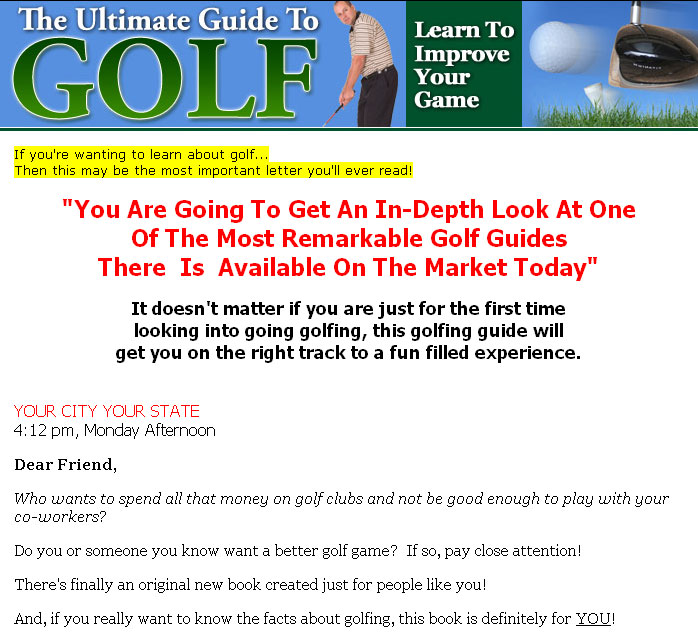 >> Click Here To View Sales Page...
PLR Ebook Table Of Contents
Introduction                                4
Equipment                                5
The Basics                                7
The Grip                                8
Your Stance                            9
The Backswing                        10
No Arms Drill                            15
The Mental Game of Golf                    17
Driving the Ball                            28
Fairway Shots                            31
Chipping                                    32
Putting                                    36
Sand Traps                                39
Course Management                        42
Common Problems with a Swing            45
Slice                                45
Draw/Fade                            47
Hook                                47
Push                                48
Shank                                49
Common Mistakes                        50
Exaggerated Twist                    50
Rolling Hands                        50
Disconnected Arms                    50
Picking the Club Up                    51
Club Head Starts Outside                51
Standing Upright                        51
Bad Stance                            52
Skulling or Topping the Ball            53
Chipping Problems                    53
Trouble Shots                            55
Deep Rough                            55
Hill Lies                                55
Restricted Back Swing                    57
Hitting Out of Water                    57
Punch Shot                            58
Flop Shot                            58
Playing Into the Wind                    59
Stretching for Good Golf                    59
Conclusion                                60

PLR Ebook Sample Content Preview
INTRODUCTION
Famous author Mark Twain once wrote, "Golf is a good walk wasted."  Many people feel this way.  After all, what's so fun and interesting about hitting a little white ball with a metal stick trying to get it in a little hole?  However, the truth is there is fun to be had on the golf course as is evidenced by the millions of golf enthusiasts all over the world.
Ever since the game of golf was invented back in the 15th century, people have been fascinated with mastering this often frustrating game.  In 1750, the game of golf evolved into what we know it as today, and since that time, technology and technique has improved on the game, but mastering the game of golf still lies in the individual playing the game.
One of the great things about golf is that it is more than a physical sport.  Your mental state can play a huge part in your golf game.  If you hit a bad shot, it can really affect your next stroke and so on and so forth.  It's important to realize that if golf were less challenging, it wouldn't be nearly as much fun.
People can spend thousands of dollars in efforts to improve their golf game.  They buy videos, books, new equipment, and lessons from a professional.  Improving the golf game is a multi-million dollar industry as it seems like there are all sorts of people offering advice on things you can change to improve your score.
Just as the golf swing has been improved upon over time, so has the equipment used to play golf.  In the 1800's, golf bags came into use as an easier way to carry around clubs and balls.  Golf balls were made lighter and able to travel further and tees were used to help make the ball easier to hit off the tee box.
But even with all this new technology, no one has really perfected the game of golf.  If that were the case, there would be scores of 18 with a hole in one on every hole.  The truth is that even the professionals can't perfect their golf game.  Man is fallible and he makes mistakes.  But when it comes to the game of golf, mistakes are inevitable.
I've heard many golfers tell me that they played great but scored horribly.  That statement made me really think about my own golf game.  I, too, have had rounds where I've hit the ball well but it wasn't reflected in my score.  How is it possible that we can hit the ball so well yet still take a 6 on a par 4 hole?  The answer isn't easy, but it can be addressed.
I'm not a golf pro, but I do love the game of golf.  I've always wanted to improve my golf game, so this book will help both you and me.  I decided that researching what the pros have to say would be a great way to put their advice to good use.  Compiling all of that information into this book would also be a great way to share that advice.
Let's look at different aspects of the game of golf and find some easy ways to improve our scores!
EQUIPMENT
Believe it or not, the equipment you use in your golf game can truly make a difference in how well you strike the ball.  With new technologies in club designs and materials used to make the clubs, you can get overwhelmed at the various choices you will have when buying golf equipment.  We'll look at this section from the perspective of your skill level.
Beginner – Average scores over 100
Because you are just learning the game, you will want to have clubs that are more forgiving when you make bad shots – and those …
Other Details
* 60+ Page PLR Ebook
* Professionally Written Salesletter
* 50 PLR Articles
* 5 Part Autoresponder Email Course
* 1 Complete Adsense Website
* 5 Part Press Release
* Professionally Designed Graphics Set
* Highly Targeted Keyword List
* Pre Written PPC Ads
* PDF and MS Word Source File For eBook
* PSD Files For Graphics