Salespage Snapshot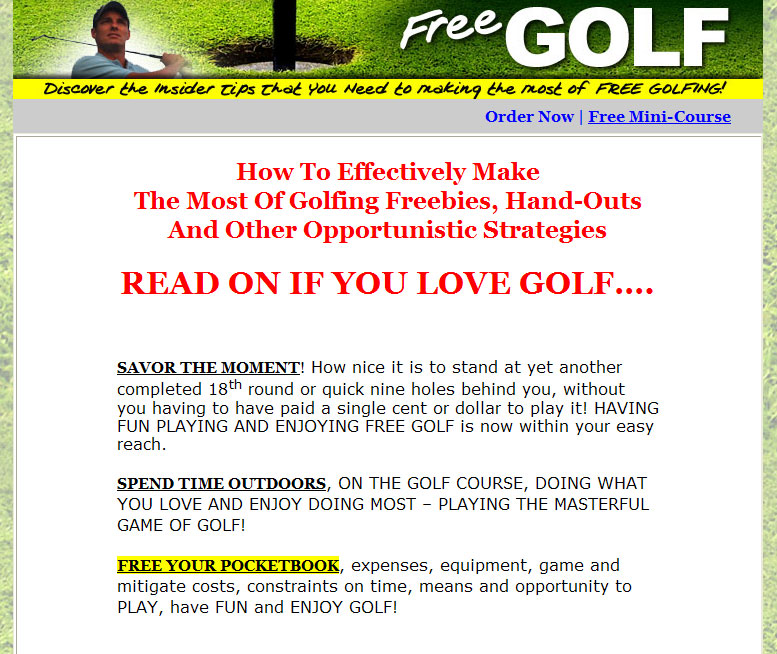 >> Click Here To View Sales Page...
Table Of Contents
Introduction: The Appeal Of Golf – Freeing The Game! Resources
And Means To Play And Enjoy The Game                    3-6
GETTING STARTED                                6-13
THE THREE STEP, QUICK-STEP TO FREE GOLF                              13
–    First Steps To FREE GOLF
–    Making The Most Of Talent And Opportunity At Every Turn!
–    Taking The Entrepreneurial Approach
FREE GOLF! Why And How There Is Money To Be Made             14-16
GETTING A GRIP                                         17-26
–    Spreading The Word
–    Making Sense Of The Financials
–    GETTING OTHERS TO PAY/PLAY
–    Mystery Or "In Cognito" Golfing                             26-34
YOU CAN "FREE" GOLF AND GOLF FREELY! 1-2-3 Optimizing The Basics         34-40
–    Cheap Golf Equipment
–    Online Discount Golfing Resources
–    Other Considerations And Consequences Of FREE Golf
FOCUSING ON WHAT REALLY MATTERS                    42
Conclusion                                     46
Resources And Links                                     51-61
Ebook Sample Content Preview
If you watch a game, it's fun. If you play at it, it's recreation.
If you work at it, it's golf.
Bob Hope (1903 – 2003)
Introduction: The Appeal Of Golf – Freeing The Game! Resources And Means To Play And Enjoy The Game
Ask any avid golfer about his/her favorite pastime and what in fact makes it so special and you will get a whole range of potentially highly diversified and personalized answers.  That in part is the beauty and appeal of the game! It has something for everyone. AND NOW THERE ARE WAYS THAT YOU CAN OPTIMIZE, CAPITALIZE and EVEN ENJOY FREE GOLF! There are means and opportunity to make the most of playing golf for free. You just need to tap into them effectively and make it happen!
For most, it is their activity, sport and interactive social choice interaction above all other that really matters. The physical workout, pleasure and company is what counts. It is a highly personalized sport, that can also be shared with business associates, family and friends. It can be the best part of any day and can be played for myriads of reasons! Mostly NO REASONS OR EXCUSES ARE REQUIRED! All are welcome to partake and enjoy! That is, if you have an appropriate membership, pay-as-you-play,  prefer public or private golf courses, all year round, around the globe, even indoors! You can get your swing analyzed, practice indoors, try the driving range, get pro-help, entertain clients and prospects, reward employees or simply hang out with your buddies. The range is vast and the possibilities endless.  For the more than 26-37 million golfers who already enjoy the game in North America and worldwide (this number is growing too by the way), fees totaling $36-57 US on average, including green fees, rentals and other type fees, (range, memberships, refreshments, equipment, et al.) make it hard to keep up with the cost and affordability side of the equation! But, it does not have to be that way. This guide will hopefully introduce you to a couple of techniques that you had not considered before… that is UNTIL NOW!
"Golf is an awkward set of bodily contortions designed to produce a graceful result." – Tommy Armour
Many would only golf for life if they could! Yet, it is a costly sport at that. And making it affordable, viable to play often, as frequently as you like, can be hard on the pocketbook! Once you get past the set-up or start-up cost of equipment and the like, there are still the playing fees, cart rentals and associated entertainments etc. at the 19th hole to consider! It all adds up in the end. There are however clever and ingenious, even opportunistic ways of making the most of what golf has to offer, without necessarily forking out all the dough or cash required that you would think. There are unique ways that you can have the best of both world, affordable golf that you enjoy as often as you want, when you want, even FREE GOLF! You just need to know where to look, find and optimize these opportunities. This guide will assist you in capitalizing and even creating some free golfing opportunities of your very own.
GOLF is more than a mere sporting activity , it is a choice and a lifestyle of preference and luxury! Offering welcome escape from routine or hum-drum of life, every day work, routines and even home stressors! …
Other Details* Sales Page:
Included, HTML, MS Word Doc
* File Format:
MS Word Doc, PDF
* Number of Pages:
61
* Included Graphics:
Ecovers, PSD
* Extras:
5 Part Autoresponder Email Message Series
* Download File Size:
8,436 KB