Salespage Snapshot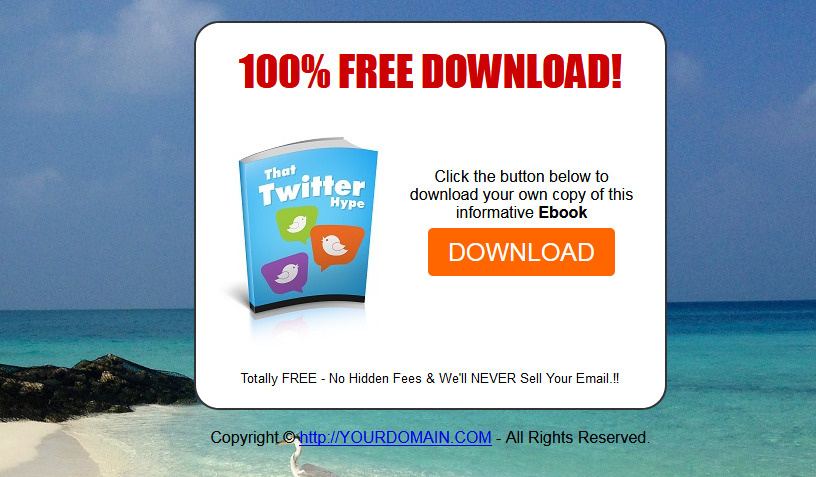 >> Click Here To View Sales Page...
Table of Contents
TABLE OF CONTENTS … 2
INTRODUCTION … 3
WHAT IS TWITTER, AND WHY SHOULD YOU BE INTERESTED IN IT? . 3
1 WHAT DO YOU DO WHEN YOU'VE JOINED? . 5
FILLING OUT YOUR BIO .. 5
WHY YOU SHOULDN'T PROTECT YOUR UPDATES … 7
UPLOADING YOUR PICTURE 7
DESIGNING YOUR PAGE . 8
START TWEETING! . 9
2 UNDERSTANDING YOUR HOME PAGE . 11
FOLLOWING . 11
FOLLOWERS . 11
UPDATES . 12
@USERNAME 12
DIRECT MESSAGES … 13
FAVORITES .. 13
3 USING TWITTER FOR MARKETING PURPOSES … 15
THE FIRST RULE OF MARKETING 15
WHO ARE YOU MARKETING TO? . 16
HOW TO FIND PEOPLE TO FOLLOW . 18
HOW DO YOU MAKE SURE YOU DON'T LOSE FOLLOWERS? 21
HASHTAGS .. 23
KEYWORDS .. 24
ADVERTISING YOUR TWITTER STATUS ELSEWHERE TO GET EVEN MORE FOLLOWERS . 25
CONCLUSION: 27
Sample Content Preview
The fourth option – which I haven't listed above as I feel very strongly against it – is to leave the default picture in place. This looks like two zeroes separated by a line. In short, it is called a default picture for a reason; it's up to you to change it!
Some people think that only a real photo is good enough on Twitter, if you want to be taken seriously. I disagree. There are some terrific people on Twitter who quite rightly use their business logo, or perhaps the logo of their main website or blog. Character or cartoon pictures can also work very well in some cases; presumably cartoonists wouldn't dream of choosing anything else.
In short, choose what you feel comfortable with. The two main rules are to make sure you replace that default image with something better, and to ensure that it is clear and of good quality.
DESIGNING YOUR PAGE
Look for the design tab in your settings section. At the time of writing you have a dozen themes to choose. These are basically your backgrounds.
But you can also upload your own background if you wish – and this is by far the best choice to make. It will enable you to stand out as an individual, as no one else will have the same one.
There are sites which provide templates for you to change and alter as you see fit, or you can design something yourself. Some Twitter users have even created backgrounds for other people on the site! You will notice that some have made sure their website address and additional marketing information is included within the background… which is the primary reason why you should think about doing this yourself.
There are some points you should be aware of here though. The most important one is to be aware of the limitations that are in place. Take a look at your home page for a moment and you will see what I mean. The main section of your home page – the bit with all the tweets and your information on it – is enclosed in a specific portion of the page, in the center.
This means your background design essentially wraps around it. So if you opt for a central design, you aren't going to see it. Instead, think of creating two columns – one either side of the central part of the page.
You may need to experiment with the dimensions as well, to make sure your design can easily be seen by other people when they visit your page.
Surf around Twitter for a while and have a look at some other home pages whose owners have tried to do this. You can see what happens if the dimensions are wrong; you might only be able to see the first half of someone's email address or website address. Needless to say that doesn't help when it comes to enabling people to get in touch with you!
This all depends on the resolution of your monitor – and of the monitors of everyone who views your home page. But you can tweak what you make to ensure that everyone can see it properly.
START TWEETING!
Okay, so if you have completed all the above steps you should now have a home page which looks pretty good. All that remains now is to start tweeting, so you have some worthwhile content on it to attract the attention of anyone who finds your page.
Most of the time, the first tweet anyone makes is something along the lines of 'figuring out how to use Twitter'! Don't feel you have to stick to this however – it's become a little boring in many cases. Take the opportunity to tell people what you are going to be tweeting about in the future. Bear in mind that it is going to take a while to build up a backlog of tweets for people to read, so you need to try and make sure you give them something to look forward to.
Our fictitious internet marketer could start something like this:
"Building my brand new affiliate website – details soon!"
"Made $357 in affiliate sales today – will share more info in future tweets."
Do you see how these make people want to read more? They also contain good keywords – and we will explore how to make sure you can benefit from those in a later section.
The key is really to remember why you joined Twitter in the first place. Don't just tweet about anything and everything – make sure you stay on topic as much as you can. If your reason for joining was to share your knowledge about internet marketing in the hope of selling some eBooks about that subject, bear that in mind at all times. You want to create traffic to your website or blog as well, no doubt. So think about the type of people who will enjoy your site and work at getting their attention.
Other Details
- 25 Articles (TXT)
- 1 Ebook (PDF), 29 Pages
- 1 Squeeze Page (HTML)
- 2 Ecovers (PNG)
- Year Released/Circulated: 2018
- File Size: 1,637 KB
License Details:
[YES] Can sell and keep 100% of the sales.
[YES] Can edit the squeeze page.
[YES] Can be bundled into another paid package and sell at a higher price.
[YES] Can be used as a bonus to another product you are selling.
[YES] Can be sold in a Dime sale event.
[YES] Can be added into a paid membership site.
[YES] Can pass on the Master Resell Rights privilege to your customers.
[YES] Can be given away for free AGAINST an email address (lead generation)
[NO] Contents of the product can be edited, modified or altered.