Salespage Snapshot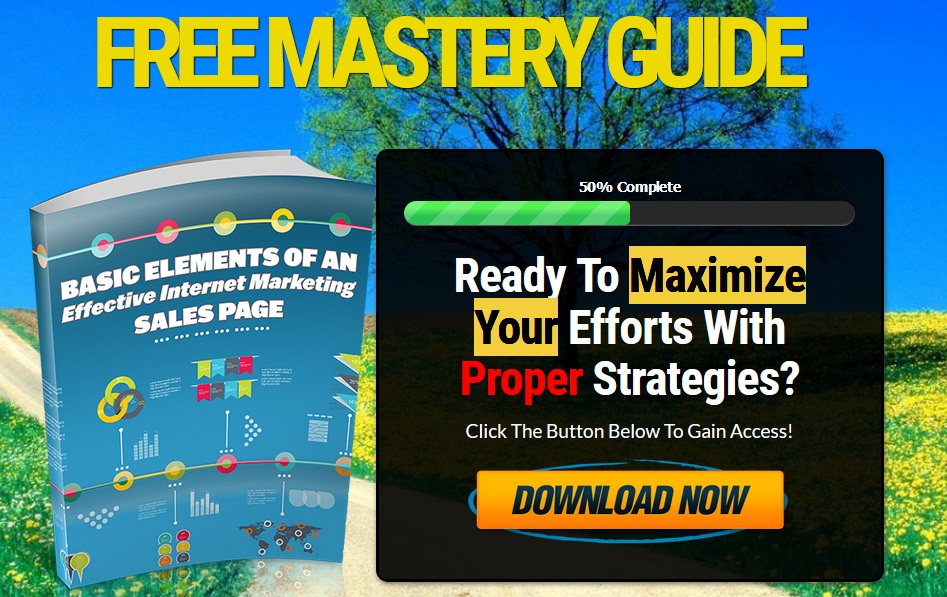 >> Click Here To View Sales Page...
Sample Content Preview
COMPONENTS OF EFFECTIVE SALES PAGES
As you set out to write a sales page for Internet marketing businesses you may own, keep in mind that every page is different. From one company to the next, you will find differences. However, most contain a similar structure.
In this section, we discuss what is called the components of effective sales pages, or the parts that make them up. While you do have some leeway in what you include and in the layout of the page, the most effective pages have several key aspects to them.
Even if you hire a professional copywriter to do this work or you do the work yourself, it is important to check over the final piece to make sure that it delivers in these areas. Writing a long, rambling page is not going to win over your readers any more than a long-winded sales person wins you over at the local car dealership!
THE HEADLINES
Headlines are a bit more complex than you may think. They are actually comprised of various types of headlines.
• An initial headline, called a pre-headline, is used to attract your target market. This headline is specifically able to tell your readers that you have something that they want and need.
• A secondary headline is the main headline. This headline is an important part of your sales page. It should be in larger font than anything else on the page. You do not want anything else on your sales page to pull away from this main headline. Specifically, the main headline is designed to tell the reader what the main benefit you are offering is.
• The third headline is an optional one. It is in a smaller font, located under the main headline. The goal of it is to give some clarification to the main headline or to elaborate on it when it is necessary to do so. Not every sales page needs to have this type of headline, and if it is over used, it can detract from the main headline.
When writing headlines of any type, keep them concise and to the point. There is little benefit to long-winded headlines. People just will not read them if they are too drawn out. You want the headline to grab the attention of the reader and pull them in to what you have to offer.
THE INTRODUCTION
The introduction is a key component in your Internet marketing sales page. The fact is, if you cannot grab them now, they will not continue on, and most likely, will never buy from you. Therefore, your introduction needs to count and you should spend time on it.
The first few sentences have to find a way to pull at the heartstrings of your reader. You want them to grab the attention of the reader and make them say, "Wait…I need to read this…"
The introduction is not a hard sell. At this point, you want to draw them further into the sales page content so that you can show them why what you have to offer is the best product to solve their problem.
To write the introduction, keep in mind what your product provides to the reader. Do not list that here. Rather, consider what type of emotion or result the product has to offer to the visitor. In the copy coming, you will showcase what your product is, so at this point, you do not need to mention it. Rather, you want to present your case for why it is valuable.
Choose wording that shows the reader the benefits of your product or service. You want to describe how they will feel when they own it. You want to tell them how it will help to improve their life.
• Will it give them relief from a life-threatening condition?
• Will it help them to find their passion?
• Will it provide them with the means to build financial security?
• Will it reduce their stress?
• Will it give them the life they have always dreamed of?
How will their life improve when they buy and then use the product you are offering them?
The introduction should cover those aspects within a few sentences or up to two paragraphs. Do not get long-winded here either. The introduction is placed directly under the headlines, usually towards the top of the initial page. Your goal is to get them to scroll down after reading to this point. Drawing on emotions is the best way to accomplish that goal.
STATE YOUR CREDIBILITY
Here is a place where many people fail. They do not use this one simple area to provide them with the huge benefit it offers. Here's the question to ask yourself: "If I was purchasing a product from a sales page online, would I buy from just anyone?" Most people would say "no." They want to know who it is that is offering them this information, product, or service. "Why in the world is this person so knowledgeable about my problem?"
It is particularly important to show your credibility online. People know there are plenty of scams out there and they want nothing to do with them. No one likes the idea of handing over money to someone that is promising too much, has no background, or is questionable. In particular, it is important to place this "credibility check" towards the top of the sales page. People want to know about it soon.
Other Details
- 1 Ebook (PDF), 12 Pages
- 1 Squeeze Page (HTML)
- 2 Ecovers (PNG)
- Year Released/Circulated: 2019
- File Size: 1,952 KB
License Details:
[YES] Can sell and keep 100% of the sales.
[YES] Can edit the squeeze page.
[YES] Can be bundled into another paid package and sell at a higher price.
[YES] Can be used as a bonus to another product you are selling.
[YES] Can be sold in a Dime sale event.
[YES] Can be added into a paid membership site.
[YES] Can pass on the Master Resell Rights privilege to your customers.
[YES] Can be given away for free AGAINST an email address (lead generation)
[NO] Contents of the product can be edited, modified or altered.