Salespage Snapshot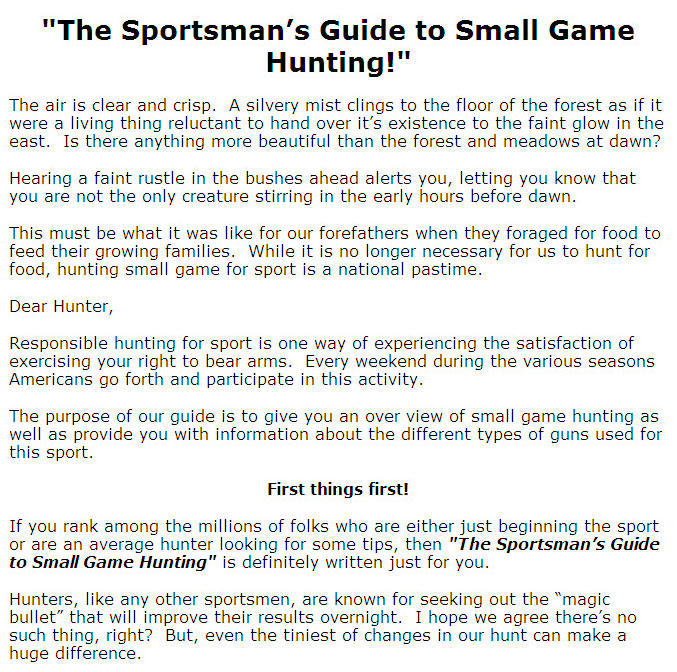 >> Click Here To View Sales Page...
PLR Ebook Table Of Contents
Understanding Wild Animal Habitats
Choosing Your Weapon: Rifle
Choosing Your Weapon: Shotgun
Choosing Your Weapon: Muzzleloaders
Hunter Safety
Plan Your Hunt – Day Trip or Overnighter
Scouting the Topography
Scouting Your Game
A Still Hunt
Stalking
About Hunting Dogs
Finding Your Downed Game
Hunting Small Game – Rabbit, Squirrel Raccoons
Hunting Game Birds – Pheasant, Quail, Grouse, Partridge & Wild Turkey Hunting Water Fowl – Duck and Goose
PLR Ebook Sample Content Preview
Understanding Wild Animal Habitats
How to Have a Better Small Game Hunting Season
Small game hunting is the classification of game hunting which includes small animals such as rabbits, quail, ducks, and birds. To hunt legally a hunting license is required for most species. One small game license may cover all game species but have daily or yearly bag limits. The hunter should check with the local government about the licensing before hunting in a particular location.
Whether you are a novice or a professional hunter, understanding the habitat of these animals can improve the quantity of game you bag in a particular season.
Understanding Animal Habitats
All species have their own habitat: this includes the food, water, shelter and space that they need in order to survive. Each animal has different habitat requirements. Wolves, for example, need a wide area of undisturbed forest, while chipmunks like to live in woodland burrows under rocks and logs.
Other Details* Sales Page:
Included, HTML, MS Word Doc
* File Format:
MS Word Doc, PDF
* Number of Pages:
55
* Included Graphics:
Ecovers, PSD
* Download File Size:
3,623 KB