Salespage Snapshot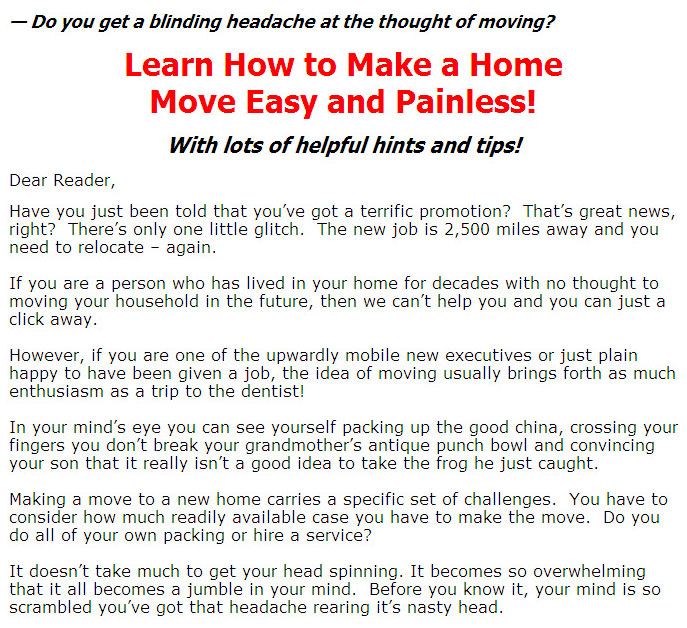 >> Click Here To View Sales Page...
Ebook Table Of Contents
Introduction
Preparation
Packing 101
All About Storage
Hiring a Moving Company
Should You Move Yourself
International Moving
Cleaning Tips
Overseas Jobs
Finding a New Home
Final Checklist
Final Farewell
PLR Ebook Sample Content Preview
Introduction
Nothing strikes fear in a man, or a woman, like being told they have to move. Add a deadline to that and look out because you may see serious personal injury!
Seriously, if you have ever had to do it, you know that moving is not fun. That is usually a result of poor planning. How does that old tongue twister go? "Proper Planning Prevents Pitiful Poor Performance."
Nothing could hit closer to home than making a household move. So it's our hope that you will find our guide helpful the next time fate happens to send you off to a new address.
And, whatever you do, never forget our little tongue twister up there. It really does make all the difference.
Preparation
About six to eight weeks ahead of your moving day, you need to begin requesting quotes from various sub-contractors you may need. You want to make sure that you have plenty of time to carefully read through each proposal. Take your time reviewing the proposals for accuracy so you can give full consideration to each one.
Make certain that when you are going over the presentations that you are comparing them objectively. It is fair to compare them on their merit and to be sure that they have included everything you requested.
To insure that you are receiving the same answers from all your possible contractors prepare a list of your important information in advance. Use the same format for each bid you receive. In doing it this way you insure that you are comparing the bids on the same merit instead of several different points. If you try and compare apples and oranges you run the risk of creating a very expensive fruit salad rather than the information to need to get fair prices.
Other Details* Sales Page:
Included, HTML, MS Word Doc
* File Format:
MS Word Doc, PDF
* Number of Pages:
49
* Included Graphics:
Ecovers, PSD
* Download File Size:
1,833 KB