Salespage Snapshot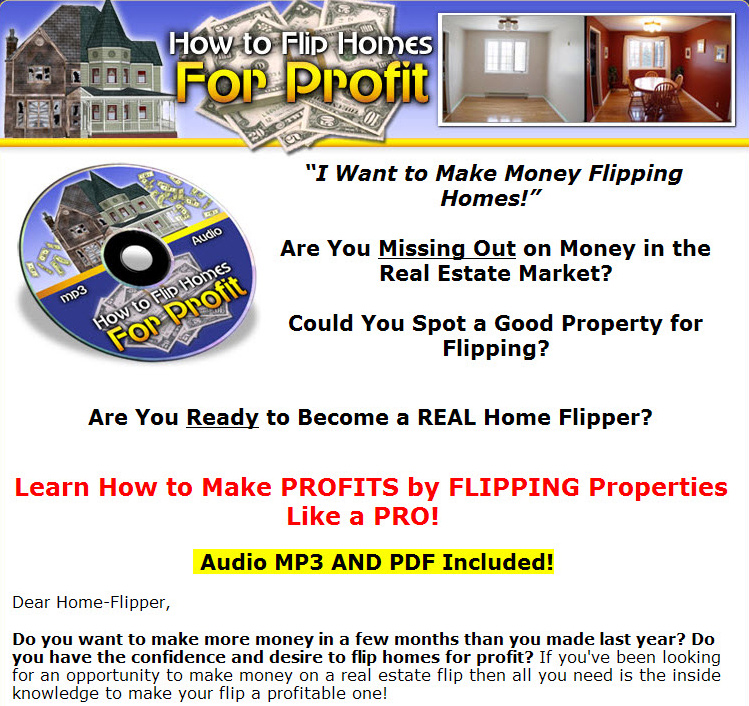 >> Click Here To View Sales Page...
PLR Ebook With Audio Table Of Contents
Can You Handle Flipping a House?    4
Tips for Creating a Successful Flipping Strategy    6
How to Build a Great Team    8
Tips for Getting Financing for Your Flip    10
How to Determine What Amount of Profit You Could Make    12
What Legal and Tax Issues Will You Need to Know?    14
Keys for Spotting a Potential Flip    16
What to Look for on Inspection of a Flip    18
Tips for Negotiating the Buying Price    20
Tips for Dealing with Foreclosure Properties    22
Steps for Prioritizing the Work on Your Flip    24
Key Areas to Focus Your Time and Money    26
How to Make Impact on a Budget    28
How to Create Curb Appeal    30
Common Home Flipping Mistakes and How to Avoid Them    32
PLR Ebook With Audio Sample Content Preview
Can You Handle Flipping a House?
Some people say flipping a house is easy and everyone should do it; others warn you to be careful, so what is the truth? Probably both. Everything is easy once you know how, so those who tell you it's easy are probably those who have experience and been successful.  Perhaps those who warn you to be careful are those who've failed, or if not failed, they've been caught doing something that cost them money.
To flip a house you need to get money and if you don't get the right deal, it may cost you your profit. Supposing you get the right loan and you get the house, then what could go wrong? It may be that you buy the wrong house. It could need repairs that you were not aware of and they are going to cost you more than you bargained for.
It could be that the renovators you were depending on couldn't come and held the whole project up. Or that there was bad weather that prevented your repairs from going ahead. Then selling took a lot longer than you anticipated for some reason. Meanwhile your nerves were getting shot to pieces because your deadline for selling had come and gone.
You might have ended up having nightmares about going into debt and becoming bankrupt. Welcome to the real world. The real world is where things do go wrong and need you to step in and make some tough decisions. The real world is not perfect. You happily got into debt and now you wonder if you really will ever be able to get out of it again.
Flipping a house is not for the faint-hearted. Another reason that could cause you to worry is that you intended doing all the renovations yourself to save money, but didn't realize how hard it was or how much time it would take. You are still working your day job and by the time you've knocked off in the evening, you truly don't want to start another job. Especially one that is so physical as painting and decorating.
Or maybe you got sick and just weren't up to the task. In fact, you've bitten off more than you can chew and now you are choking on the remains! Or maybe in the time it took you to get it fixed up, the real estate market started to crash. All these things need to be taken into account before you start flipping houses.  You need to have strong nerves and you need to not panic the moment something seems to be going wrong.
Do you consider life to be a worry or a challenge? Do you enjoy sorting out tangles or would you rather your life had no tangles. If you want a free-from-worry existence then maybe flipping houses is not for you. But if you enjoy a challenge, then maybe this is just what your need to keep life interesting…
Other Details* Sales Page:
Included, HTML
* File Format:
MS Word Doc, PDF
* Number of Pages:
33
* Included Graphics:
Ecovers, PSD, JPG
* Download File Size:
37,079 KB