Salespage Snapshot: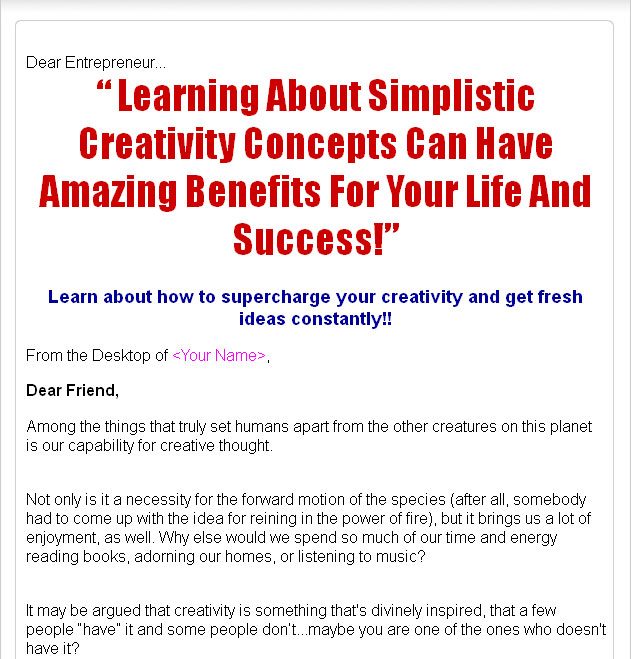 >>> Click Here To View Full Sales Page…
Table Of Contents
Foreword
Chapter 1:
Brainstorming
Chapter 2:
Do It Differently
Chapter 3:
Map Your Mind
Chapter 4:
Generate Ideas Online
Chapter 5:
Utilize Social Media
Chapter 6:
Collect Ideas
Chapter 7:
Attack From Free Writing
Sample Content Preview
Chapter 2: Do It Differently
Synopsis Look to additional forms of expression to motivate yourself.
Change It Up
Change your approach. If you're sitting in front of the computer trying to write the next Great American Novel but simply can't seem to get a handle on the words, you might find that you're pressing too hard in one direction. Look to other forms of expression to motivate yourself. Attempting to write a song? Rather than listening to music, head out to the local art museum for some visual input. Having trouble with image design? Go to the symphony and let yourself be enlivened by a completely different art form.
Sometimes the key to motivation lies in the surroundings you're in. You might dread changing the tire to your car, as your garage is wet, cold and ill lit. Ask a friend for the use of his well-light, heated garage, and the job may become more pleasurable. You are able to also make the project more pleasurable by asking others to get involved. If you ask somebody to share their expertise it can be an ego boost for them and a source of support for you.
One way to ensure personal success and continued exuberance for your own path is discovering individuals who are successful in the matters that are significant to you. Get to know these individuals, learn their attitudes and behaviors. By discovering a model for success you'll have somebody to emulate.
You might also look at people you do not wish to become and study these negative habits. Both will help you learn important lessons about your future, but make certain to center on the positive person the most. It's interesting to make a list of your acquaintances and families while examining which qualities each of these individuals have and the habits that make these characteristics possible. Your model for success may not lie in the actions of one-man, but in the positive traits of all the individuals you interact with.
Chapter 3: Map Your Mind
Synopsis
Brain maps (aka mind maps) are, by definition, a graphic technique of taking notes. The visual basis of them helps one to differentiate words or ideas, often with colors and symbols.
Brain Maps
Draw a brain map. Brain maps (aka mind maps) are a capital way to bring forth fresh ideas because you start thinking in different directions. Start by writing your challenge in the center of a piece of paper. (There are several web tools that can help you do this, too.) Surround this word or phrase with associated thoughts. As you do so, you might find that you want to delve into one or more of them more profoundly. Continue by surrounding the fresh phrases with related thoughts. By the end, you'll often find that you've come up with answers that would never have occurred to you if you hadn't made these apparently random connections.
Brain maps (aka mind maps) are, by definition, a graphic technique of taking notes. The visual basis of them helps one to differentiate words or ideas, often with colors and symbols. They usually take a hierarchical or tree branch formatting, with ideas branching into their subsections. Mind maps allow for higher creativity when recording ideas and data, as well as allowing the note-taker to associate words with visual representations. Mind maps and concept maps are different in that mind maps center on only one word or idea, whereas concept maps connect multiple words or ideas.
Begin in the center with a graphic of the topic, using at least three colors.
Utilize graphics, symbols, codes, and dimensions throughout your Mind Map.
Pick out key words and print utilizing upper or lower case letters.
Each word/graphic is best alone and sitting on its own line.
The lines should be connected, beginning from the central image. The central lines are thicker, organic and flowing, getting thinner as they radiate out from the center.
Make the lines the same distance as the word/image they support.
Utilize multiple colors throughout the Mind Map, for optical stimulation and likewise to encode or group.
Formulate your own personal style of Mind Mapping.
Utilize emphasis and show connections in your Mind Map.
Keep the Mind Map clear by utilizing radial hierarchy, numeric order or outlines to encompass your branches.
Other Details
- 1 Article (DOC)
- 1 Ebook (DOCX, PDF), 33 Pages
- 1 Lead Magnet Report (DOC, PDF), 16 Pages
- 1 Autoresponder Email Messages (TXT)
- 1 Salespage (HTML)
- 1 Squeeze Page (HTML)
- Ecover (JPG)
- File Size: 5,663 KB