Salespage Snapshot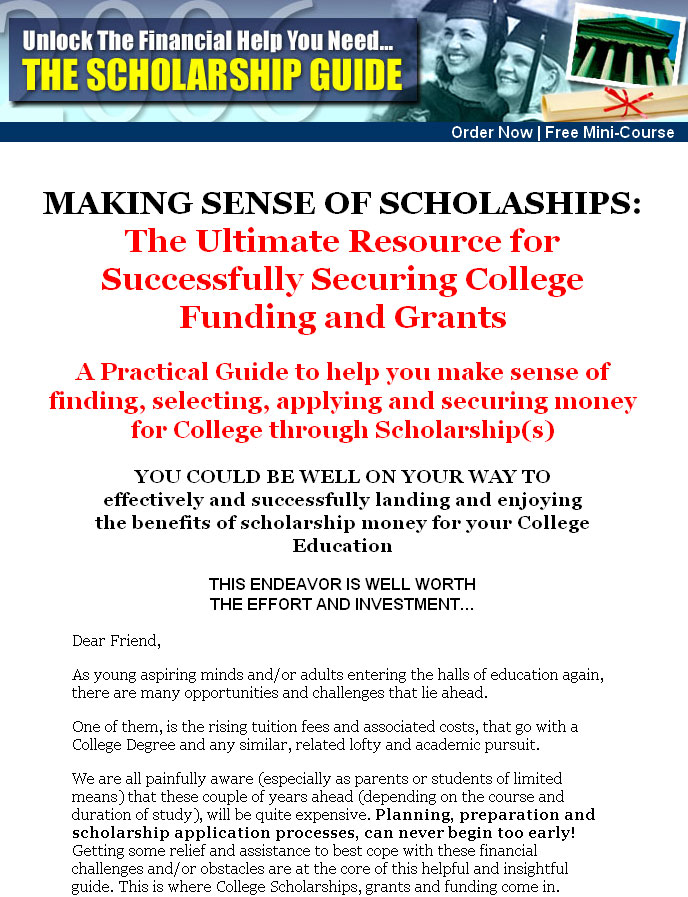 >> Click Here To View Sales Page...
Ebook Table Of Contents
A. Foreword And Introduction                                3-9
Rationale, Audience And Layout Of The Book
A Personal 'Action' Plan For Securing Funding And Grants For College
The SIX-STEP  "A.C.T.I.O.N." Plan for College Scholarships
B.    Decoding College Scholarships – Making Sense Of The Fundamentals        10-20
STEP # 1: Assess And Act Accordingly
The Nature And Dynamics Of College Scholarships And How They Can Help You Get The College Degree, Education, Life And Future You Want.  Types Of Scholarships And What Is At Stake. WHAT ARE COLLEGE SCHOLARSHIPS ALL ABOUT?
STEP # 2: College                                        21-28
Value Of Pursuit, Why, Where, When, For How Long, Course And Duration Of Study, Needs, Fees And Other Requirements, Financial  Considerations, Boarding, Travel, Books, Friends, Parents,  Funding WHAT IS YOUR STRATEGY AND PERSONAL ACTION PLAN? HOW CAN SCHOLARSHIPS HELP YOU?
STEP # 3: Talent and Tuition Funding                            28-32
Part Of The Same Equation. How To Make The Most Of All Funding Options And Best Present Yourself As Applicant. HOW DO YOU BEST APPLY AND PRESENT YOUR PROMISE AND POTENTIAL?
STEP # 4: Identify                                        32-33
Where and how to find funding that is right for you. WHAT CAN I ACTAULLY DO TO INCREASE MY ODDS?
STEP # 5: Overall, Overview and Occupation                        33-36
Taking Different Perspectives and Views on and of College Scholarships.
WHAT REALLY MATTERS?
STEP # 6: Never Say Never!                                 37-41
Focus On Negotiation And Results To Get The Best Outcome Possible That Will Fit, Work And Make The Difference For You And Your Situation.
YOUR FUTURE MATTERS! YOU ARE WORTH IT!
C. Scholarship Essays and Interviews, General Guidelines, Tips and Rules of Thumb for Applying and Securing College Scholarships                        41-45
D. Conclusion And Final Thoughts                                45-49
E. Resources                                            50-53
PLR Ebook Sample Content Preview
Foreword and Introduction
-> Rationale, Audience And Layout Of The Book
-> A Personal 'Action' Plan For Securing Funding And Grants For College
How to make the most of your tomorrow lies within your hands and your easy reach. As a young inspiring mind and/or adult entering the halls of education again, there are many opportunities and challenges that lie ahead. One of them, is the rising tuition fees and associated costs that go with a College Degree and academic pursuits.
We are all painfully aware (especially as parents or students of limited means) that these couple of years ahead (depending on the course and duration of study), will be quite expensive. Planning,  preparation and scholarship application processes can never begin too early!
Getting some relief and assistance to best cope with these financial challenges and/or obstacles form the main gist of this guide.  It is one thing to be aware of the opportunity and potential of scholarships. It is quite another actually going through these processes with some measure of guarantee and success, some light at the end of the tunnel of applications and interviews (if applicable).
The variety of opportunity and chances also vary greatly. For all students from all backgrounds, socio-economic circumstances, cultures and locales, funding in some way, shape or form is to be unearthed.
It is investment of time and effort well spent. Nevertheless, most of us are overwhelmed by what to do, where to start. We are unsure as to best to complete the application forms, respond to questions,  write essays and prepare for interviews (if required).
If the phrases first come, first serve and the early bird catches the worm, mean anything to you, they BOTH apply specifically to College scholarship applications. The sooner you start to get your ducks (and paperwork) in a row, get those applications out, the better your odds of securing the funds you need in due time, without feeling pressured, anxious or disappointed because you missed out, missed a deadline or failed to apply in time.  It is up to you to take a very personal, hands-on and pro-active approach to securing some funds for college. It is not up to teachers, parents, friends or others to do it for you. BUT, you do not have to take this journey alone. There are many others who are in the same boat you are and there are lots of sources of information, help, guidance and support. This guide will walk you through the college scholarship application process from start to finish and assist in stacking all odds in your favor as you go about getting the funds that you need to bring your dreams into reality today and for your future.
So, where do we start? Let us get right to it.  For many of us the reasons why we need or want scholarships may vary greatly. Our personal drivers and motivations, wanting to not have debt accumulate so early in life, not expecting or burdening parents with tuition bills all come into play. Some might even NOT apply for reasons and perceptions of their own, like not having a good enough academic record or in general just not believing that there are scholarship and opportunity for someone like them really available. Many do not know where to look, …
Other Details* Sales Page:
Included, HTML, DOC
* File Format:
MS Word Doc, PDF
* Number of Pages:
55
* Included Graphics:
Ecovers, PSD
* Extras:
5 Part Autoresponder Email Message Series
* Download File Size:
5,820 KB