Salespage Snapshot: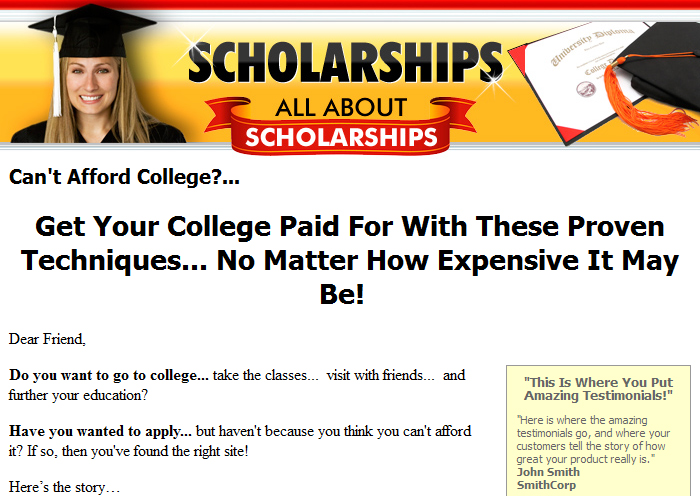 >>> Click Here To View Full Sales Page…
Table of Contents
INTRODUCTION
COLLEGE SCHOLARSHIPS: WHEN TO START
TYPES OF SCHOLARSHIPS
DIFFERENT TYPES OF SCHOLARSHIPS
AVOIDING SCAMS
COLLEGE SCHOLARSHIP APPLICATION TIPS
SAMPLES OF SCHOLARSHIPS
A LOOK AT SCHOLARSHIP WINNERS
SCHOLARSHIP ESSAYS
THE SCHOLARSHIP INTERVIEW
CONCLUSION
Sample Content Preview
COLLEGE SCHOLARSHIPS: WHEN TO START
When you are ready to start looking for college scholarships and grants, you should know where and when to start looking. You simply cannot wake up one morning and decide to get a college scholarship—it takes work and planning. You need to know what you qualify for and when to apply for them. When you apply for scholarships, you also need to know when to start looking. Too many high school seniors wait until the very last minute to begin looking and applying. There are no "easy scholarships" that you will get—they will all take work on your end to get what you deserve.
Begin the search:
Never let someone tell you that it is too early to begin your scholarship search. In fact, it is never too early. You may even find some scholarships that are open only to freshman and sophomores in high school. How is that for early planning? Most often, scholarship applications and searching starts as early as the junior year in high school. One example is the National Merit Scholarship program. That one will take place as soon as a student takes the PSAT during their late sophomore and early junior years in high school. Of course, if you are a senior, then do not think that you are too late. There are still scholarships out there for you, too.
When you start looking, keep in mind that the best time to research this matter is during the summer and early fall. If you start your research nice and early, then you are doing yourself a huge favor. This gives you a leg up on those that wait until the last minute. During that time, many of the deadlines are still in the future and you have not missed anything. In addition, doing your research early will give you enough time get your paper work ready such as getting your test scores, scholarships essays and other things that you will need to send off in your scholarship packet. In addition, most college scholarships will ask you for recommendations. When you ask someone for a scholarships recommendation, you will need to give that person enough time to complete it—at least four to six weeks. If a scholarship requires that you complete academic work or volunteer work, then you will need weeks, perhaps even months to get this done.
Who needs to know?
Are you on your own as you apply for your college scholarships? Not necessarily. There are many people out there that can help you get you where you need and want to go. Use the resources that you have on hand to secure those awards.
As you apply for scholarships, you may wonder who else needs to know about your plans. That is a good question. Your school counselor is an excellent source of information and can help you along the way. Once you have decided to apply for scholarships, keep this person "in the know" each and every step of the way. Your counselor can help you narrow down your search, help you prepare your application and make sure that you have all of your grades, classes and tests scores that are necessary.
Other Details
- 30 Articles (TXT)
- 2 Ebook (PDF, RTF), 44 Pages
- 7 Part Autoresponder Email Messages (TXT)
- 1 Salespage (HTML, RTF)
- 3 Ecovers (JPG)
- File Size: 1,268 KB