Squeeze Page Preview: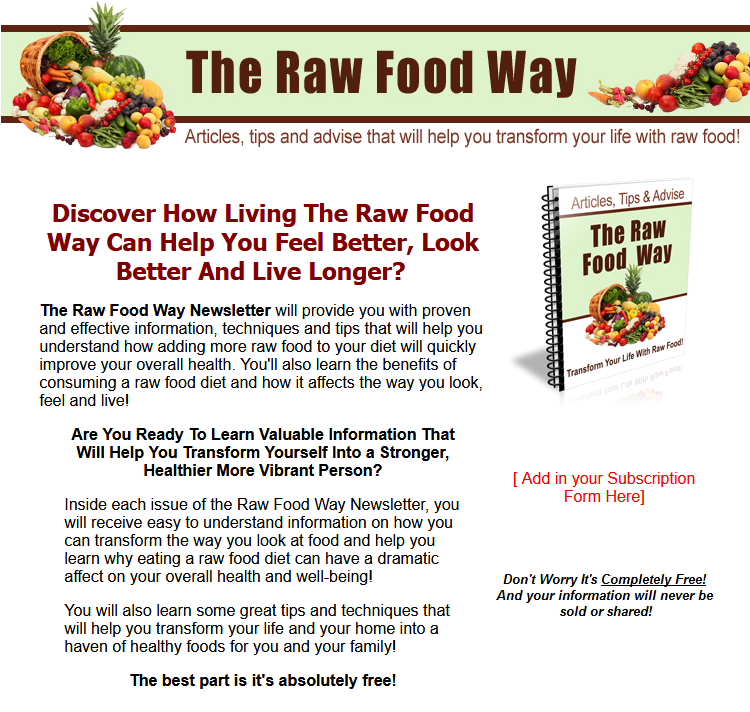 >>> Click Here To View Full Squeeze Page…
Features:
* 12 Issues Full Of Great Content
– Just add in your contact info and plug it in to your favorite auto responder. Each issue contains 500 words or more!
* One Ready To Go Squeeze Page
– Just add in your opt in form, upload to your server and your done!
* One Ready To Go Thank You Page
All ready to remind your subscribers to check their email and confirm their subscription. It even has built in revenue!
* 4 Researched Click Bank Products
These are top selling products on Click Bank that I've personally researched and chosen for each series.
* Extra Copy And Paste Article Content
You will get:
– Extra titles
– Extra opening paragraphs
– Extra closing paragraphs
– Extra fill in paragraphs
(these would make great tips that you add in to your follow ups system for more frequent contact with your readers)
Sample Content Preview
Hello "autoresponder code here",
In the last issue we talked about why you may not need as many fluids
on a raw food diet. In this issue we are going to talk about the
importance of organic foods.
As we all know food that is grown or raised without chemical pesticides
or chemical fertilizers is called "organic." We've become so used to
eating foods that have been grown with fertilizers and pesticides, that
most of us have forgotten what it's like to eat organically grown food or
what a difference it can make in the way that we feel.
Why else would you choose to eat organic food?
You may not realize this but we pay a lot in terms of flavor and nutrition
so that we can eat perfect-looking food. While, organic food may have
an occasional bruise on its flesh and not be as shiny and sleek as food
that's been sprayed with harmful chemicals it is generally fresher and
more flavorful the fruits and vegetables you commonly find stocked at
your local grocery store.
Many times, they're grown locally, so they haven't been stored or
refrigerated. Consider the difference in flavor between a vine-ripened
tomato and a regular tomato. There's just no comparison.
Remember your body has to process everything you put into it and
eliminate what it cannot digest. If your food contains toxins in the form of
chemical pesticides and fertilizers, your body has to figure out a way to
get rid of the toxins. When the body cannot get rid of toxins fast enough,
it stores them until it has time to eliminate them. This can lead to a
multitude of side effects and health problems.
Did you know that many of the pesticides used in farming have been
found to be carcinogenic?
So there's no doubt that reducing your exposure to these toxins can and
will improve your overall health. While your body is designed to
eliminate toxins it needs to expend extra energy to eliminate them. This
is energy that could just as easily be doing other things such as healing
damaged cells, fighting off viruses and bacteria, or patrolling the body
for cancer cells.
So it only stands to reason that you will feel substantially better without
putting these poisons into your body. Especially if your system is
sensitive to toxins. Then it isn't parroted that you do your best to
eliminate them from your diet as much as possible.
Fortunately, it's getting easier to do this because there's a growing
selection and variety of organic produce becoming available in
specialty stores and even in grocery stores these days as people
become more aware of the dangers associated with consuming
harmful pesticides and fertilizers.
Make sure you look for your next issue soon. We will be talking about
what a raw food diet can do for your skin.
Until then,
"your name here"
"your email address"
"your URL here"
Sample Extra Titles
Unknown Facts About Raw Food Revealed By The Experts
The Hidden Truth on Raw Food Exposed
The Secret of Raw Food That No One is Talking About
The Unexposed Secret of Raw Food
The Raw Food Diaries
Raw Food – An Overview
The Ugly Side of Raw Food
An Unbiased View of Raw Food
What's Really Happening With Raw Food
The Ultimate Guide To Raw Food
5 Simple Facts About Raw Food Explained
What To Do About Raw Food Before It's Too Late
The Secret For Raw Food Revealed in 5 Simple Steps
The Ultimate Solution For Raw Food That You Can Learn About Today
Be The First To Read What The Experts Are Saying About Raw Food
The Truth About Raw Food
Find Out Who's Talking About Raw Food And Why You Should Be Concerned
5 Odd-Ball Tips on Raw Food
The Raw Food Chronicles
Kids, Work and Raw Food
7 Shocking Facts About Raw Food Told By An Expert
And More…
Sample Extra Paragraphs
Raw food eating is intended to nourish your body in a completely
different way, but just being raw isn't enough. You want to do this to be
in balance, and you need to balance the raw foods you're eating for
proper nutrition.
————————————
Eating enzyme-dead foods places a burden on your pancreas and
other organs and overworks them, which eventually exhausts these
organs. Many people gradually impair their pancreas and progressively
lose the ability to digest their food after a lifetime of ingesting
processed foods.
————————————
Do you have to follow the regimen that strictly? Of course not. But it's
certainly worth it to incorporate some of these techniques and ideas
into your diet. If you tend to snack at work, try taking in carrots or apple
slices.
————————————
The business culture is different these days, and there's less of a
routine than there used to be with a morning "coffee break" and then
"lunch hour" and an afternoon "break." That routine doesn't work for a lot
of people any more, but you can still get hungry during the day.
————————————
Have them drink only water and no sugar 100% fruit juice that you juice
yourself. Get them used to eating vegetables that are uncooked.
Whenever they get hungry, offer small baby carrots, or celery, they will
grow to love the taste just the way it is. You can introduce a new
vegetable each week and learn how to hide it into your food.
————————————
Many of the bigger grocery stores now offer packaged vegetables or
fruits that make it easier to pack them and take them to work. We're a
nation of convenience, and much of the resistance to healthier eating is
that it does generally take a little more effort and time to buy and slice
fruits and vegetables. Food retailers have been catching on, slowly, and
it's much easier now to get bags of sliced carrots, celery, apples, nuts
and raisins.
And More…
Other Details
- 12 Part Autoresponder Email Messages (TXT, DOC)
- Squeeze Page (HTML, PSD)
- Ecover (PSD, JPG)
- Affiliate Programs List
- File Size: 14,700 KB