Salespage Snapshot: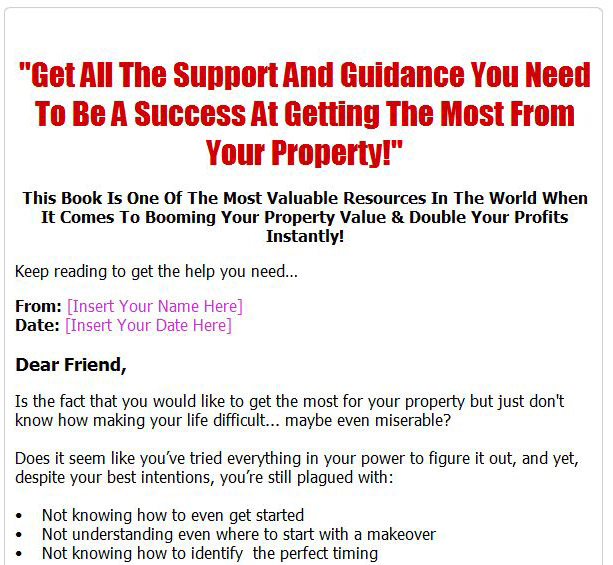 >>> Click Here To View Full Sales Page…
Table of Contents
Foreword
Chapter 1:
The Push Up Factor
Chapter 2:
Home Improvement & Makeover
Chapter 3:
Garden Renovation & Landscaping
Chapter 4:
Expand Your Property
Chapter 5:
Perfect Timing To Sell Your Property
Chapter 6:
How Deed Restriction Can Increase Property Prices
Sample Content Preview
Chapter 2: Home Improvement & Makeover
Synopsis
There are several ways to enhance the value of an individual's property without actually having to break the bank. Some measure can be taken with the help of expert advice and evaluation.
The following are some of the areas that are popularly recommended for home improvement and makeover possibilities:
Recommendations
Adding on parking garages or parking spaces for the home unit is becoming quite an important requirement in current times. The parking facilities are usually quite costly thus being able to offer a property with this incorporated into the design would definitely contribute to the positive value of the property in question.
This kind of add on, can also play dual roles for those who may desire to have a separate living quarters, while still being able to be part of one property. Thus the existing garage space can be converted to facilitate this desire.
If the budget permits, having a kitchen make over is also another good exercise to conduct in view of trying to enhance the property value. Sprucing up the current kitchen with new and more modern feature will definitely be a positive draw to the property as most activities in a home is prevalent in the kitchen area.
If this is not feasible simply adding colour by means of a new bright code of paint or replacing old and faded curtains or blinds for newer and more pleasing patterned one could do the trick just as well.
Creating extra space from areas that are rarely utilised or underutilised is also another option to consider when making a home improvement or makeover decisions. Such exercises will provide the current home with more useable friendly space, thus again contributing to the increase in property value. These space enhancement projects can take on the form of utilising unused space such as attics, basements and spare or store rooms. Such areas can be converted into extra bedrooms, family game rooms, hangout areas for teenage children and their friends and any other positive use of space.
Chapter 3: Garden Renovation & Landscaping
Synopsis
First impressions for better or for worst, is something that is unavoidable when the human perception is faced with the exercise of forming a decision. Thus for any property that has the added advantage of coming with a garden area, should be well designed and well kept.
The impression made on the prospective buyer can sometime be the difference between the buyers actually wanting to venture further into the viewing exercise, or turning away decisively without wanting to even consider looking at the house on the property. Therefore taking the trouble to initiate simple yet effective and cost efficient garden renovation and landscaping, will not go unrewarded, when it come to enhancing the overall property value.
The following are some tips that can be used for the purpose of garden renovations and landscaping exercises:
Have A Look
Edge the beds – cutting into the edges of the grassy land wherever it should not overlap, would ideally present a more manicured and pleasant looking lawn. This need not be an expensive or exhausting exercise, as regular trimming session will effectively keep the overgrown areas from becoming an untidy mess.
If time and energy permits adding a colorful flower bed trimming to the edges would also give the overall pleasant and neat look to the garden area. This is cheaper that other more extensive decorative addictions that are usually costly.
Sprucing the garden with color is another addition that can yield the desired results when prospective buyers visit the property. This addition of color can brighten the overall garden and make it more appealing as color additions often do.
Other important renovations can include cutting or minimizing the need to have huge overgrown foliage that is neither complimenting nor advantages to the property. Most people are put off by such huge feature, as the perception of having high maintenance issues are commonly related to these types of features.
Other Details
- 1 Ebook (DOCX, PDF), 21 Pages
- 1 Salespage (HTML)
- Ecover (JPG)
- File Size: 50,211 KB