Salespage Snapshot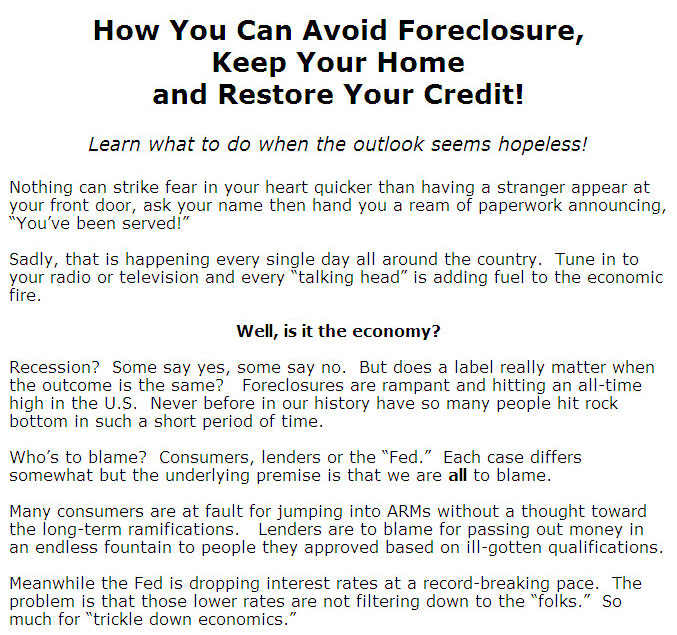 >> Click Here To View Sales Page...
PLR Ebook Table Of Contents
What is Foreclosure
Developing a Plan to Stop Foreclosure
Understanding the Paperwork
What is a Non-Judicial Foreclosure
What is a Judicial Foreclosure
The Art of Negotiation
Can You Get Out of Foreclosure by Refinancing
Are You a Veteran
How to Stop a Non-Judicial Foreclosure
Is Bankruptcy the Answer
Should You Sell to Stop Foreclosure
Deed In Lieu of Foreclosure
Using Professional Help
Restoring Credit After Foreclosure
Buying Another Home After Foreclosure or Bankruptcy
PLR Ebook Sample Content Preview
What is Foreclosure
What Is Foreclosure – Know What It Is And How To Avoid It!
Everyone is in need of money. Whether to refinance a business or to push through with a home improvement plan, they place their property or business on the line and go for a mortgage loan. But most simply use this method without knowing the risk involved which is foreclosure.
Prior to foreclosure- the act of mortgage
One good definition of a mortgage is the act of using a property or a business as a security for a monetary loan. In a legal sense, a mortgage loan is used to pay off an existing debt using a property of the same value to be used as a security. The term "lender" is often referred to as an entity that provides the amount for the mortgage loan, usually a bank or a lending company. The borrower will then be subjected to the terms and conditions stated by the lender such as interest rates, terms, and deadline of payment.
What is foreclosure?
Foreclosure happens when the bank or the lender sells or repossesses a property used in the mortgage loan, or a deed of trust, in which the owner fails to comply with his or agreement with the bank or lender. It is always important for the borrower to know the terms and conditions of the mortgage loan. Knowing information like interest rates, deadlines of payment, and other agreements and conditions between the lender and the borrower helps to avoid the risk of foreclosing the property to the lender.
Other Details* Sales Page:
Included, HTML, MS Word Doc
* File Format:
MS Word Doc, PDF
* Number of Pages:
57
* Included Graphics:
Ecovers, PSD
* Download File Size:
2,215 KB