Salespage Snapshot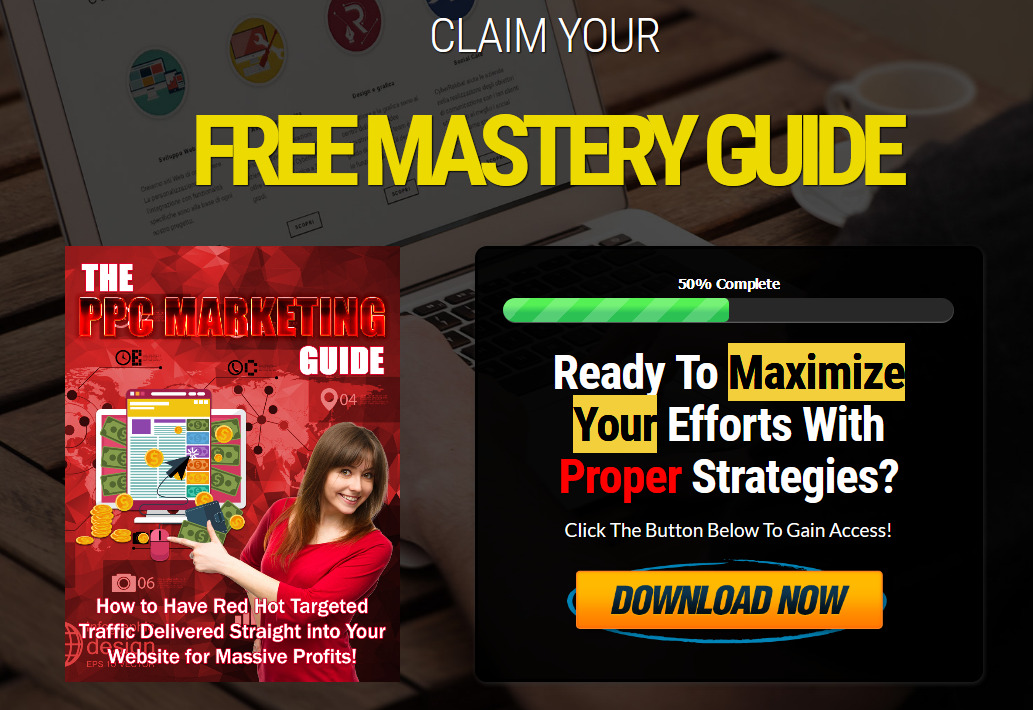 >> Click Here To View Sales Page...
Table of Contents
How to Make Your Business "Click" 5
Maximum Web Promotion with PPC 8
How to Create a Profitable PPC Campaign Management 10
PPC Bid Management 11
Cash and Pay-Per-Click Affiliate Programs 14
In Closing: To SEO or To PPC? 15
Sample Content Preview
CONSISTENT TOP LISTINGS. This is to get your website on top of the sponsored search results for free. You just have to choose the keywords related to your site and business and place them within your web pages. After this, you are done.
PPC advertising enables advertisers to control their advertising campaigns. Advertisers have effectively targeted their audience and set their own price per click. PPC advertising networks provide the platform to identify the desired audience by geographic setting, topic and industry. These networks have a list of websites of the publishers where the ads will be placed.
Tools are provided by the networks to check how the pay per click limit is working for a certain advertiser. If its still competitive, would it be even listed among the paid search lists or does it generate sales? Of course, if the advertiser made the highest bid, the better chances the ad will be seen in the search engine. These networks too provide protection for the advertisers against click fraud. This advertising set-up allows advertisers to set a daily budget for his ads, thus, less spending for unnecessary clicks. Advertiser will never go over his budget.
In PPC advertising, what are important are the keywords and phrases. You have to select at least 10 "very specific" keywords that would give you the best traffic in the search. Then, write the ad creatively but straightforward. Tell the truth about your product or service and do not lie. Good thing if your product or service will not disappoint those that are relying on your ad's promise – but what if it did otherwise? Important too is the clarity of the ad. Do not use very vague languages. Include important details like the price.
Important! You should also remember to budget your bids. Do not go overbidding because you will only lose your money and do not go so low that your ads will never get the chance to show up. Check your profit against your spending. If you see no progress then most likely you have to drop your ad campaign.
More and more advertisers have been using PPC advertising and it will continue to grow faster than any online advertising techniques. From just Google's revenues of $3.14 billion in 2004 to $95.35 billion in 2017, cost per click has dramatically gone up as well.
PPC advertising is new in online marketing and it is going to continue in the years to come. For advertisers, this means increase revenues with fewer advertising expenses, savings, more sales, good return of investment (ROI) and effective ad campaigns in the days to come.
How to Create a Profitable PPC Campaign Management
Certain keywords or phrases that people type into a search engine lead to hundreds and hundreds of search results that pertain to that specific keyword. Businesses that want to advertise on the net using a PPC campaign have to come up with a plethora of keywords that is associated to the business that they are running; so when potential customers type in these keywords, it will lead them to their business site.
This is pretty much the whole concept that operates behind PPC. This is how a PPC campaign brings in traffic to your site, with the selection of the right keywords that people can search through the net.
Some keywords tend to be more expensive than others, especially popular ones. It is vital to select the right keywords, in order to get your money's worth. This is why it is important to manage you PPC campaign wisely. Sometimes you are better off opting for the less popular keywords that are not so expensive, especially if you have a limited budget. Some businesses even hire the help of a consultant to manage their PPC campaigns.
There are a lot of experts that specialize in PPC campaign management. They come with strategic plans, and assess the need of their clients. They then come up with a PPC campaign that caters to their client's specification.
This is why big online businesses seek the expertise of a professional to run their PPC ad campaign, because the right set of plans, can potentially bring in a large amount of profits. The more keywords you have, the more you increase the chances of customers clicking these keywords that would lead them to your website.
If you are running a business online, and are planning to run a PPC campaign, it is advisable to purchase keywords that are extremely related to the theme of your business. This way, people know what they are getting, and don't get confused about the content of your website. The secret is to use keywords or phrases that are searched frequently, but cost very little.
The chances are, the longer people stay in your site, the likelihood of these potential customers making a transaction.
But first thing's first: you must lure them into your turf.
This is why a lot of entrepreneurs spend a large amount of their budget on advertising, because they know that the right advertising campaign can start the ball rolling.
Also, you should do some research before you start your PPC campaign. There are a lot of PPC search engines to choose from. Those who are less renowned charge less for the same keywords that you'd find in the bigger PPC search engines.
The great thing about PPC campaigns is that you can reach a worldwide audience. Advertising online means global marketing.
Most PPC search engines require a monthly payment in exchange for their services. But if you fail to make payments, they will automatically take your listings out of their search engines. So make sure that you pay your monthly bills, so all the efforts that you put into your PPC campaign don't go to waste.
The potential earnings that can be generated by starting a pay per click campaign is significant. That's why a lot of online businesses now are trying to get in on the act. Now, with the right set of keywords, and a smart PPC campaign management plan, more than ever, online businesses are bringing in the big bucks.
PPC Bid Management
Search engines such as Google Adwords offer top positions among the sponsored listings for particular keywords/phrases you choose. The idea for bidding is you have to buy/bid on keywords/phrases relevant to your business. The highest bidder gets to be on the top of the search result listing and the second highest bidder, of course, gets the next top listing and so on. Every time a visitor clicks on your website, you will have to pay the same amount that you bid on that particular keyword.
Other Details
- 1 Ebook (PDF), 18 Pages
- 1 Squeeze Page (HTML)
- 3 Ecovers (JPG)
- Source DOC, Source PSDS
- Year Released/Circulated: 2018
- File Size: 97,565 KB
License Details:
[YES]Can be sold
[YES]Can offer Resell Rights
[YES]Can offer Master Resell Rights
[YES]Can resell Private Label Rights
[YES]Can be edited
[YES]Can put your name as the author
[YES]Can be broken down into articles
[YES]Can be used as web or e-zine content
[YES]Can be added into membership sites
[YES]Can be sold in any format
[YES]Can be packaged
[YES]Can be offered as a bonus
[YES]Can be sold on auction sites
[YES]Can be published offline
[YES]Can be given away (in any format)