Salespage Snapshot: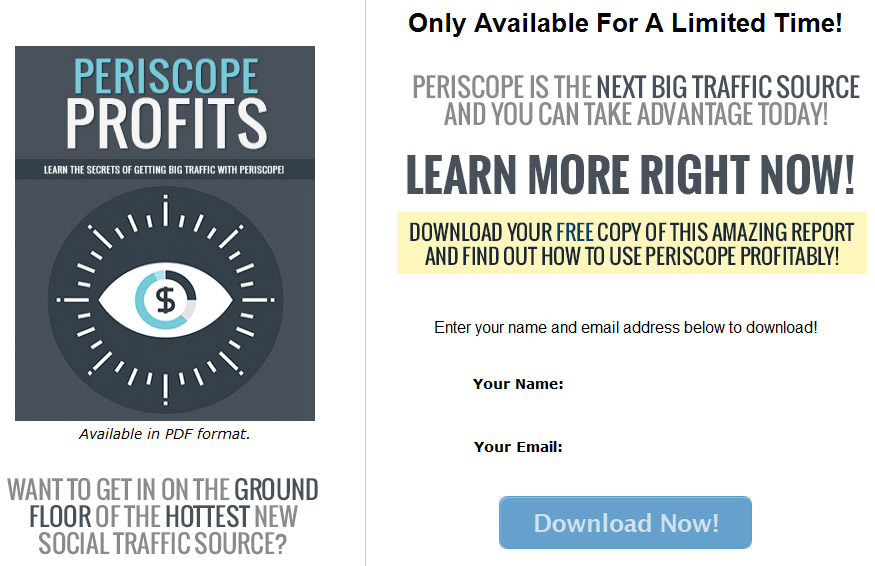 >>> Click Here To View Full Sales Page…
Sample Content Preview
Broadcasting a Scope
Broadcasts are typically referred to as scopes. These scopes generally range from 5-30 minutes, but it's best to stick to the 10-minute range. Any shorter and you won't have enough time to grab a decent-sized audience, and any longer and you'll probably end up boring your audience.
You don't have to broadcast every day, but if you do so regularly, you'll gain a larger audience faster. It's not a good idea to broadcast more than a couple of times a day, because your followers may grow tired of seeing too many notifications, but if you don't broadcast on a fairly regular basis, they may not remember who you are when you finally do.
One thing to keep in mind is that the more often you scope, the faster you'll gain followers. When you're broadcasting, you can have it automatically post to Twitter for you, and you will show up on a list of live scopes in the app. This will help you gain followers during your broadcasts, especially if you use hash tags to help people find your scopes.
Broadcasts are only viewable for 24 hours after they're aired, but you can have the app automatically save them for you when you broadcast them.
To do this, just visit your profile page and tap settings. Turn the slider beside "Autosave Broadcasts" to on.
This will save your broadcasts to your camera roll so you can use them later.
Before you Scope
Before you get started, there are a few things you should do to make sure you get the most out of each scope you broadcast.
1. Pick a Topic – The first thing you must do for each scope is to pick a topic and stick to that topic during your scope. For example, you might decide to broadcast "Tips for Improving Your Golf Swing". Try to stick to that topic and don't veer too far off.
2. Set Up a Good Thumbnail – The thumbnail image is set when you first begin a scope, and it's always taken with the rear camera. That means if you're looking at the screen, it won't take a picture of you, it will take a picture of whatever the rear camera is pointed at. This often leads to scope thumbnails being blurry photos of a messy desk or a floor. Don't let this happen to you! Be sure you have chosen an interesting object related to your scope to focus on when you begin. In the case of a broadcast about golf, it might be a picture of your golf clubs or some golf balls. Because so many people have a really crappy thumbnail, a good one really helps you stand out.
3. Script the Scope – While you don't have to stick to strict script, it's a very good idea to have a list of basic points you want to cover before you begin. This way you don't forget any important points or have any dead air time while you think of what else you'd like to say.
Starting a Scope
When you're ready to broadcast, press the button that looks like a camera lens with a red light on behind it. (Or it might look a bit like a top-down view of a clown with a big red nose and a shiny bald head.) Picture below in case you're confused like I was.
You'll need to enable a few things before broadcast begins. You will need to allow the app to access the camera and microphone, and then enable location services so the app can tell viewers where you're broadcasting from.
NOTE: You don't have to enable location if you'd prefer not to. The only thing this really helps with is if you're marketing a local business or it can help people find you if they're looking for scopes being broadcast from a particular area. (There's a map where people can look to find scopes in a specific place.)
Once you have enabled the camera and microphone (and location services if you choose to), you'll be prompted to enter a title for your scope in the section titled "What are you seeing now?" Remember, you can add emoji to your title. On iOS, simply click the little globe icon at the bottom of the keyboard to add emoji. Then click the red "Start Broadcast" button.
Help! I Have No Viewers!
Don't panic if you don't get any live viewers. Most scopes don't have many (or even any) live viewers, especially if you have very few followers and you don't tell anyone you're going to scope at a given time.
Most scopes get the majority of their views a few hours after broadcast, so keep that in mind. Plus, you can take the broadcasts that are saved to your camera roll and upload them to YouTube and other video sharing sites to get more views.
Getting Hearts
Hearts are the equivalent of "likes" on other networks, and the more hearts you get, the more followers you're likely to get. People who view your profile and see a lot of hearts are more likely to follow you, because they'll think you're giving good content. The more hearts you have on a particular broadcast, the more viewers you'll get.
Remember that not everyone knows how to give you a heart, so don't be afraid to ask for hearts and tell people how to do it (by tapping the screen during your broadcast.) Users can actually tap the screen repeatedly to issue you more hearts, but they can only give up to 500 hearts per session. Once they've given all 500, they have to log out of your broadcast and come back to give more.
Just don't ask too many times in a single broadcast for hearts or you'll end up annoying people. Once every five minutes should be good enough. Never more than once every 2-3 minutes.
Getting Shares
Shares are also important on Periscope, and sharing a scope is pretty simple. On iOS, users must swipe RIGHT to share a scope. On Android, users must swipe UP. Again, you can ask for shares and tell people you'd love it if they shared your scope. You can also ask them to share your scope on Twitter, too.
Re-Introducing Yourself
Remember that some people may join you halfway through your scope, so it's a good idea to introduce yourself again at some point during the broadcast.
Just say something such as:
"For those of you who've just tuned in recently, I'm J.J. Smith, golf instructor at Hot Linx Golf in Dallas, Texas. I'd love it if you'd follow me on Periscope and Twitter for more great golf tips and product reviews! Thank you for all the hearts and shares!"
Signing Off
When you're ready to end your broadcast, you should be sure to give your viewers a strong call-to-action that gets them to do whatever it is you'd like them to do as a result of watching your scope.
Here's an example:
"Guys, it's time for me to end this scope. Thanks so much for watching, and I really hope you'll follow me here on Periscope and on Twitter, and visit my website www.hot-linx-golf-dallas.com for more great tips. While you're there, sign up for my newsletter. And please consider giving me hearts and shares if you like my content! Thanks again, and see you soon!"
Other Details
- 1 Ebook (PDF, DOC), 20 Pages
- 7 Part Autoresponder Email Messages (TXT)
- 1 Squeeze Page (HTML, PSD)
- File Size: 8,632 KB