Salespage Snapshot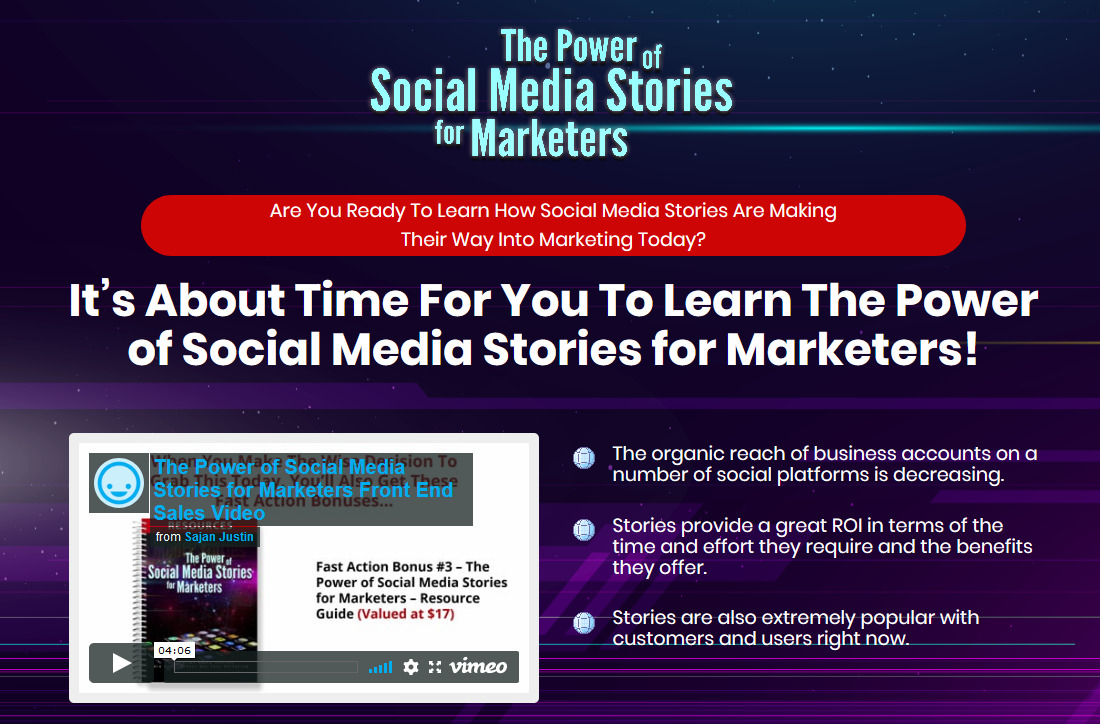 >> Click Here To View Sales Page...
Sample Content Preview
Stories for Trust, Engagement, and Personal Brands
It is common knowledge that most buying behavior is based on emotion rather than logic. We buy things because we see them in the store, think they look desirable, feel tired, and are worried we'll miss out if we don't buy. That's why, often when we go away and really think about a purchase prior to making it, we decide better of it.
With emotion being such a key factor when it comes to spending, it should be no huge surprise to learn that we are more likely to buy when we feel that we really know, understand, and like the seller. Better yet if we feel that the seller has views that agree with our own.
This puts us at ease. We feel better about buying from someone we know because we feel it's less likely they're going to try and con us. Likewise, we often want to please the seller. Finally, if we feel that their beliefs are aligned with ours, then we might feel as though buying from them will in some way "align" us with them and help to strengthen our sense of identity.
And that's where Stories come in.
Many businesses will create a lot of marketing and advertising that is highly polished and staged. Products look perfect with ideal lighting and professional-looking backdrops, while the personality selling the product is never shown. We feel very detached from these kinds of brands, which is why the average person doesn't exactly shed a tear when they feel that a big corporation is going bankrupt.
This is even MORE true when it comes to selling B2B a lot of the time.
This method is getting increasingly old-fashioned though, as the company in question fails to build any trust, to demonstrate anything that would make it unique or stand out, or to demonstrate any personality.
If you run an online business, then your Instagram account might have the same problem. It might well be filled with lots of stunning looking images of products, or perhaps lots of inspiring quotes, or photos of your lifestyle that are designed to look perfect. This is the image you want to portray, and you know that by including even one unpolished looking photo, you will make the entire account look less messy.
But this is where the nature of the Story is ideal. This is a TEMPORARY image that will never be included on your profile. That means you can include anything you like here, and in 24 hours it is going to be gone. This in turn means you're permitted to peel back the curtain just a little, and to show your followers "how the sausages are made" so to speak.
Stories can be the kinds of insights that you would never include on the main account, but that help to give you a little personality and help to make you seem much more approachable. Let's say for example that you were a high profile lawyer, you could use Stories to share aspects of your life – not only the travel and nice hotels, but also your preference in sandwich, your gripes with the queues at your bank… you know normal stuff.
Likewise, a local business might share a Story about a fun customer who came into their store. Or about the parade outside that is driving away customers. They might even include a photo of their dog, or a short post about how they loved the latest Marvel movie.
Things like that might not sound like strategies that would gel with traditional approaches to business… But that should be considered a GOOD thing. This is not a traditional approach to business, but a much more modern strategy for improving relationships.
These posts don't need to be on-topic, but they do need to be on-brand in as much as they should show a side of you and your business that you want to be seen.
In the next chapter, you'll see just how this kind of interaction can not only strengthen relationships, but also invite meaningful interactions that translate to sales.
If you're worried about being too personal, then you can use this as a kind of "behind the scenes" to show you setting up the shop, or your staff enjoying drinks out. What's even more effective though, is if you choose to create a "personal brand."
Stories for Personal Brands
A personal brand essentially means a brand that puts the owner (that's probably you) front and center. Rather than promoting X company, you instead promote yourself as a sole trader.
This doesn't necessarily reflect on the size of the company, or even it's structure. Most companies began as one or two people. It's rather a conscious decision early in the business's life, to push the individual. And for all the reasons we've discussed, this is a very powerful thing.
So instead of being RXPlumbing LTD, you might instead be John Dandy and Co Plumbing. The difference is that the John Dandy is a person that you feel you can "know" rather than a faceless company. Even if you never deal with John Dandy, the implication is that he's there, and that if you had a serious complaint you could talk with John Dandy. And this opens up huge potential for marketing that otherwise would simply not exist. You can now, for example, do a live Q&A with your followers and they can actually speak with the owner of the company! Likewise, you can show them some of the homes that you've visited and how you've helped them, and they'll not only get to see a demonstration of the great service you can provide, but will also get to see even more of your personality. Have you ever found that one plumber or electrician who you know does a good job and who you know will turn up on time? And then you never feel the need to use anyone again?
What if you could become THAT service provider, even without ever having met the customers yet? Stories for Social Media Influencers
There is one more group that should definitely sit up and take notice of Stories: social media influencers. Scratch that. Most influencers are already ALL OVER stories because they know just how important they are. The group that should get involved then is the aspiring influencers group. The people who want to become influencers, but haven't quite got there yet.
And this goes for bloggers too, because like it or not, you're essentially just an old-fashioned type of influencer. An influencer is someone for whom the personal brand IS the business. That's someone that inspires, entertains, or educates an audience to the point that the audience trusts their recommendations implicitly. The creative doesn't necessarily sell a product of their own (though they may) but they have so much clout that they can generate huge amounts of cash from simply wielding their influence.
For example, did you know that the going rate for a sponsored post on an Instagram account with 200,000 followers is $1,000? On YouTube it's $1,000 for every 100,000 followers!
That's BIG when you consider that there are PLENTY of accounts out there with over 1,000,000 subscribers/followers. That in turn equates to $10,000 for a single post. On Instagram it takes about 2 minutes to post an image!
In other words then, the potential ROI for a successful social account is gigantic. And how do you get to that point? Using stories is an absolutely essential way for all the reasons we discussed – it lets people come along on your outings and feel that they know you. That they're a part of your story.
While simply posting Stories as you go about your day is a great way to help bring your followers along for a ride and show off what you're all about, this is also only part of what makes Stories so effective for increasing engagement. Because the real value of Stories is in the way that they can facilitate communication.
When you open up to your followers in this natural and organic way, in a format that feels very instant and current, you invade people to respond.
And THIS is where you can potentially make a massive difference in the way that your followers see you.
For example, let's say that you have a store selling hair products. You can post beautiful pictures of women's hair, or well-lit bottles to your main feed all you like, but if you post a short video of yourself talking naturally to the camera about how you tried the latest product that just came in and your hair feels AMAZING, then that is infinitely more engaging.
And notice that in this example, you never actually said what the product was. You just said something new that came into your store. This is the critical aspect, because it means that you have invited a conversation. That in turn means that you can sell directly to those leads.
Now of course, directly messaging every single person in order to sell a bottle of shampoo might not be the most time efficient method of doing business. But if you imagine that this is a big ticket item – perhaps tickets to see a seminar you run for $1,000 – then suddenly it's a lot more viable.
Moreover, you can also do this with products that you aren't selling! Giving people tips throughout the day and doing so via message, is a brilliant way to really establish some rapport with those people. It lets them feel as though they've just got a great "insider tip" from a mate, and that's going to drastically increase their chances of checking out your next post, or of buying your product even.
Announcements and Sales
Another great way to make use of Instagram or Facebook Stories is for announcements.
Stories are displayed extremely prominently on most social media platforms, meaning that they're often one of the first things that users encounter when they land on the sites.
Not only that, but if you haven't posted a story in a while, then they will be notified that you have. This of course is an excellent way to grab their attention when they might otherwise not have been about to engage with your brand. An announcement can mean that you are introducing a new product or service, or it can mean that you are running a special deal. Either way, this gives you an excellent way to alert people and potentially to drive some sales. The best part is that the nature of Stories means that viewers will know they're not looking at a live post – that this sale is happening NOW.
When it comes to Stories for business, the biggest platform you are likely thinking of is Instagram. Yes, it might have been Snapchat that started it all, but Snapchat remains a relatively obscure option that only has so many users and that appeals to a very specific niche in the market.
Instagram on the other hand is the second largest social media platform in the world, second only to Facebook. But while that might lead you to think that it would be Facebook that would be the ideal choice then, the fact that Instagram is initially designed from the ground up to be a visual platform makes a huge difference here. People use Instagram because they want to see images and videos. That makes it the perfect place to share Stories and to promote your business in a visual manner.
It gets better too, because this is the ideal time to start using Instagram Stories for business. Like any type of Story, Instagram Stories have the potential increase your engagement and to raise trust with your audience. At the same time though, they are also very much on the up and up in terms of user base.
Other Details
- 20 Articles (TXT, DOC)
- 1 Ebook (PDF), 26 Pages
- 7 Graphics (JPG, PNG)
- 1 Salespage (HTML)
- 10 Ecovers (JPG)
- 2 Promotional Ad Materials (Emails, Banners)
- Resource Report, Cheat Sheet, Mindmap, Social Media Images, Legal Page, Sales Video
- Year Released/Circulated: 2019
- File Size: 205,770 KB
License Details:
[YES] Can be sold
[YES] Can be used for personal use
[YES] Can be packaged with other products
[YES] Can modify/change the sales letter
[YES] Can be added into paid membership websites
[YES] Can put your name on the sales letter
[YES] Can be offered as a bonus
[YES] Can be used to build a list
[YES] Can print/publish offline
[YES] Can convey and sell Personal Use Rights
[YES] Can convey and sell Resale Rights
[YES] Can convey and sell Master Resale Rights
[NO] Can modify/change the main product
[NO] Can modify/change the graphics and ecover
[NO] Can be given away for free
[NO] Can be added to free membership websites
[NO] Can convey and sell Private Label Rights