Salespage Snapshot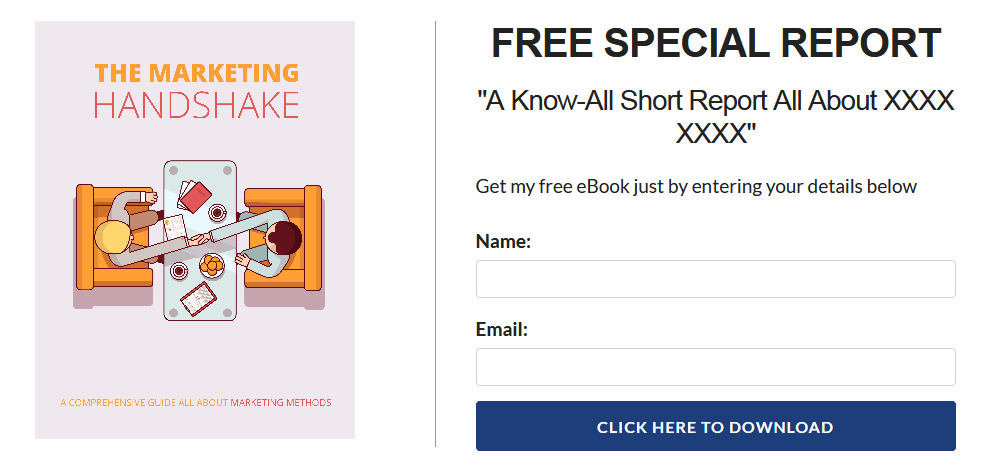 >> Click Here To View Sales Page...
Table of Contents
Introductory 4
Chapter 1: Explosive Joint Ventures 6
Chapter 2: Ways to Get Free Marketing Exposure. 9
Chapter 3: Steps for Improving Your Email Marketing …… 12
Chapter 4: Save Money on Marketing a Business 15
Chapter 5: Dynamic Marketing Tips ….. 19
Chapter 6: Tips To Be Successful With Your Own JV Offer 21
Chapter 7: Internet Marketing Myths … 24
Sample Content Preview
Chapter 1: Explosive Joint Ventures
Everyone needs targeted visitors to their websites and tis could proof, at some times, to be a very tough job to do.
You hear that you need to do one thing from this guru and the other guru tells you to do another. It gets confusing at one point.
Now, the one strategy that will never fail you is finding good partners. Basically, even internet marketing is about the "partners" you have and find. You need link partners to gain popularity in the search engines and when you want to sell a product, effectively, you need JV partners to get this thing rolling.
Now why should I do a JV?
Well, whenever you have a product and you want to launch it, it may be wise to find websites in your niche that have lists and may be interested in selling your products. And even if they don't have a list, just ask them if they would like to promote your product on their website.
What is in it for them?
Great question… whenever your set-up a JV, you need to be sure there is something in it FOR THEM. So, depending on you focus you could offer them a commission of 50 up-to 100% on a product you sell.
So how do you determine what kind of commission you will give to your affiliates? It really depends on your focus… if you want to build a list of paying customers quickly, your set-up a JV and give as much commission as possible to your JV partners but when it is for a product that you are going to sell as your main product, you could offer them a commission anywhere between the 50 and 65% (you still need to make a living yourself).
In the first case the product doesn't have to be extremely high priced, it is all about building that list with "paying customers"… your golden list. So, something like $9,95 would be just fine and perfect to attract partners and hand you over their lists. Especially if you give-out a commission of 100%.
Now, the next thing you should do is make it as simple as possible for the JV partner. What I mean by that is that you shouldn't let them do too much work. You should create all the messages for them (so they can send it out to their list), create a couple of banners that they can put up on their websites, text links, etc.
Now, I have shown you the basics of setting up a JV. Marc Goldman knows a lot more about how-to set-up Joint Ventures, effectively. So, if you ware truly interested, I highly recommend you to do a search on him on Google.
I want to stop by giving you step by step directions you can follow when your set-up your Joint Ventures:
1: Have a product to sell. You need to make sure you have some kind of product you could sell before you can set-up a JV. And this doesn't have to be your own product, just think outside the box or check out this website for more information about Joint Ventures.
2: Set-up your website. When your set-up a JV for your own product, you need a website to promote that product. So, you will need to buy hosting and a domain name. I personally get my domains at GoDaddy and my hosting at HostGator.
3: Find JV partners. This is a very time-consuming task but very rewarding in the end. All you should do is look for websites in your niche and ask them if they want to be your JV partner. Try to call them if possible and otherwise send them an email about your affiliate program (how much they can make, other advantages for them).
4: Set-up and prepare for launch. If you want to learn more about how to set-up a launch, you should take a look at this website. He knows everything about launches and can most surely help your set-up a launch in your own niche. I will just cover some basics.
What you need to do is make sure your follow ups are ready, that you start getting prospects before you launch and keep these prospects updated and interested about your product, create a sense of urgency like your product is the best they can get in your niche.
And it will make sure that your partners will make more money and the next time you launch something, they will be happy to help you out.
I hope this article has been useful and will help your set-up some explosive Joint Ventures in the future.
Other Details
- 1 Ebook (PDF), 26 Pages
- 1 Squeeze Page (HTML)
- 3 Ecovers (JPG, PNG)
- Year Released/Circulated: 2019
- File Size: 1,749 KB
License Details:
[YES] Each product to be sold for no less than $7.00 each.
[YES] Can be sold
[YES] Can be re-branded as your own
[YES] Can be used for personal use
[YES] Can be packaged with other products
[YES] Can modify/change the sales letter
[YES] Can modify/change the graphics and ecover's
[YES] Can add to ANY membership site (MRR Only)
[YES] Can be offered as a bonus
[YES] Can be given away free to build a list
[YES] Can print/publish offline
[YES]Can convey and sell Personal Use Rights
[YES] Can convey and sell Resale Rights
[YES] Can convey and sell Master Resale Rights
[YES] Can be given away for free
[NO] Can convey and sell Private Label Rights
[NO] Can be given away in PLR format
[NO] Can sell or giveaway the FULL package