Salespage Snapshot: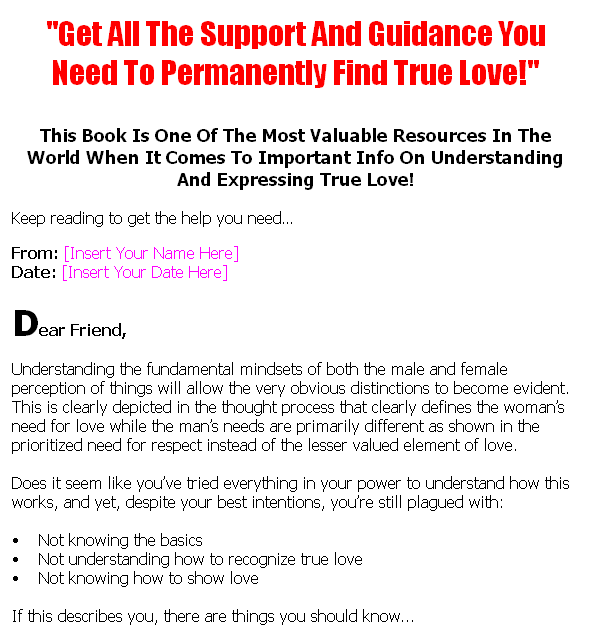 >>> Click Here To View Full Sales Page…
Table of Contents
Foreword
Chapter 1:
Finding Love Basics
Chapter 2:
Prepare Yourself To Find True Love
Chapter 3:
Know How To Recognize True Love
Chapter 4:
Showing Love Basics
Chapter 5:
Be Careful Of Actions And Behaviors
Chapter 6:
Be Honest And Pay Attention
Chapter 7:
Spend Quality Time And Say It
Wrapping Up
Sample Content Preview
Chapter 6:
Be Honest And Pay Attention
Synopsis
Honestly is almost always one of the most highly valued element within the confines of any relationship and this is more some demanded within the partnership of a man and woman. In most cases it is found that women are more likely to hold the element of honesty as a highly prized value when comparing to other human value systems.
Honesty
In order of both parties to establish a strong and loving long-term relationship, the elements of honesty and being able to be alert to the other party's feelings and needs is very pivotal indeed.
Another very helpful trait to develop would be to anticipate the needs and work towards having these needs met adequately. This will certainly be highly appreciated by the receiving party and will more than likely be reciprocated.
If the individual is really committed to making the relationship work, then taking the extra effort to pay attention to all the minor details within the relationship as a whole will give him or her a good prospective and opportunity to always be prepared for the unexpected and extend actions that would be depicted as genuinely caring and considerate.
Most relationships eventually make the mistake to taking each other's feeling for granted, thus eventually becoming rather lazy and inattentive to the needs of the other party.
This of course is a rather negative and destructive mindset to develop as it will defiantly be one of the pivotal points that contribute to the eventual downfall of the relationship.
If the element of honestly is established very early on, in the relationship, both parties will be able to speak their mind without the hindrance of deceit taking root in any area.
Honest is appreciated in almost all circumstances but being honest in a gently and considerate manner would be advised, especially when feelings are involved.
Chapter 7:
Spend Quality Time And Say It
Synopsis
With all the distractions of today's daily needs of every individual, it is sometimes very difficult for people to stop and make the effort to spend quality time with their significant other. Commitments and distractions often cause the parties to go through life without actually fortifying the relationship until it suffers significantly enough to be on the verge of collapse. This is indeed a rather poor state of affairs to be in, thus the need to ensure some quality time is scheduled as often as possible for each other.
Some Insight
Making this effort and ensuring it is well noted and received is a good way to build a relationship that lasts through thick and thin. Spending quality time, is something that needs planned attention, and certainly a concerted effort on the part of both parties especially when there are significant work and family commitments to contend with, on a daily basis.
However without this effort, the relationship will eventually become stale and boring, which could lead to either party seeking the missing link outside to the existing relationship.
This of course would be a rather dangerous journey to explore as the eventual damage to the existing relationship could be so extensive that recovery may not be an available option.
For some, establishing time for both parties to set aside may be a struggle but the insistence of this very healthy endeavor, will eventually bring forth good and beneficial results to the relationship.
Persistence in this area would definitely be well rewarded in the end, as it will clearly show each other the level of commitment both parties are willing to take to strengthen the relationship.
Being vocal about this is also very important, as this too will show the significant other, the seriousness of the individual's commitment to the betterment of the relationship.
Other Details
- 1 Article (DOC)
- Ebook (PDF, DOC), 25 Pages
- Salespage (HTML, PSD)
- Squeeze Page (HTML)
- Ecover (PSD, JPG)
- Special Bonus Preview Report (PDF, DOC), 13 Pages
- Promo Emails
- Thank You, Earnings Disclaimer & Privacy Policy Page (HTML)
- File Size: 10,338 KB