Salespage Snapshot: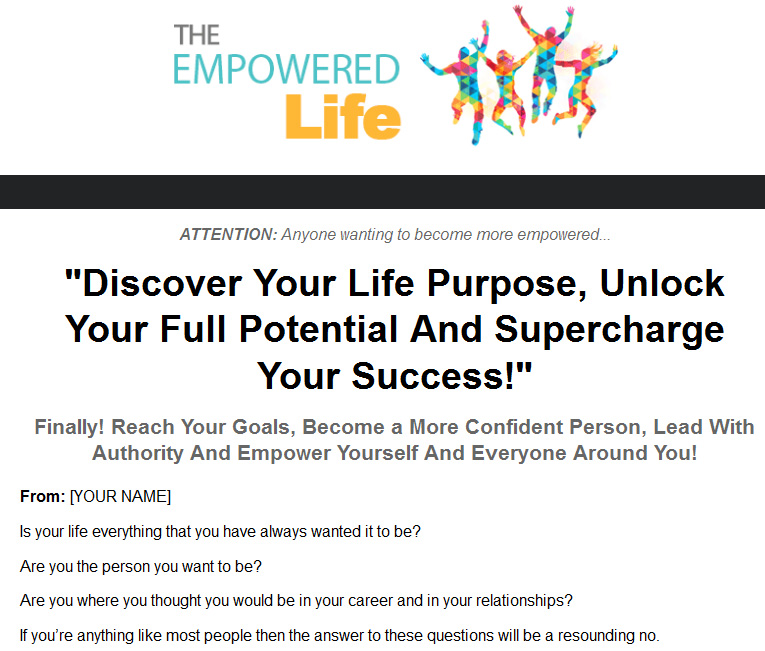 >>> Click Here To View Full Sales Page…
Table of Contents
Introduction … 5
Chapter 1: The Modern Ache – Why You Aren't as Happy, Successful and Fulfilled as You Should Be . 11
The Plight of the Modern Man 12
Chapter 2: A Powerful and Immediate Upgrade in One Day 16
Take a Day to Yourself and Do This … 17
Tidy the House and Create Systems . 18
Fix Your Look 19
Chapter 3: Your Self-Improvement Regime – Meditation and Journaling … 21
Meditation .. 22
Dual n-back … 23
Tidying the House/Grooming . 25
Journaling .. 26
Chapter 4: Important New Habits and Lifestyle Changes 28
Vitamin Supplements . 29
Sleep . 30
No Fap … 32
Chapter 5: Building Your Body .. 35
An Easy Diet to Fix Your Health . 36
Exercise . 39
Chapter 6: Why We Need Challenge and Growth – The Hero's Journey and Maslow's Hierarchy of Needs . 43
Finding Your Hero's Journey .. 47
Maslow's Hierarchy of Needs . 50
What is Your Calling? . 52
Chapter 7: Finding Your True Life's Purpose … 54
What Are You All About? … 55
Chapter 8: Becoming Emotionally Resilient . 61
No Flap .. 62
Conclusion – Being Your Best You and Going Places 68
Sample Content Preview
Chapter 1: The Modern Ache – Why You Aren't as Happy, Successful and Fulfilled as You Should Be
Before we look at improving your life and achieving that sense of accomplishment and fulfilment, it first makes sense to focus on the things we're doing wrong. The things that we could be doing better and the things that are holding us back.
Why don't you feel fulfilled? Why don't you have more time to take care of your looks or your home? Why is your relationship falling apart?
How did you end up in a dead-end job?
Let's take a look at a story that many of us will be familiar with: the story of the modern man.
The Plight of the Modern Man
Most of us were very happy when we were younger. We were excited to be learning and discovering so much and we were taken care of all the while by our doting parents. Every day was an adventure, everything was new and we were constantly growing and developing.
Back then, you probably had big dreams. You probably knew what you wanted to be: whether that was an astronaut, a rock star or an actor.
Then you probably got a little more serious around high school when you would have realized that you needed to be more serious with the kind of work you did. You probably discovered a subject that you enjoyed and decided that you would pursue that into college. Hence you might have taken up math, science or drama.
At college you met new people, discovered that the world was much larger and came away feeling on top of the world. With diploma in hand, you were ready to take on the world. Only you discovered you had no experience and as such, employers were not exactly queuing up to give you a job. Meanwhile, you needed a roof over your head and wanted to move out of your Mum and Dad's place, so you decided to take any work you could get.
You might have a degree in science or literature, but now you're working in an estate agent's or a logistics company. You're stuffing envelopes or dealing with requests and it's not particularly fun. But hey, you're earning money and you're out there!
And then you meet someone who you fall in love with. You're happy together – after all, you're both young and attractive – so you start renting a place.
Only now you're juggling work, a relationship and rent. That leaves less time for seeing friends and less time for staying in shape or pursuing your dreams.
And it's a little small, isn't it? So, you decide that you need to move into a bigger place. It's time you got on the property ladder! And that means saving. So, you unfortunately don't have the luxury to look for other work – you need to take the next position that's offered in your organization.
And that increases the stress. Now you're coming home a little later and a little more stressed and you have less energy and less time to spend with your partner. But you're both working toward the same dream, so you get married and buy a house and it all seems great.
Only now your responsibilities are much bigger. Now you're working until 6, 7 or 8pm on a regular basis and you can't see an easy way out. Then the boiler breaks and the fence blows down and you're blowing more of your savings on making those repairs.
There's no way at this point that you can consider leaving your job and in the evenings, all you want to do is to crash on the couch and recover from the stressful day you just had. Later a baby will come along and you'll live to look after them.
These are all great things: having a partner, a baby and a home are fantastic achievements that bring contentment. But you can't live for those things. You need to look after yourself as well and you need to chase your dreams.
Otherwise, you'll become a burned out, tired husk of a person with no ambition, no drive and no enthusiasm. That's no kind of impression to make and especially if you start to resent your family.
You never travelled.
You never pursued your dream job.
You don't go out with friends any more.
You've gained weight.
You look a mess.
Your house is untidy…
And you have no energy to do anything about it and no way of knowing how to go about it. Is it any wonder that so many people are depressed? Is it any wonder that so many marriages end in divorce?
Depressing? Sure. And especially if you can recognize some truth in it. But don't worry, we're going to fix you!
Chapter 2: A Powerful and Immediate Upgrade in One Day
I don't want to beat around the bush any more with meaningless pre-amble. It's time that we dive straight in and start developing you dear reader.
Reading motivational articles on how to achieve your goals, feel more confident and generally become the best version of yourself can be a good way to fuel yourself with inspiration and find areas to improve in your life.
But just reading self-help isn't going to do anything. If you really want to start improving your life then you have to take action and you have to execute on all those ideas and tips.
The problem is that that there is so much information out there and so many different tips out there that it can be hard to know where to start. And none of this information is organized or useful – it's all just kind of there and we're expected to pick and choose the parts to apply to us.
In this chapter and the next couple, I'm going to take some of the best advice that can help to make you happier, more confident and more attractive and I'm going to put it into a kind of program in much the same way that you might make a training program.
This is going to be mostly superficial stuff for now: I'm going to focus on making you better looking, more energetic and less stressed. We're starting with this stuff because it is an easy win and it will make you feel like a million bucks. And once we've done that, then we can look at going a little deeper…
Take a Day to Yourself and Do This
Okay, so we're going to start by taking a single day out of your routine and doing a kind of 'spring clean' for your soul.
You take days off of work for all sorts of less important reasons, so book off some time and make this a day that is just about you.
Now what you're going to do is to use this day purely to focus on making the changes that can help you to become a better version of yourself. So that you have more energy, more space and less stress. So that you can stand tall.
Here's what you're going to spend the day doing:
Tidy the House and Create Systems
The tidiness of your home is very much an outward reflection on the state of your mind (in fact, houses represent the mind when we're dreaming!). If you are stressed, then chances are that your house will be a mess. Likewise, if your house is a mess, chances are that you will be stressed!
So, you're going to stop and tidy the house up and then you're going to look at some systems that you can implement to keep it that way.
This might mean that you invest in some machinery that can take care of cleaning and tidying for you. A dishwasher, robotic vacuum cleaner etc. can all save you time. At the same time, you're also going to look at ways you can organize your kitchen or your home office so that it will be easier to take care of everything.
That might mean using a filing cabinet for example. Get rid of the things you don't need and aim for a more minimal layout and aesthetic. If you can do this effectively, you'll find that you spend a
lot less time cleaning and tidying and a lot more time actually doing things you want to do. At the same time, living in an environment that is clean and attractive will make you feel less stressed, more at ease and more accomplished.
Fix Your Look
This is also a good time to fix your look: that means getting a haircut (have you ever noticed what a great mood you always get put in after a haircut?) and it means investing in a new wardrobe.
That last point is important: dressing right can make a huge difference to how you feel about yourself and thus the image you project and the way that others respond to you.
The first thing to recognize when doing this is that it does make a big difference to wear nice clothes. That means you should be wearing clothes that are high quality and from shops that generally charge a little more. The difference here is in the fabrics that are used and the way that these can unconsciously make you look a little better and a little more accomplished.
If you don't have lots of money to spend, then focus on quality over quantity. Buy when clothes are in the sales and choose outfits that will allow you to re-used specific items in creative ways. Look for those all-important staples like your shoes, a good hoodie, the right white t-shirt etc. And where possible, always buy clothes that fit well.
One more tip is to try buying clothes you normally wouldn't. If you struggle with this, then perhaps ask someone else to pick something for you. Try being a bit more adventurous generally too and wearing things/dressing in a way that will make you stand out. Dressing well is one thing, but daring to dress differently will make others change the way they think about you and make you look confident in your style and your appearance.
Other Details
- 20 Articles (TXT, DOC)
- 1 Ebook, 70 Pages
- 2 Graphics (JPG, GIF, PNG)
- 1 Salespage (HTML)
- 4 Promotional Ad Materials (Emails)
- Checklist, Resource Cheat Sheet, Mindmap, Optin Page, Social Media Images
- Year Released/Circulated: 2017
- File Size: 18,747 KB
License Details:
You're granted master resell rights, resell rights or to resell with personal use rights.
You may add this product to your PAID membership site
You may giveaway the product as a bonus when people buy through your affiliate link
You may edit the included sales page and opt-in page
No, you may NOT edit the contents of the eBook(s) & videos
No, this product does NOT include private label rights. You are granted Master Resell Rights only
No, you may NOT giveaway the eBook(s) & videos for free.