Salespage Snapshot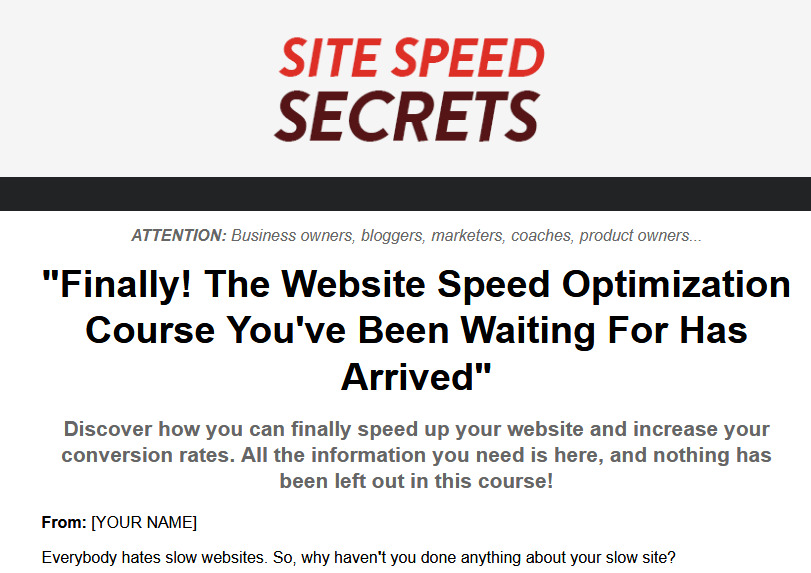 >> Click Here To View Sales Page...
Table of Contents
Introduction To Website Speed Optimization … 5
The Internet and Instant Gratification …. 5
What A Slow Website Means For Your Business . 6
The Benefits Of Having A Fast-Loading Website . 8
Final Words 11
Google Wants Your Website To Be Faster 12
Google's Vision . 12
What Google Wants, Google Gets .. 13
The Best Tools To Help You Configure Your Site To Make It Run Faster 15
Final Words 21
Speed Starts With Your Web Hosting Company … 22
What Exactly Is Web Hosting? .. 22
How To Choose The Right Web Hosting Company .. 24
Final Words 29
How To Dramatically Speed Up Your Website Using A Caching Plugin ….. 30
So, What Exactly Is Web Caching? .. 31
Web caching is a win-win for everybody …. 33
Web Caching and Content Delivery Networks .. 33
The Best Caching Plugins For Your WordPress Website 34
Final Words 38
Which Files To Reduce And How To Do It . 39
What Are Unoptimized Files? … 39
Print vs Web Images ….. 40
Optimizing Images For The Web ….. 42
Some Other Files You Can Reduce Or Compress ….. 46
Final Words 49
Tapping Into Your Website Configuration File 50
What is .htaccess? .. 50
Configuring .htaccess To Speed Up Your Site …. 51
Final Words 58
Fast Track Your Speed Optimization With WordPress 59
1. Keep Your WordPress Site Updated ….. 59
2. Use A Fast, Lightweight Theme 60
3. Keep Plugins To A Minimum …. 60
4. Optimize Your WordPress Database …. 61
5. Don't Upload Videos To WordPress ….. 62
6. Break Comments Into Pages …. 62
7. Reduce The Number Of Post Revisions 63
Final Words 64
Sample Content Preview
The Benefits Of Having A Fast-Loading Website
If you haven't already guessed, there are a ton of benefits associated with having a speedy website. As we've demonstrated in our earlier examples, these benefits are very real and tangible, not imaginary.
Here are some of the top benefits:
1. You retain your website visitors
A fast loading website will help you retain your website fasters. They won't feel compelled to hit the back button on their browsers to go check out your competitors. Instead, they'll stay on your site and read what you have to offer.
But here's the thing – if you truly want your visitors to stay and keep on coming back for more – then you need to have outstanding content on your site. It doesn't matter how fast your website is if your content is just copied and pasted from somewhere, or worse, spun and computer-generated content!
(While Google is cracking down on sites like these you'd still come across 'garbage' sites every once in a while.)
The important thing to take note is that you've got to think about your site visitors. Why are they on your site? If you give them what they want, then they'll be happy visitors. However, if you give them content that don't give any value, then your fast-loading website isn't going to do you any good at all.
2. Better conversion rates
All webmasters ideally want to have a hundred percent conversion rates for their websites. But this hardly happens in real life. Depending on the industry and the offer, many online businesses are happy with a 10% (or thereabouts) conversion rate. In many cases, that's even considered an above average number.
When you have a speedy website, people tend to stay on your site and check out your services and your products. If your site is well-designed and you follow the best practices for maximizing conversions, then chances are you'll have good conversion rates, too.
However, if you don't follow the best strategies and techniques for improving conversion rates, then your speedy website is not going to help improve your bottom line at all. So, make sure you read up on what's working in your industry so you can put your fast-loading site to good use!
3. Positive user experience
Your new website visitors are going to judge your brand or business by how fast your website loads. If you've got a slow site, you're literally losing the opportunity to gain their trust. Your website will come off as unprofessional, something that's unworthy of their time, so they'll leave until they find a website that will value their precious time.
Fast websites, on the other hand, have much higher chances of getting their audience's trust. When pages load quickly, it tells the user that your brand values their time and that you're going to make it worth their while to spend a little more time on your site.
If you've also got great content on your site, then that adds to the positive user experience, too. People will be more willing to sign up to your mailing list, they'll be happy to purchase your products or your services, and they won't hesitate to recommend your website to their friends on social media!
This, in turn, leads to even more visitors to your site which further increases the likelihood your website could go 'viral' and get you plenty of new visitors in the process!
4. Better rankings on Google and other search engines
Search engines work hard to provide the best experience possible to their users. This is is why they have algorithms and metrics to rank websites for various keywords. There are billions of websites on the Internet, and they have to figure out a way to make sure the top spots go to the best websites.
No one knows precisely what all the ranking factors are (it will be so easy to cheat the system if everyone knows what the ranking factors are), but website/page speed is one of them. The faster a web page loads, the higher the chances that it's going to rank high on Google and other search engines.
What this means is that if you've got a fast-loading and high-quality website which offers valuable content to users, then search engines are going to love you. They're going to reward you with high rankings on their search pages.
This is why optimizing your site for SEO (search engine optimization) is so important. If you succeed, then you'll get highly-targeted, free traffic for as long as your site is on top of search pages!
Final Words
Website speed optimization is not a subject to be taken lightly. All webmasters should work on making sure their site loads fast on both desktop and mobile browsers. A slow website is going to hurt your business in the long run. If you want your business to last, then make sure you optimize your website for speed.
Google Wants Your Website To Be Faster
Google is such a prominent and dominant force on the web that it's become a dictionary entry, a verb. When someone asks us for information, and we don't know the answer, we tell the person to 'just google it.' Or even when we know the answer, and we don't have the time to explain, we tell people to 'go google' the information. Everyone knows what Google is. And all webmasters want their sites to rank high on Google. They know they stand to benefit from the search giant's popularity. Even from the very beginning, Google did search engine right.
Where every other search engine at the time was focused on becoming a portal, a one-stop-shop on the Internet, Google was solely a search engine. When people searched for stuff on Google, they got much better results than other search engines.
This largely led to Google's success. To date, no other search engine comes close, not even Bing, the world's second largest search engine.
Other Details
- 20 Articles (TXT, DOC)
- 1 Ebook (PDF), 64 Pages
- 2 Graphics (JPG, GIF, PNG)
- 1 Salespage (HTML)
- 4 Promotional Ad Materials (Emails)
- Checklist, Resource Cheat Sheet, Mindmap, Optin Page, Social Media Images
- Year Released/Circulated: 2018
- File Size: 54,159 KB
License Details:
You're granted master resell rights, resell rights or to resell with personal use rights. Price for resell is strictly $7.00 minimum
You may add this product to your PAID membership site
You may giveaway the product as a bonus when people buy through your affiliate link
You may edit the included sales page and opt-in page
No, you may NOT edit the contents of the eBook(s) & videos
No, this product does NOT include private label rights. You are granted Master Resell Rights only
No, you may NOT giveaway the eBook(s) & videos for free.
Must be sold for at least $7.00 (videos $17)