Salespage Snapshot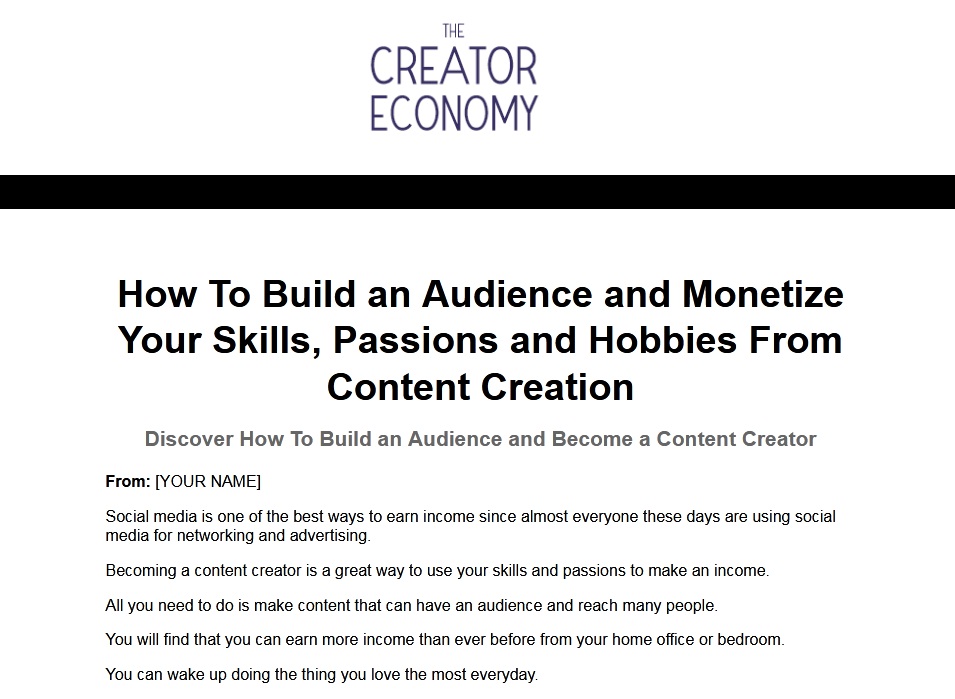 >> Click Here To View Sales Page...
Table of Contents
Introduction 5
Chapter 1: What Is The Creator Economy? 10
Podcasting 15
Blogging 16
Videos 17
Influencers 17
Design & Art 18
Chapter 2: How To Get Started As A Creator 21
Find Your Niche 22
Choose A Platform 25
Chapter 3: 6 Ways To Make Money As A Creator 32
Sell A Membership For Exclusive Content 34
Sponsorships 35
Ad Monetization 36
Sell Merch 38
Sell Digital Products 40
Sell Consultation/Coaching 40
Chapter 4: Content Ideas 43
How To/Tutorials 43
Day In The Life 44
Listicles 45
Chapter 5: Content Strategy 48
Conclusion 54
Sample Content Preview
You have likely seen a content creator because they exist just about everywhere on the web now. They populate the pages of TikTok, YouTube, Twitter, Instagram, Facebook, and practical any social media app online.
But they also have their own websites – and even apps – that cater directly to the audiences they have built over he years. Blogs and podcasts are also home to some of the most popular content creators around.
Over the years, the idea of a content creator has blossomed from someone who likes to discuss things that they enjoy to people who run entire small businesses and hold influence over millions. Content creators are able to sway people to buy products and change their lives. The audiences have grown to trust these creators and hang on nearly every word they say.
The concept of content creators has grown in leaps and bounds over the years. Just a decade ago, it wasn't something that existed and now creators like his bring in millions of dollars every year, both to themselves and to the companies they work with. And the number of content creators has ballooned in major ways recently, with more than 50 million people describing themselves as such in 2022.
The power of content creators will only grow, as will the number of people ascribing to be one. Through their hard work and their dedication to the cause, content creators have crafted their very own business models and an entire economy that revolves around the. That economy, the creator economy, is one that has thrived through good times and bad and will continue to do so in the years ago. It is still young, it is still evolving, and it holds great promise for anyone who takes it seriously and wants to dedicate their life to it.
Chapter 1: What Is The Creator Economy?
You have probably heard the phrases "content creators" and "creator economy" again and again over the last few years, especially recently with the boom of TikTok and Instagram burning up the app stores since the start of the 2020s. But even if you have heard it talked about it on your own news feeds or in the news, you still might not be 100% sure what it is. So, before we can really talk about the creator economy and the power it holds, we need to summarize it correctly so we know exactly what we are talking about.
Simply put, the creator economy is one that was generated by and still caters to creators. And, by the most basic definition, creators are people who produce millions of hours of content for their fans about many different subjects are the ones who built and exist inside the creator economy. The creator economy is a world that financially rewards those who are committed to the idea of creating content consistently, via blogs, vlogs, tweets, postings on social media, and any way to connect with their fanbases.
Content creators don't just blog or make videos though. There are many who make hand-crafted items or write books or even create audio programs about a number of things such as politics, history, meditation, self-are, lifestyle changes, home furnishings, and more.
Much like other creative economies, the creator economy is one where people are able to make whatever is they're passionate about and then distribute that directly to the people who want it. It cuts out the middle man. The creator economy doesn't rely on big companies, studios, networks, or publishers. Instead it is by the people and for the people. All of that makes every aspect of the creator economy, from creation to distribution, much more intimate and personal.
Let's take a look back at the beginning of another gamechanger that altered the way we are entertained and educated: the television. Back when the TV first came to the public in the 1950s, it started with very few channels. In fact, for many decades, most Americans could only watch three networks. But over time, there became more and more channels for people to enjoy and more and more programs on those channels.
Still, it was relegated to a very structured and strict system that didn't allow for people to break away form the format put in place. With more freedom came more variety and different types of audiences were able to find content that they felt spoke directly to them.
Much like the start of television, the creator economy got off to a slow start where there were limited ways for people to express themselves. In the beginning of this new economy, there were limited outlets for people to post their creations and find their audiences. However, that isn't the case anymore. Content creators were mostly stuck with YouTube for videos, Etsy for their own creations, and blog platforms such as WordPress for the written word.
But that didn't last long, as other companies saw the value in letting people express themselves, more options became available to content creators and the creator economy was born. Now there are dozens of video sites, blogging platforms, social media apps, and marketplaces that allow people to make their content and distribute it to their fans.
Other Details
- 1 Ebook (PDF), 55 Pages
- 2 Graphics (JPG, GIF, PNG)
- 1 Salespage (HTML)
- Checklist, Resource Cheat Sheet, Mindmap, Optin Page, Social Media Images, Email Swipes
- Year Released/Circulated: 2022
- File Size: 64,569 KB
License Details:
[YES] Can be sold
[YES] Can be used for personal use
[YES] Can be packaged with other products
[YES] Can modify/change the sales letter
[YES] Can be added into paid membership websites
[YES] Can put your name on the sales letter
[YES] Can be offered as a bonus
[YES] Can be used to build a list
[YES] Can print/publish offline
[YES] Can convey and sell Personal Use Rights
[YES] Can convey and sell Resale Rights
[YES] Can convey and sell Master Resale Rights
[NO] Can modify/change the main product
[NO] Can modify/change the graphics and ecover
[NO] Can be given away for free
[NO] Can be added to free membership websites
[NO] Can convey and sell Private Label Rights