Salespage Snapshot: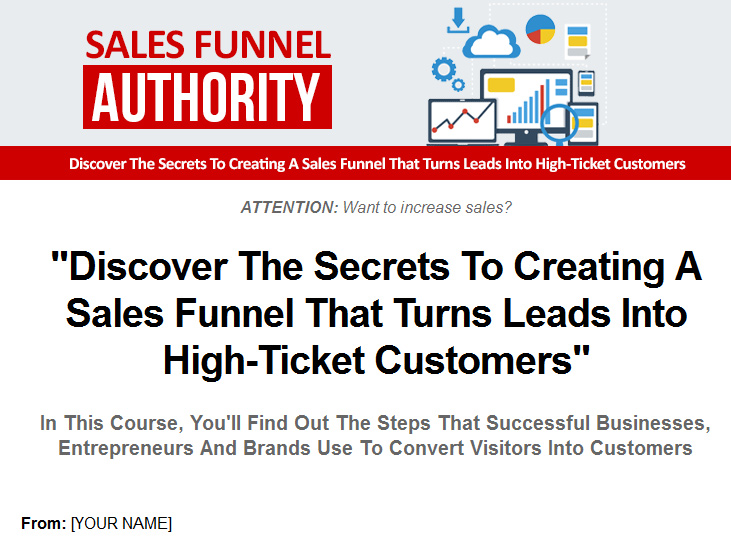 >>> Click Here To View Full Sales Page…
Table of Contents
Introduction 6
What is a Sales Funnel? … 7
What You Will Learn … 10
Chapter 1: Why Sales Funnels? Understanding the 5 Touches.. 12
The Alternative 13
The Five Touches … 17
Chapter 2: What Constitutes a Sales Funnel? .. 18
The First Touch… 18
The Second Touch . 19
The Third Touch . 20
The Fourth Touch … 21
The Final Touch.. 23
Chapter 3: Advanced Techniques – Live Video Streaming and More 24
Newer and More Interesting Steps.. 24
Targeting Your Audience and Finding Leads.. 25
Chapter 4: Persuasive Writing and How to Use AIDA in Your
Marketing .. 27
What is AIDA?. 27
How to Use Persuasive Writing… 30
Urgency and Scarcity.. 33
Chapter 5: Adding Polish and Mixing it Up – The Bit Everyone Forgets… 35
Chapter 6: Pricing Strategy for Your Sales Funnel .. 37
The Free Line . 38
Choosing Prices .. 40
Chapter 7: Playing the Long Game and Building Trust … 43
Your Mission Statement .. 44
Content Marketing… 45
Chapter 8: Crucial Tools and Resources That Will Save You Time 46
Building Your Sales/Squeeze Pages .. 46
Webinars and Meetings .. 48
Google Analytics . 48
Lead Management .. 48
Chapter 9: Increasing Conversion Rates… 51
Investment… 51
PPC. 52
Watching Metrics. 53
Building True Fans .. 54
Chapter 10: Choosing Your Products 56
Acquiring Products to Sell: Your Options 57
Creating Digital Products 57
Creating Physical Products. 57
Selling Affiliate Products . 58
Dropshipping… 58
Conclusion and Summary… 59
Sample Content Preview
Chapter 1: Why Sales Funnels?
Understanding the 5 Touches
Imagine if someone came up to you in the street and asked you if you'd like to buy a $5,000 watch.
99.9999% of the time, you would say no to that offer.
Why? Well, apart from the fact that you might not want a watch (you are a 'cold lead' in that respect), there's also the small issue of trust, recognition and authority. You don't know who this person is, you've been given no reason to trust them and you're probably not going to want to hand over any cash.
That's why companies don't do this. Instead, they give you fliers. Fliers are things you can choose to accept or throw away – but either way, they don't cost you anything and you won't feel that you're being pressured into anything.
Other stores do something different: they give away freebies. Walk past Starbucks and you'll often find them giving away free samples of their new drinks and cakes for you to try. Again, you can easily walk away if you're not interested and you won't feel you're being strong-armed. If you like the free sample though, then you can come in and try whatever else they're offering.
If you try and sell to people right away on your website though, then you're the equivalent of someone trying to sell thousand dollar watches in the street. And if that's the only thing you're offering and the only way that your visitors can engage with you, then they're just going to say 'no thanks' and leave, giving you no way to contact them again and no way to get them back. As you might have guessed, this is a poor strategy!
Try to imagine it from their perspective: they have typed 'fitness tips' into Google, found your page essentially by accident and now you're trying to sell them your training program for $500. People do not make decisions on that basis unless they're loaded with cash. They'll see you're trying to sell them, write you off as spam and then leave.
The Alternative
Now imagine the alternative: the sales funnel technique. They do the same thing: they type in 'fitness tips' and they land on your site where they get some great information right away. That information is unique, interesting and useful but at the bottom, it tells the audience that if they want more great tips – your '5 Most Powerful Tips' – then all they have to do is to enter their details to receive your free report.
There's very little reason for them not to do this: you have demonstrated that you're able to provide value and you're offering something for free. The only price they pay, is to allow you to contact them in future – but as you will point out, they can always just unsubscribe if they don't want to hear anything more from you.
They get their free report and once again, they find it is really good. At the same time though, they're now getting emails from you – emails with highly engaging and interesting subject lines. The people who click those emails are now showing very good engagement and you can see that they're the kinds of people that might be willing to buy from you.
Those people will receive an email on an automated basis that invites them to an exciting free conference where they can here you talk online about fitness. This is a great, rare opportunity and if they like what you've done so far, they should definitely get involved.
They do that and because they've gone so far out of their way to hear you and they've listened to the whole thing, they've now made the full transition to fan. They are now engaging with you in a big way and going out of their way to hear more from you. This makes a massive difference because in their own mind it will inform them that you are someone they're interested in hearing more from.
Quick Psychology Lesson!
This relates to an interesting aspect of psychology called 'cognitive dissonance'. Did you know that the best way to make someone like you is to get them to do things for you. Why? Because this creates a state of cognitive dissonance in their mind otherwise. The brain like congruence – it likes to see that your actions are consistent with your beliefs.
If you do something for someone that takes a lot of effort then, the brain assumes that you must really like them to have been willing to go to such lengths.
The same thing works here. If someone engages with your brand – if they rush to your seminar and wait for you to come online – they tell themselves that they must be big fans of your work!
At the same time, when someone has put a lot of effort into something, that then creates a strong motivation to 'get something from it'. Your audience will want closure and the best way to do that is by buying from you!
After your free seminar, the next stage is to sell to them. This is them taking the next step and transitioning from a visitor or a fan into a paying customer. This is the point where they become willing to buy from you and where you can start making money.
BUT it's not going to be the 'big ticket' item yet. Instead, you're just going to sell them something very small. This very small thing is going to be something along the lines of an eBook, or a short course. It should cost anywhere from $5 to $50 but what it's doing is demonstrating that they can buy from you and trust you.
Why Your Small Sale is So Important
This 'small sale' is a super important point to include in a sales funnel (and one that not everyone will know to include). The basic idea behind this, is that you're giving your audience the chance to buy from you without too much risk.
Because, as we saw with our watch salesman, one of the biggest 'barriers to sale' is risk. People are naturally risk averse and they hate the idea that they might hand over their cash, only for you to go running off into the sunset laughing at their stupidity. They need to see that they can buy from you and trust you.
And if they don't know that, then getting them to spend $5,000 is going to be very hard. But now sell them something for $5 and you can get them to say 'why not'? They've seen you can offer value from the other steps in your sales funnel and the risk of losing $5 is not too serious. So they take their chance. Only now, they know they can trust you, they know that you're able to deliver value and their details will already be saved in your payment system.
That means that to make the big purchase, you only have to persuade them that your product is worth it and get them to take the plunge with one click. This is MUCH easier than trying to get them to take the plunge when they've never dealt with you before.
Other Details
- 20 Articles (TXT, DOC)
- 1 Ebook (PDF), 60 Pages
- 2 Graphics (JPG, GIF, PNG)
- 1 Salespage (HTML)
- Social Media Images, Email Swipes, Optin Page, Mindmap, Resource Cheat Sheet, Checklist
- Year Released/Circulated: 2016
- File Size: 35,382 KB
License Details:
1. You're granted master resell rights, resell rights or to resell with personal use rights.
2. You may add this product to your PAID membership site.
3. You may giveaway the product as a bonus when people buy through your affiliate link.
4. You may edit the included sales page and opt-in page.
5. No, you may NOT edit the contents of the eBook(s).
6. No, this product does NOT include private label rights. You are granted Master Resell Rights only.
7. No, you may NOT giveaway the main eBook for free.