Salespage Snapshot: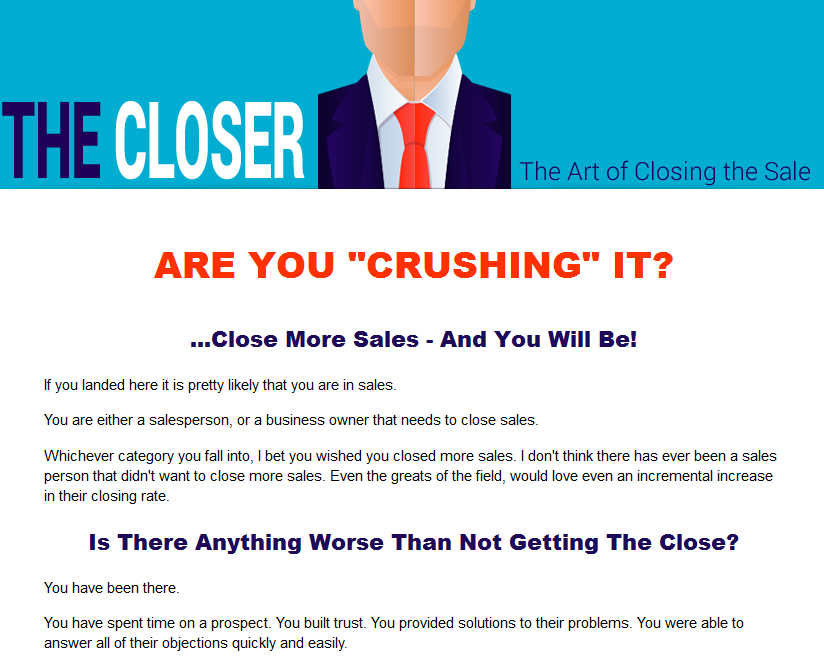 >>> Click Here To View Full Sales Page…
Table of Contents
Table of Contents 3
INTRODUCTION 4
Closing – What Is It? 5
The Importance of Lead Generation to Closing 6
Sales Approaches and How They Relate to Closing 7
THE ANATOMY OF A CLOSER 10
Motivation 10
Belief 11
Sincerity 11
Focus 12
Takeaways for This Section 13
THE SET UP 14
Steps to Take Before a Close 14
Closing a Sale Starts at the Beginning 14
Prospects and Planning 15
Greeting Prospects and Your Elevator Speech 16
Listen and Learn 17
Takeaways for This Section 18
HOW TO CLOSE 19
Takeaways for This Section 20
SALES MYTHS OR WHAT NOT TO DO 22
Your Brochures and Website Don't Matter to the Customer 22
Make Sure That You're Talking to the Right Person 22
A Hard Sell is Hard to Sell 22
Takeaways for This Section 23
CONCLUSION 24
Sample Content Preview
Introduction
The closer is the king of the business world. If he played baseball, he'd be the powerhouse home run hitter. If he was a golfer, he'd have a scratch handicap with the smoothest touch on any green in the world. He's that heavyweight boxer who knows when to float like a butterfly and when to sting like a bee. He's a pro who knows all the angles and who's seen it all. He's the main man, the go-to guy and the ringer all in one. Why? The answer is simple. The closer makes money.
Money is what sales is all about. Think about that for a second. It's one of those blatantly obvious thoughts that, upon consideration, become deceptively complex. A great many people make the mistake in assuming that sales is about technique or presentation or product knowledge. While successful salesmanship does, in part, touch upon all those things, it is not about any them. Instead, a sale is about money, nothing more and nothing less. Anyone who thinks differently is being, intentionally or unintentionally, naive.
A successful salesperson understands that their job is to generate income by convincing a customer to purchase what they are offering for sale. Moreover, they also understand that their job is to convince that customer that what they're selling is vastly superior to what the competition is selling. Finally, and perhaps most importantly, they understand that their job is to make the customer want and need to possess the product or service they're selling more than anything else. Part drill instructor, part psychologist and part succubus, the closer is like no else in the business world.
As the title suggests, this book is about learning the most innovative, as well as the most effective, ways to close a sale. Good sales techniques equal good sales. Good sales equal a healthy bottom line for everyone involved. However, before we get to the specifics of the art of closing the sale, let's take a look at a couple of the primary concepts that quality closing depends upon.
Other Details
- 10 Articles (PDF)
- 2 Ebooks (PDF), 24 Pages
- 1 Salespage (HTML)
- Checklist, Infographic, Posters
- Year Released/Circulated: 2015
- File Size: 4,621 KB
License Details:
You have a personal use license. Please do learn from this product but you cannot sell it nor give it away.