Features:
* 52 Weeks Pre-written Newsletters
This isn't just ANY private label content. These newsletters are written to effectively promote best-selling affiliate products for an entire year. All the work is done for you.
* List of Top Affiliate Programs
Comes with high-paying, high conversion affiliate programs from Clickbank, Commission Junction, Shareasale, and others – just sign up! Once you've got your affliiate links, you put them into the content and bam – your newsletters are branded and ready to make you money!
* Opt-In Template For Each Niche
Pop in YOUR autoresponder information, and you're ready to upload this page to any domain and start collecting leads!
Opt-In Template Preview: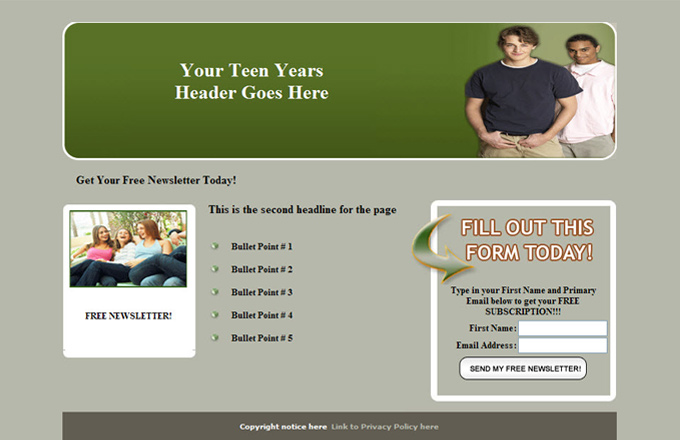 Autoresponder Message Titles:
– Teen Suicide
– Teens Choose Careers
– Teens, Tattoos, And Body Piercing
– Choosing A College
– Teen Privacy And Space
– Teen Depression
– Spying On Teens
– Teens And Driver's Licenses
– When Teens Fail
– Disciplining A Teen
– Talking About Sex With Teens
– Teens And Computer Danger
– Teen Violence
– Teens And Appearance
– Teen Role Models
– Teens Need Structure
– Teens Develop Self-Identity
– Teenage Daughter-Mother Relationship
– Peer Pressure
– Teens And Alcohol
– Nutritional Needs Of A Teen
– Connecting With Teens
– Teens And Smoking
– Teens And Eating Disorders
– Teenage Rites Of Passage
– Teens And Computer Use
– Normal Teen Sleep Patterns
– Setting Rules For Teens
– Teens And Self-Esteem
– Your Teen's Friends
– Teens Need Consistent Parenting
– Teens' Emotional Health
– Communicating With Teens
– Funny Quotes About The Teen Years
– Divorce And Teens
– Being 16-17
– Being 17-18
– Teens And Video Games
– Teen Parties
– Teens And Exercise
– Teens And Race
– Being 14-15
– Prom Night
– Teens And Braces
– Teen Worries
– Being 15-16
– Teens Changing Bodies
– Teens And Dating
– Troubled Teens
– Teens And Self-Confidence
– Parenting A Teenage Son
– Teens And Drugs
Sample Affiliate Program Preview:
My Out-of-Control Teen
"My Out-Of-Control Teen. Audio/video EBook(R) Plus Online Parent- Coaching For Parents With Out-of-Control Teens." Pays 75% commission ($19.25), Administered by ClickBank.
Home Business Curriculum for Teen Entrepreneurs
"Home Business Curriculum For Teen Entrepreneurs- A 9 Week, M-f Lesson Plan For 7-12th Grade Students To Teach Them How To Start A Home Business And Gain A Solid Foundation In 'Entrepreneurial Science'!" Pays 60% commission ($19.93).
Netmop
"Netmop protects families from porn and other inappropriate Internet content. It is the only filter that will protect everyone who uses the computer — parents and children." Netmop's most common sale is their $54 plan. 25% commission; two-tier affiliate program is available. 7-day EPC of over $72.00. Exclusive merchant of ShareASale.
Acnezine
"The Acnezine solution is a revolutionary acne skin care system formulated to treat acne from the inside-out. The Acnezine Solution finds the source of your acne and not only heals the blemishes you have, but also treats future outbreaks that you don't even see yet!" Affiliate program administered through MarketHealth. Pays 50% commission on first tier, 5% on second. Commission varies depending on amount ordered.
Sony Computers and Electronics
"Sony has hundreds of thousands of products including computers, online games, phones, electronics, accessories and services." Affiliate benefits include deep linking; 2% commission; and a performance incentive once you reach $50,000 in sales (average order size over $595). 30-day cookie.
Other Details* No Of Messages
: 52
* File Format
: TXT
* Included Graphics
: eCover [PSD, JPG]
* Extras:
Squeeze Page
* Extras:
Affiliate Programs [PDF]
* Download File Size:
1,300 KB