Salespage Snapshot: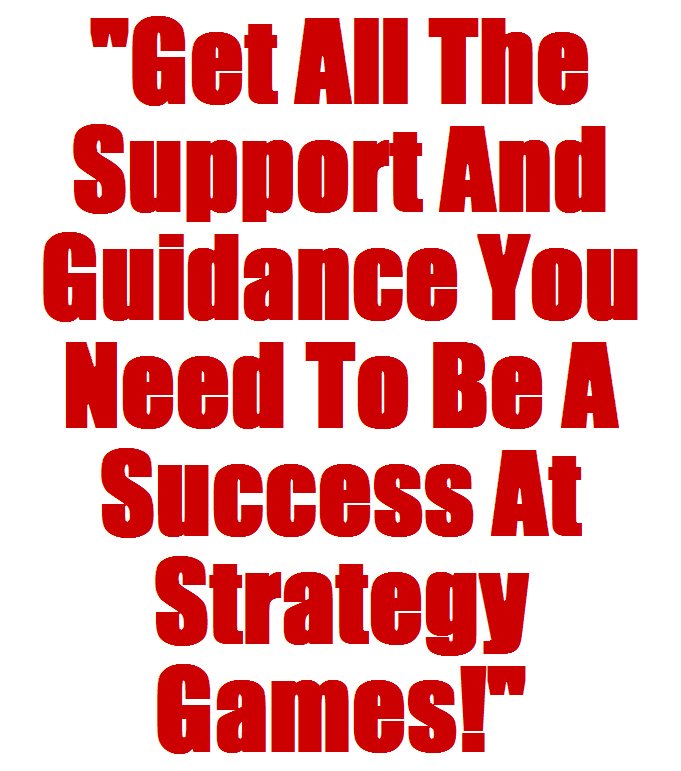 >>> Click Here To View Full Sales Page…
Table of Contents
Foreword
Chapter 1:
Strategy Game Basics
Chapter 2:
About Campaigns
Chapter 3:
Learning To Use Tutorials
Chapter 4:
Learning About Resources And How To Use Them
Chapter 5:
Learning About Colonies And Objectives
Chapter 6:
Objectives And Minions
Chapter 7:
Combats And Forces
Chapter 8:
Being A Hero In A Strategy Game
Chapter 9:
The Best Strategy Games
Chapter 10:
Learning To Separate These Games From Reality
Sample Content Preview
Chapter 3
Learning To Use Tutorials
Synopsis
Just like when learning how to use a new gadget, strategy games also have tutorials. You simply cannot play a new game and expect to become a master of it right away. It is through tutorials wherein you will discover and become familiar with everything that there is to know about these games.
There are many people who simply take tutorials for granted. It is true that can become annoying if you have already been playing all games in a series but you have to know that one game is actually really exactly the same as it used to before. There will always be changes, with different things being optimized for the sake of the new generation of gamers.
Use Tutorials for the Best Strategy Game Experience
Tutorials are also for those persons who never touched such a game before in their whole life, which means that the true essence of these tutorials is to teach the players will all the skills needed for completing the challenges that lie ahead.
There are actually several approaches for tutorial implementation, the worst being in a user's manual. Before, these have been considered as helpful to learn the basics of a game but today, these have become less relevant. As more and more games are being released in the form of digital downloads and console games without any game manual included, game makers really need to resort to teaching players in-game. However, it is still important to note that most games still come with user's manual although these are now in the form of PDF documents which is something that everyone will even bother to read anyway.
The second choice is to have a training ground of some kind wherein you will be able to practice the mechanics of the game in a safe environment. The third yet probably the best choice is teaching the player with the necessary skills while they play the game itself. Explaining everything during the initial 20 minutes is not necessary and instead, introduce each element to the player one at a time. Having a tutorial tied together with the main storyline will make it seem less like a tutorial, not to mention that it will also be more enjoyable.
Once tutorials are done right, you will never notice or otherwise become thankful for explaining the mechanics of the game.
Chapter 4
Learning About Resources And How To Use Them
Synopsis
Resources are an integral aspect of strategy games. Good players of strategy games know when and how to use these resources to their advantage. Resource management, to say the least, can make or break your game. Learning about these resources and the right way of using them can help you to win the game.
Using Resources to Your Advantage
Strategy game players need to plan, manage as well as control the flows of resources inside the game for them to successful reach the game's goals.
All games in which the resources' use is not just for bookkeeping require the players to do a resource management. Here, they will need to decide how they will be using resources for performing various actions and strive towards achievement of different goals and planning how they can get brand new resources, and judge the resources that can have the most value in the future.
Almost all of the strategy games, which include the real time ones, have a strong component on resource management, with the final goal usually being to overcome opponents through getting the most out of the available resources.
The Use of Patterns
The fundamental building block to instantiate resource management within the game is to have some kind of limited resources that can directly impact the possibilities of attaining the game's goals through using consumers and producers.
For instance, in chess, players initially have 16 pieces, which are considered as non-renewable resources. Using renewable resource as limited resources usually creates games that are more complex, particularly when there are chains on producer-consumer with converters in order to create final resources using the fundamental renewable resources.
The Consequences
The right resource management provides the players with freedom of choice when it comes to using consumers and producers within the game, usually causing gain ownership goals. Strategy games that have resource management commonly involve a long term type of stimulate planning, a strategic thinking which can lead to a cognitive immersion. The games that involve management of complex chains of producer-consumer can make the resource management as a good means for players to develop mastery of the game.
Other Details
- 1 Ebook (PDF), 35 Pages
- 1 Salespage (HTML)
- 1 Ecover (PNG)
- Year Released/Circulated: 2016
- File Size: 736 KB
License Details:
[YES] Can be used for your personal use
[YES] Can be given away
[YES] Can be sold
[YES] Can be packaged with other products
[YES] Can be offered as a bonus with other things you sell
[YES] Can be added to paid or free membership sites
[YES] Can be offered through auction sites
[YES] Can sell with Resale Rights
[YES] Can sell with Master Resale Rights
[NO] Can sell with Private Label Rights
[NO] Ebook can be modified in any way