Salespage Snapshot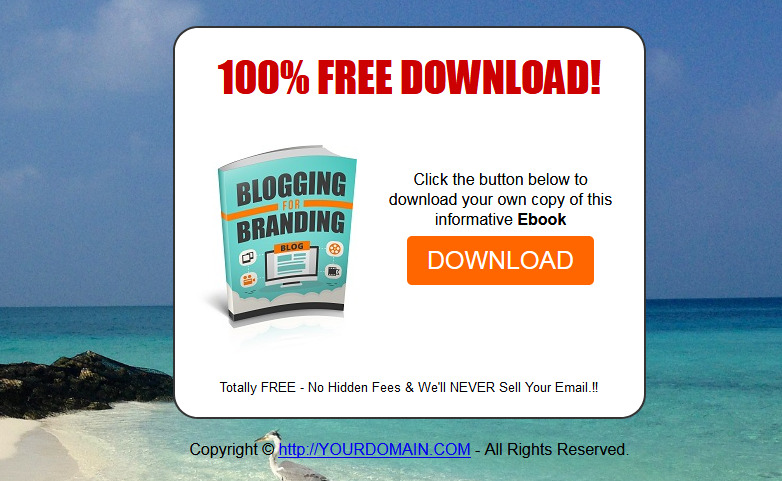 >> Click Here To View Sales Page...
Table of Contents
1 INTRODUCTION .. 4
2 WHAT BRANDING CAN DO FOR YOUR BUSINESS .. 6
INGREDIENTS FOR SUCCESSFUL BRANDING . 6
BLOGGING IS JUST 1 PRONG IN A CAMPAIGN … 7
3 JUST WHAT IS A BLOG ANYWAY .. 9
TRAITS THAT DISTINGUISH BLOGS …. 9
OTHER FEATURES FOUND IN BLOGS . 10
4 WHO CAN BENEFIT FROM BLOGGING? . 11
HOW THE EXPOSURE CAN PAY OFF … 12
THE ADVANTAGES OF BLOGGING . 13
5 GETTING ONE SET UP . 15
COMMON PROGRAMMING OPTIONS .. 15
Getting A Web Address For A Blog 16
DOING IT YOURSELF 17
HIRING A PRO 17
Tips For Hiring Pros 18
6 MESSAGE IS EVERYTHING …. 20
KNOW YOUR TARGET AUDIENCE .. 20
Tips For Setting The Tone And Style .. 21
THE ABCS OF SEO 22
Selecting The Right Words . 22
Why SEO Matters … 23
CONTENT PITFALLS TO WATCH OUT FOR …. 24
7 MAINTAINING YOUR BLOG … 25
OPTIONS FOR MAINTAINING YOUR BLOG … 25
THINK MULTIMEDIA . 26
FREQUENCY OF POSTS MATTERS .. 27
8 GETTING THE WORD OUT 28
PAY-PER-CLICK ADS TARGET READERS .. 28
INCOMING LINKS CAN BOOST NUMBERS …. 29
FULL ADVERTISING FLIGHTS .. 30
AFFILIATE MARKETING HAS ITS PERKS . 30
GIVEAWAYS AND CONTESTS … 31
9 A FEW WORDS IN PARTING .. 32
Sample Content Preview
Blogging is an effective, low-cost way to gain attention for a particular brand. The audience on the Internet is potentially endless as more people get online and it stretches well across international boundaries. This means companies can reach out and literally grow their businesses on a global level using this high-tech, low-dollar tool.
The versatility of blogs makes them perfect for any branding campaign. From international corporations to individuals working on at-home businesses, blogs are fast becoming a highly prized vehicle for communicating brand messages and building relationships with clients. To truly tap into the potential power a blog has for supporting branding efforts, the first step involves creating the platform.
5 GETTING ONE SET UP GETTING ONE SET UP GETTING ONE SET UP
Now that you know what a blog can do for marketing efforts, chances are getting one set up is sounding very appealing to you right about now. The process involved in establishing a branding blog is pretty straightforward. It does require a little bit of technical savvy, but in most cases, individuals can launch their own blogs without too much effort.
It is also possible to hire professional programmers, designers and writers to launch a blog and create its format. This option is often selected by companies that are after a 100 percent professional looking presentation. Don't worry though; you do not technically have to hire pros to get the job done right. Most blogging programs available on the Internet will walk you through their own distinct process for creating a blog. Just follow the instructions carefully and you can be online in no time.
As you work on setting up your blog, you will have to make a number of decisions along the way. The first will involve selecting the program to go with for hosting the blog itself. Blog programs do vary, but most provide the basic tools you need for writing and editing your posts and publishing them online. In most cases, blog programs will also host your pages on the Internet if you do not already have a Web site in which to include a blog presentation. Should you have a Web site in place, you can add the blog as a plug in and use your own Web site address to direct readers to your pages. This means you'll use the blog program to write and format your posts, but they will technically publish directly to your existing Web site.
COMMON PROGRAMMING OPTIONS
There are a number of different programs available on the Internet that enable people to easily and automatically set up their own blogs. These programs are typically offered for free or at a low-cost charge. The technical savvy behind these programs is so high, in fact, that many professional programmers use them instead of reinventing the wheel when a customer wants a blog built into a company Web site.
Some of the more common blogging programs available include:
– Blogger – Located online at www.blogger.com, this is Google's own vehicle for blogging. This program is offered free of charge and is even equipped to easily accept paid ads from Google. It provides bloggers the ability to design their own blogs and supports a number of add ins like photos and videos. Because of its flexibility, it is often selected by professionals to serve as the "back end" program for a custom designed Web site that has a built in blog.
– Word Press – Located online at www.wordpress.org, this is an independent blogging program offered free of charge. It also offers a lot of bells and whistles that other programs may not and does adapt to enable users to fully customize their blog appearance. Like Blogger, Word Press does work extremely well as a back end program included in the makeup of a professional site. The flexibility of this particular program has made it very popular with pros. This is the blogging tool used by such companies as Yahoo! and The New York Times.
– Others – There are many other blogging programs available on their own or offered directly by Web hosting companies. Most Web hosting companies, in fact, offer the ability to "plug in" a blog during the design phase of a personal or business Web site. Some companies make sure their Web site design programs specifically support Blogger or Word Press. Others provide their users with different programs, which offer similar functions.
GETTING A WEB ADDRESS FOR A BLOG
Once a blogging program is selected, a home must be created for it on the Internet. There are two major options here. They are:
– Using the assigned name from the blogging program – Most blogging programs will assign a URL or Web address to a new blog at no cost. This is a great way to get started with a trial blog, but the option does have some disadvantages. The URLs of blogs completely housed within the blogging program's servers tend to be extremely long. This can make it very difficult for readers to find your blog again, which is bad for branding efforts.
– Creating your own Web site to host the blog – This is a more time consuming option, but it does provide a way for you to have your blog reside on a URL of your choosing. In this case, you would create your own Web site and use the blog as a plug in on it. Most Web hosting companies can walk you through the necessary steps to make it happen. When this option is exercised, your URL might be www.YourCompanyName.com. The advantage is a shorter, easier to remember address for readers to find. This also lends itself much better to other branding and marketing efforts. Basically, a cleaner, shorter Web site address is simply easier for people to remember and it can be particularly beneficial if the brand name is used in the address. It's just one more way to get your brand name out to the public.
Other Details
- 25 Articles (TXT)
- 1 Ebook (PDF), 33 Pages
- 1 Squeeze Page (HTML)
- 2 Ecovers (PNG)
- Year Released/Circulated: 2018
- File Size: 1,784 KB
License Details:
[YES] Can sell and keep 100% of the sales.
[YES] Can edit the squeeze page.
[YES] Can be bundled into another paid package and sell at a higher price.
[YES] Can be used as a bonus to another product you are selling.
[YES] Can be sold in a Dime sale event.
[YES] Can be added into a paid membership site.
[YES] Can pass on the Master Resell Rights privilege to your customers.
[YES] Can be given away for free AGAINST an email address (lead generation)
[NO] Contents of the product can be edited, modified or altered.