Salespage Snapshot: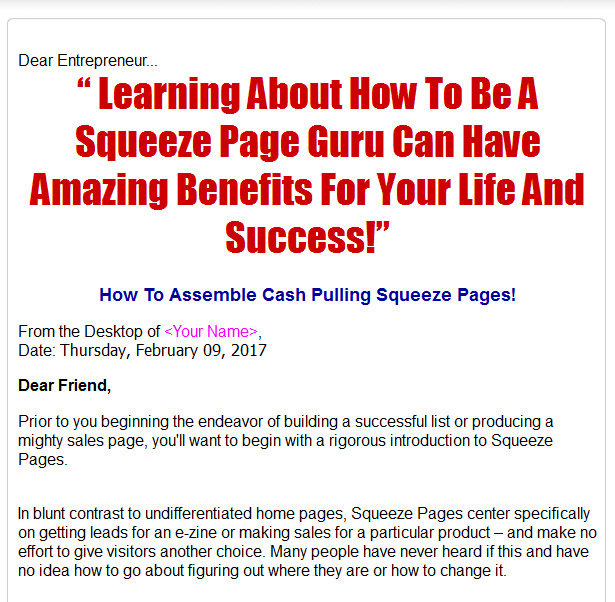 >>> Click Here To View Full Sales Page…
Table of Contents
Foreword
Chapter 1:
Squeeze Page Basics
Chapter 2:
What Is Required
Chapter 3:
Designing Your Theme
Chapter 4:
Author A Compelling Page
Chapter 5:
Hints For Increasing Conversions
Chapter 6:
Targeted Traffic
Sample Content Preview
Synopsis
Prior to you getting started constructing your squeeze page, you'll need a number of things to make your offering really have a point; and facilitate the production of your squeeze page.
What You Need
One thing you utterly must get prior to you getting started is an auto responder. With no auto responder, you're pitching potential bags of income in the trash. Instead of producing a relationship with buyers and likely buyers – and giving yourself the chance to try future up-sales — you're allowing them to go away and never come back.
As well as an auto responder, you'll have to have a real offer that individuals wish to buy. You might want to formulate a product, like an E-Book or software package.
If you do not have the talent to do either, you are able to always employ a pro to do it for you through Elance.com or Scriptlance.com. You'll then either prefer to sell this product and try to get subscribers from your thank you page – or you'll wish to get subscribers by providing the product free of charge (which is what a lot of Internet marketers today do).
A different thing you utterly must get before you get rolling is a check out service. You might prefer to consider Paypal, Click Bank, or 2 Check Out. All of these services will let you make transactions fast.
A different thing you have to have before you get moving is a set of artwork, which commonly includes an image header, a check out button, background wallpaper, and a half-decent image of yourself. You are able to likely supply the picture of yourself, but you may want to hire a pro to do the rest.
Another thing you'll require before you are able to get moving on your squeeze page is some way in which to produce a truthful signature. http://www.vletter.com is likely your best bet; but, if you're on a budget, you might want to opt for merely utilizing a word processing program or a free option like http://www.mylivesignature.com/.
Synopsis
Maybe the most crucial part of producing a squeeze page is designing your theme.
Presentation
How you pick out your theme, naturally, will all depend upon how you plan to get traffic. If you choose to get traffic through SEO, designing your squeeze page theme will mean discovering set phrases within your niche which have a elevated demand (aggregate search value) and a depressed supply (small amount of vying sites) and then producing multiple squeeze pages, each which is optimized around another set phrase.
If, on the other hand, you choose to bring forth traffic by pay per click (PPC) plans, like Adwords, designing your squeeze page idea will once again mean fine tuning a number of different pages to fit the keywords you're buying.
This is really where many individuals bomb when they produce a squeeze page: they do not fine tune it to fit a particular audience. For example, in the example of a squeeze page for an e-zine, they may begin an e-zine about toys, but they only produce one squeeze page and send off all traffic to it. This is a huge error.
Probabilities are, if you produce a quality product or e-zine, it may benefit a lot of individuals. So why not convey the precise Advantages they'll gain from subscribing or purchasing?
If, for example, you've an e-zine about Lego sets and miniature blocks, so you group it under the open heading of "toys," a visitor who's searching specifically for info regarding either Lego sets or miniature blocks will click off your page if they don't see the direct association to the precise subject for which they were seeking.
Rather, you'll want to assemble a page focused around Lego sets and a page focused around miniature blocks. On every page, you'll want to convey the particular Advantages to joining the list for each one of those groups of visitors.
Continuing one step more, as well as designing your squeeze page theme, if you're producing a page for a e-zine, you might likewise wish to section your list, so you are able to send out info specifically about Lego sets to those who call for it – and info about blocks to those who call for it.
Other Details
- 1 Article (DOC)
- 1 Ebook (DOCX, PDF), 32 Pages
- 1 Lead Magnet Report (DOC, PDF), 17 Pages
- 1 Autoresponder Email Messages (TXT)
- 1 Salespage (HTML)
- 1 Squeeze Page (HTML)
- Ecover (JPG)
- File Size: 9,941 KB