Salespage Snapshot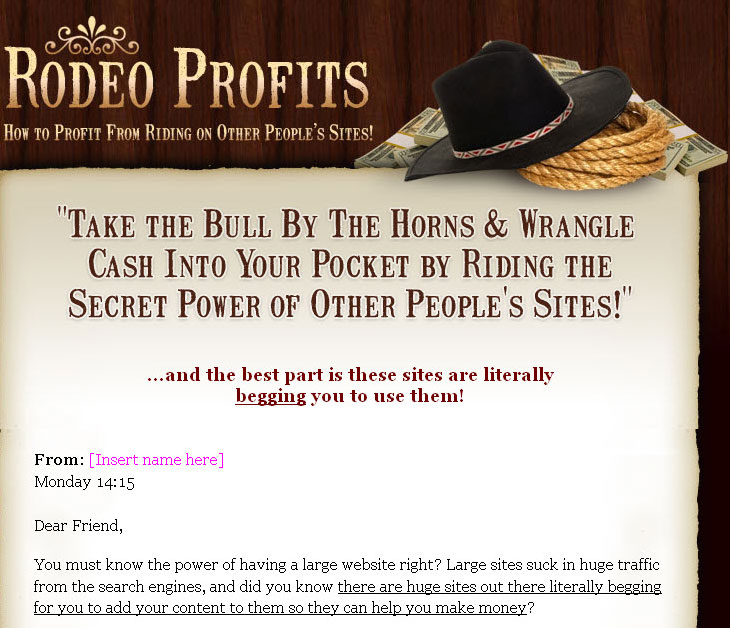 Table Of Contents
1.  Introduction
2.  Why use other people's sites?
3.  Which site should I use?
4.  How can I make money?
5.  Choosing golden keywords
6.  Creating content
7.  Preselling/targeting
8.  Link building
9.  Tracking progress
10.  Scaling it up
11.  Final thoughts
Sample Content Preview
Introduction
Welcome to this guide which will show you how to shamelessly exploit the work of others and cash in on their high profile sites to make you more money.
There is nothing evil or unethical about this, these sites are crying out for your content to help them build their own sites and make them money, so you are doing them a favour whilst lining your own pockets at the same time!
Making money online is all about traffic, you can have the best website in the world, but if you can't get any traffic to it then it is not going to make you a dime, and of course the best kind of traffic (in my opinion) is the free kind! These sites allow you to tap into their huge traffic to get visitors but they also allow you to rank high in the search engines to pull in a steady stream of eager eyeballs to your content and links.
You can use this traffic anyway you want once it gets to your page, you can send it straight to an offer, or you can use them as little funnels to get people to a main website you are working on, in fact I'll discuss later how you can not only funnel traffic to your main website with these pages, but also help the site get more visitors straight from Google at the same time!
So without further ado let's get stuck in so you can start making some money!
Other Details* Sales Page:
Included, HTML
* File Format:
MS Word Doc, PDF
* Number of Pages:
34
* Included Graphics:
Ecovers, PSD
* Extras:
Book Preview
* File Format:
MS Word Doc, PDF
* Number of Pages:
6
* Extras:
5 Part Autoresponder Email Message Series
* Extras:
Banners, PSD
* Extras:
Blank Header & Footer
* Extras:
Squeeze Page
* Download File Size:
8,586 KB