Salespage Snapshot: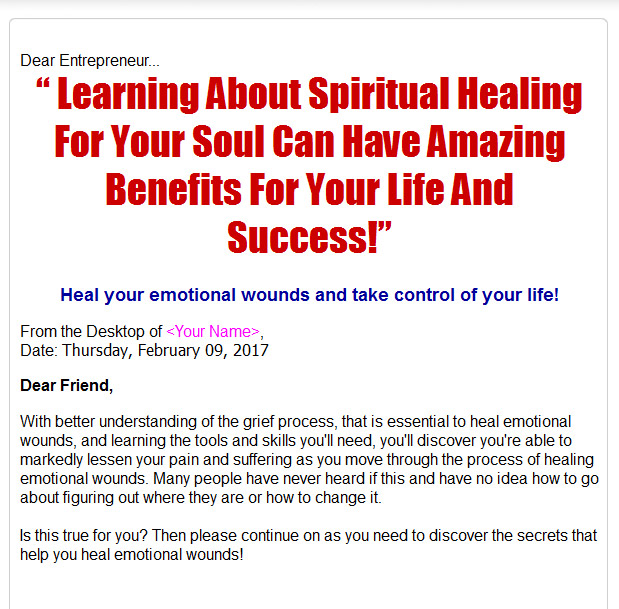 >>> Click Here To View Full Sales Page…
Table of Contents
Foreword
Chapter 1:
An Opportunity For Growth
Chapter 2:
General Healing
Chapter 3:
Get Rid Of The Negative
Chapter 4:
Using Spirituality
Sample Content Preview
Synopsis
Past wounds and Grieving about them frequently stops us in our tracks. The acute hurt, depression, anger, shame and additional feelings force us into self-contemplations and introspections that we'd otherwise prevent. This in itself is mending us, forcing us out of our childhood patterns of warding off painful emotions and escaping from them.
Viewing It Differently
The skills we memorize and the resources we gain in dealing with these feelings will carry on standing us in good stead with later experiences of acute emotions of all types.
When going through our healing of wounds we likewise have an excellent chance to clear our inner 'file drawers' where aged, disregarded, buried matters are stored beside the fresh ones. These techniques are especially helpful in this respect, enabling us to decrease the strength of residual notions from old grief along with new, raw feelings from the fresh ones.
We likewise learn compassion by our own experiences of sufferings. This is generally acknowledged in the observance that many of the better caregivers for ill people are themselves injured healers. Closure isn't a time or date when you shut the door on your wounded feelings and feel it no longer. Closure begins the instant you soak up the fact that the situation happened. With each step along the path of healing wounds you take is a step toward further, deeper closure.
Several are led astray to feel they've reached an early end to their closure when they're in the grasp of waves of sorrow, anger and shame of the moment. Learning that healing has its own method, its own timing and its own meandering, hilly road toward ever better closure is a part of the process. It's an awareness regarding the procedure of grieving and healing; a growing intimacy with how your mind and feelings react and deal with emotional wounds.
Heartache over our losses and wounds stops us in our tracks. It assists us in realizing a lot of disregarded truths and to acquire many helpful and life-enhancing lessons.
If you trust in endurance of the spirit and that you are able to recover, you might have fewer anxieties and even reach a place of much richer and greater admiration for all of the chances, blessings and lessons you've had and will have in this life. You'll pull through the closure process with Appreciation for the great experiences you recall and the lessons acquired; with gratefulness for the enrichments accumulated in your life so far; and with acute anticipation for the graces yet to come.
In this life there is transience in all experiences. Recognizing an end will bear on every and each relationship we have, including the elemental end of our relationship with all we have lived in this life, helps us to treasure every experience a great deal more. This awareness might be one of the biggest benefits of transitioning through the healing process.
Once we come through such grave challenges, other issues in our life shrivel up in comparison. As we clean-cut issues and feelings in the present tense, we frequently discover like issues lurking in the same file drawers. These might have been stacked away many years before, at times when we didn't bear the resources to handle them.
At present, with the successes of managing problems of grief and healing, you can do an exhaustive clearing up of such unnecessary baggage that you carry with you in your unconscious. This is the acceptance of grief as a part of healing; as that which bestows deep meaning to life; as a chance for clarifications; and as the terrific teacher it may be.
This is a branching out of our positive cognizance. That is, when we understand we're safe and need not fear our past experiences – which is for a lot of people very difficult- then all additional stress and fears in our lives become nothing more than added lessons. We understand that everything in our lifetime is manageable; there's nothing we have to worry about or fear.
We may than accept everything in our life as a lesson. Rather than saying, "Oh, my goodness! How will I handle this challenge?" we can state, "Hmmm! I'm curious what intriguing lessons I'll get from this invitation to look deeper inside myself?" or "I question what I'll discover to clear up next from the file drawer that this hurdle is directing me towards?"
Synopsis
We all allow a small child plan our lifetime processor. Having made this inevitable mistake, we wind up making the goofy error of running these programs for nearly all of our lives. As youngsters, we frequently can't comprehend the causes for awful or frightening states of affairs. Youngsters can't alter their objectionable circumstances, can't leave, can't fire or switch out their parents. We're stuck in sadness and from our kid views, see no means out. In such spots, it's really helpful for us to head for the hills to hide from the hurt or to blank it out – burying the feelings externally of conscious awareness.
As youngsters, this is a great choice for warding off pain and suffering, as we can't prevent it. Following, our unconscious rapidly gets used to protecting us from the hurt of these hidden distresses by keeping them securely locked up so that we can't feel them and don't suffer from them. Feeling memories are stacked away in unconscious parts of the right side of the brain. The right hemisphere places a sign on the inner file cabinet stating, "Stand back!!" It addresses the more consciously aware left hemisphere and states, "We don't wish to understand about this, do we?" And the left hemisphere states, "nope, let's stand back from those dreadful memories and feelings." So we make-believe to ourselves they aren't there.
Understanding Helps Heal
Although this scheme works well to protect us as youngsters from concerns and pains, it shortly becomes the default for our lifespan inner 'steering' programs. The unconscious stays afraid of these hidden feelings shut away in its file cabinet drawers. It trusts that the original, hidden concerns and hurts may still overpower us with all the strength of our original responses from the time when we immersed them.
As we become aged, these programs get old-hat. The unconscious, all the same working according to the youngster programs, doesn't understand we may manage these feelings better as grownups. For instance: The right hemisphere might warn us in small print below the 'stand back' sign of the cupboard where concerns from our parents' arguments, tongue-lashings or other injurious behaviors are shut away. Such a sign might state, "Stand back from anything like arguments and from furious individuals."
We might thus prevent feeling disturbing emotions in our current lives (that unconsciously vibrate with our earliest life fears), but we likewise wind up blocking ourselves off from experiences and relationships that may have been much better managed or stomached when we're grownups. For example, we might avoid individuals with big voices or individuals who resemble our parents in additional manners.
Once we come across something in our current life that wakes these monsters in our closets, it's conceivable that the door to fearful memories may pop open a bit, and we may feel a few of the original, hidden feelings. This is why occasionally we over-react when an individual in our present life reminds us of somebody who scared or hurt us in the past.
I know someone who had a lot of anger toward his mother as a youngster, but swallowed it as she was a single parent and he didn't feel safe conveying it, and detected no other vents for it. For a long time, he was easily infuriated by authority figures, especially pushy women.
As grownups, we go on to stuff uncomfortable feelings within ourselves, closing a mental door to keep them safely away from our awareness. Our unconscious mind watchfully stands guard over these emotions shoved away in files in the caverns of our being, stands firm against releasing them – still when we're no longer in the dreadful situations that caused them; still when we're clearly in a more beneficial position to cope with them.
For example, we may have hidden heartache, anxieties, fears and angriness when we were younger. It may begin with being distressed because our loved ones had to move; with one parent being forced to be away from home for an long period (for work or to look after issues of extended family); with heartache over our parents' splitting up; or with the demise of a loved one. If this sort of grief response were hidden instead of being conveyed, then we may wind up with an internal program that leads us to immerse all future grief responses.
Other Details
- 1 Article (DOC)
- 1 Ebook (DOCX, PDF), 27 Pages
- 1 Lead Magnet Report (DOC, PDF), 17 Pages
- 1 Autoresponder Email Messages (TXT)
- 1 Salespage (HTML)
- 1 Squeeze Page (HTML)
- Ecover (JPG)
- File Size: 3,472 KB