Squeeze Page Preview: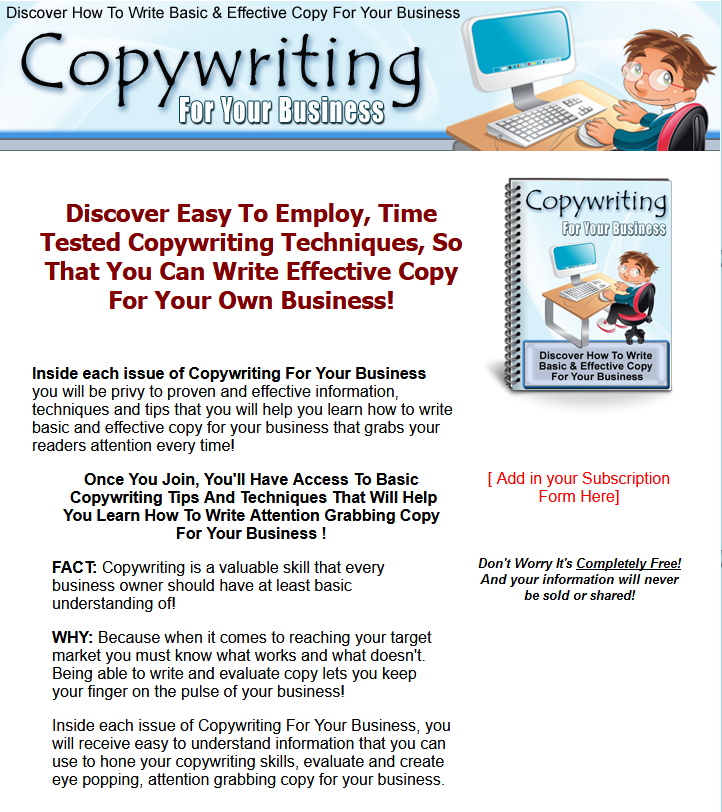 >>> Click Here To View Full Squeeze Page…
Features:
* 12 Issues Full Of Great Content
– Just add in your contact info and plug it in to your favorite auto responder. Each issue contains 500 words or more!
* One Ready To Go Squeeze Page
– Just add in your opt in form, upload to your server and your done!
* One Ready To Go Thank You Page
All ready to remind your subscribers to check their email and confirm their subscription. It even has built in revenue!
* 4 Researched Click Bank Products
These are top selling products on Click Bank that I've personally researched and chosen for each series.
* Extra Copy And Paste Article Content
You will get:
– Extra titles
– Extra opening paragraphs
– Extra closing paragraphs
– Extra fill in paragraphs
(these would make great tips that you add in to your follow ups system for more frequent contact with your readers)
Sample Content Preview
Hello "autoresponder code here",
In the last issue we talked about the role of online research and
copywriting content. In this issue we are going to go over some simple
copywriting rules that you should always follow.
When it comes to writing effective copy one very basic rule that almost
always applies is keep it simple.
The simple fact is; (excuse the pun) if you want to attract visitors to your
business or website, simple copy beats out long winded, confusing and
complicated copy every time.
Creating a simple, clear and concise copy that is easy to read and
comprehend is the best way to educate your visitors and keep
them interested in what you have to say.
Just like with anything else in life there are certain rules that you should
follow when it comes to writing copy. Let's go over a few basics:
Keep it simple:
You should do your best to create simple and clean designs that have a
nice flow from one paragraph to another. When using different images,
colors, formatting and fonts keep it consistent throughout to copy and
avoid using light or extremely bright colored text because it is hard for
the eyes to focus on and can keep the consumer from
You should also compose the content of your copy so that it is easy to
read and comprehend. Keep your use of words simple; common words
that are used in everyday speech. Use phrases that aren't vague and
very easy to understand. Do not be too rigid; eliminate arrogant,
pretentious or haughty words and replace them with basic terms. Never
use elaborate gimmicks and tricks in your copy. If you can't provide the
information precisely and quickly, you should think about writing the
copy over.
Eliminate big words:
You will find that there are many multi-syllable words that can be
exchanged for simple words. For instance, information can be replaced
by the word "fact", demonstrate could be replaced with "display", gratis
with "free", regarding with "about", and so on.
When you are reviewing your copy, check each word and ask yourself if
there are any words that can be simplified to reduce the syllable length.
By doing this you will make is so the words easily roll off the tongue of
your reader as they read. It will also make it easier to comprehend the
content and the consumer will be better able to remember what they
have read.
Check your spelling:
Don't forget to always check your spelling for errors. Too many spelling
and grammar errors will make your page look very unprofessional. If
you are not a good speller or you have poor grammar skills then use the
spell checker in your favorite text editor to check your work. If you are
still not sure, then hire a professional proofreader, have a friend or
coworker proofread your text for you.
Don't be long-winded:
Remember, keep it simple. If your copy has too many sentences
beginning with expect, consider, compare as well as imagine, the
readers may feel as if they're reading are complicated publications or
textbooks. This will not make an impression on them but it will certainly
bore them and cause them to lose interest. Remember your goal is to
provide the readers with information on what you have to offer as well
as to encourage them to take action.
You main goal should always be to entertain and entice your readers to
immediately take action without giving it a second thought. So when it
comes to creating great copy, keep it simple!
Make sure you look for your next issue soon. We will be talking
about the importance of powerful headline development.
Until then,
"your name here"
"your email address"
"your URL here"
Sample Extra Titles
What Everyone is Saying About Copywriting Is Dead Wrong And Why
The Insider Secrets of Copywriting Discovered
The Unexplained Mystery Into Copywriting Uncovered
The Insider Secrets For Copywriting Exposed
Effective Strategies For Copywriting That You Can Use Starting Today
What You Need To Know About Copywriting And Why
Why Nobody is Talking About Copywriting And What You Should Do Today
The Death of Copywriting
The Birth of Copywriting
Rumors, Lies and Copywriting
The Most Overlooked Fact About Copywriting Revealed
The Forbidden Truth About Copywriting Revealed By An Old Pro
A Simple Trick For Copywriting Revealed
5 Simple Tactics For Copywriting Uncovered
What You Can Do About Copywriting Starting In The Next 10 Minutes
What The Experts Aren't Saying About Copywriting And How It Affects You
5 Tips on Copywriting You Can Use Today
Why Everyone Is Dead Wrong About Copywriting And Why You Must Read This Report
The Ultimate Strategy For Copywriting
3 Tips For Copywriting You Can Use Today
How To Find Out Everything There Is To Know About Copywriting In 5 Simple Steps
Shocking Information About Copywriting Exposed
And More…
Sample Extra Paragraphs
The key to copywriting training for your development into a good
copywriter is to make sure that you continue to train every day. When
you take the time to work on this subject day after day, you will find that
you will have consistent development. Another key to copywriting
training is that you must make sure to continually learn about the field.
There's a great deal of information to learn about copywriting and this is
not a field which you can learn overnight. It will take the development
and persistence as well as the education and experience that you get
from continually working.
————————————
Hopefully this article on copywriting training has helped you out. You
can find books or you can use Internet resources to help you in your
copywriting training. There is such a great source of information out
there that you can use the resources that best fit with your particular
learning style to ensure that you become the best coverage or you can
possibly be. Good luck in your journey to become a better copywriter.
You will find that this is a very rewarding field and that you can work for
a company or you can work for yourself.
————————————
If you would like an introduction into copywriting, visit your local library.
You will find that there should be at least one or two do-it-yourself books
on copywriting training. Another great resource to help you would be
the Internet. There are many different resources out there to help you in
your copywriting training. Here are a couple of good websites which
have tutorials on operating which you can use at your own convenience.
————————————
The information must be valuable both to the search bots so that they
index you as well as when people were searching for your information.
Search engine copywriting companies play an important part in this
role because they can help develop your website to be optimized for
search engines as well as convert traffic into sales. While it is
important for you to get traffic, the key is also to make sure that this
traffic can turn into dollars in your pocket.
————————————
To become good at SEO copywriting service, you will want to focus on
learning what the important keys to building a good website are. The
first key is being sure that you have very good web content that the
search bots are looking for and that your audience desires. The
second key one is to make sure that you develop good back links.
Back links are developed when other web sites link back to your web
site. This helps the search bots find your website and index it potentially
higher in the search engine rankings. There are many other factors that
go into having a high page rank and being noticed by search engines
but these are the two factors that stand out most in importance.
And More…
Other Details
- 12 Part Autoresponder Email Messages (TXT, DOC)
- Squeeze Page (HTML, PSD)
- Ecover (PSD, JPG)
- Affiliate Programs List
- File Size: 2,710 KB