Salespage Snapshot: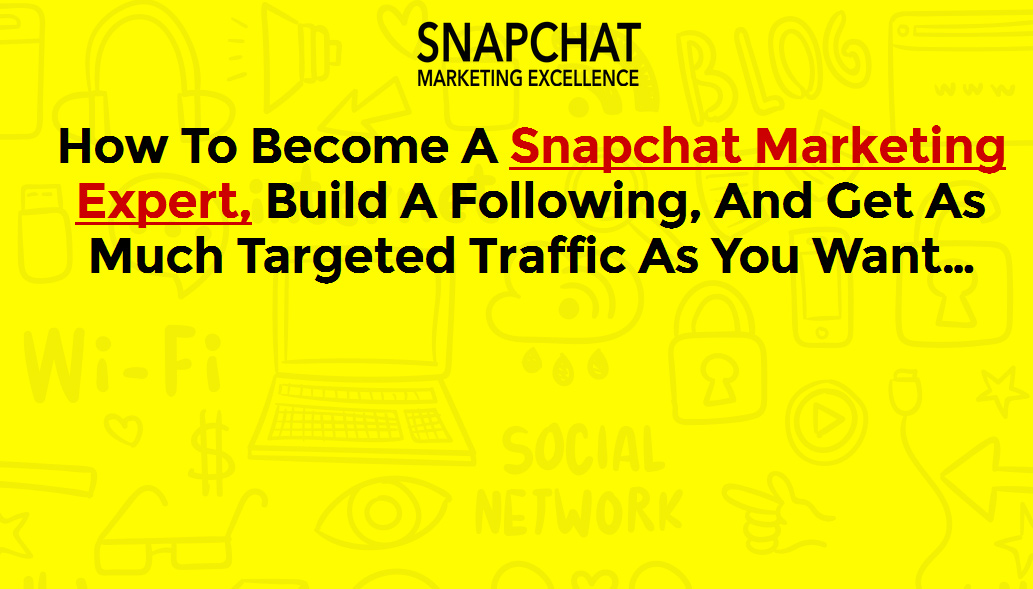 >>> Click Here To View Full Sales Page…
Table of Contents
SnapChat As a Marketing Tool .. 3
SnapChat As a Social Media Platform … 4
SnapChat For Business .. 8
Facts and Figures For SnapChat Business … 10
The Advantages of Limited Competition 12
SnapChat is Comparatively Different .. 13
How to Utilize SnapChat As a Marketing Tool 16
Case Study 1 22
Case Study 2 23
Case Study 3 25
Case Study 4 27
Sample Content Preview
The Advantages of Limited Competition
It is important to note that every business that has ever existed and made good profits must have had social media presence at one point. This includes presence on Facebook, Instagram and twitter amongst many other social media platforms available. On most occasions, however, it is difficult to stand out or connect with people on such platforms. This is especially because of the level of competition for businesses on social media. Every business wants to be felt son social media to an extent that it is very overwhelming for users. They are kept confused of which marketer or online-based business to give more attention.
Even though Snapchat is exhibiting enormous popularity amongst similar brands rapidly, one ought to note that there is still limited competition for businesses that seek online awareness through this platform. Unlike other social media platforms like twitter and Facebook that businesses and online marketers have flocked with the intention of gaining online existence, Snapchat is yet to be fully exploited fully as a marketing platform. Snapchat therefore become one of the few social media platforms that has a wide range of audience but only a limited number of businesses trying to exploit such audiences for business growth.
SnapChat is Comparatively Different
When confronted with the idea of social media, many immediately think of a site in which people connect with the purpose of communicating through written messages. However, Snapchat is totally different. Snapchat users share snaps in the form of short videos and images that are edited with numerous pictorial effects. As such, users meet new audiences in a completely new way with the help of completely new content. Just as it is the norm, internet users are always enthusiastic about new stuff and are more likely to engage in new and different stuff as compared to ordinary things that they are used to on a daily basis.
The fact that Snapchat offers a completely different user experience as compared to other forms of social media platforms makes it stand out. This is a big advantage for entrepreneurs who seek online awareness and attention through this site. Though many might not immediately ascertain the level to which Snapchat can assist their internet marketing intentions and aspirations, it is worth noting that the exiting audience in Snapchat alone is enough to convince an internet marketer or an online-based business of gainful platform to market their goods and services.
Snapchat offers a feeling of authenticity
One ought to note that social media sited are generally great when it comes to rapport building. On most occasions, social media sites play an imperative role in making their users view online-based businesses from the exact perspectives they would like to be viewed from. Despite being considered as one of the many social media sites, Snapchat amplifies the idea of social media marketing.
Unlike many social media sites, Snapchat tends to promote what is happening now. The use of modified images and videos communicate current undertakings in a way that makes their viewers to instantly
its users to edit photos with the help of filters with the aim of making them more appealing and interesting brings a completely different user experience as compared to the rest of social media sites.
Snapchat is free
This might not be the single most important aspect of marketing through Snapchat but we certainly cannot go without acknowledging the fact that it is free. This is perhaps the only advantage for internet marketing sites that cuts across the board on equal dimensions for all the sites. Therefore, the fact that Snapchat is free to download does not make so much significance until topped up with other advantages that come with it including less competition and authenticity.
The demographics of Snapchat
There is nothing as important as the demographics of an online marketing platform for online-based businesses. It is only through the demographics that a business is able to ascertain whether the site selected for its marketing is viable for the kind of products and services it offers. It is therefore imperative to take into close consideration the demographics of any online marketing site as a way of aligning the interned goods and services to the right audience and most especially consumers. It is only this way that an effective marketing strategy can be developed and actualized.
According to recent statistics, over 60% of smart phone owners aged between 13 and 34 years old in the United States of America use Snapchat. This is an implication that more than half of smart phone owner in USA are active users of Snapchat. On most occasions, USA is used as a point of reference in order to estimate the percentage of users across the globe. Therefore, it is worth noting that half of smart phone owners cut across the world make use of Snapchat.
Out of the total number of Snapchat users, recent statistical analysis validated in 2015 indicate that 37% fall in the age bracket of 8-24 years. The statistics also show that 71% of Snapchat users are below 25 years. A close evaluation of these figures illuminates the kind of audience expected in the event that an online marketer or an online-based business takes up Snapchat as one of its fundamental marketing platforms. The statistics can readily tell the kind of audience expected and the nature of response anticipated when marketing commences on this platform.
The population of Snapchat users comprises of 30% men and 70% women. This is an important revelation because it shows the gender distribution of Snapchat users. There are online-based businesses on internet marketers who majorly target ladies while other target men. It is thus important to know the gender distribution of a prospected marketing site before embarking on the actual marketing.
According to a recent study, Snapchat has a younger audience as compared to a number of similar social media sites. Despite being described as a younger audience, more than half of Snapchat's users are above the age of 25. People that fall within this age bracket form the biggest percentage of consumers of any commodity or service across the globe. This is because this age bracket forms the largest population in the world when analyzed through a global census. In addition to that, the largest percentage of people with salaries, either from formal or informal employment, fall within this age bracket. This is an implication that the largest percentage of people with the financial capability of buying goods and services are aged above 25. Thus, the fact that more of Snapchat's users fall within this age bracket makes Snapchat an invaluable marketing tool for not only online marketers but also online-based businesses that seek to have online awareness.
How to Utilize SnapChat As a Marketing Tool
Snapchat is an invaluable tool that offers a myriad of marketing options that can be exploited in order to meet certain goals and objectives of a business. Businesses that seek online awareness through Snapchat have since devised ingenious ways of drawing attention to their posts or snaps. It turn, they have gained significantly especially because of the massive audience available at Snapchat. The very its step to create online awareness through Snapchat is definitely to install a Snapchat app in your device. This will thus enable the posting and subsequent viewing of snaps. Additionally, this also helps a lot in understanding the trends in Snapchat and the features that are more likely to woe viewers more.
Online-based businesses or internet marketers are able to come up with creative Snap Ads, build impressive Sponsored Geofilters or offer their customers a chance to interact effectively with Sponsored Lens. These are new terms for those that are not familiar with Snapchat. Nonetheless, they are some of the most effective strategies that online-based businesses are able to implement in a bid to promote their products and services to existing and potential customers. These strategies are discussed further below.
The use of Snap Ads as a strategy for building brand awareness
The use of Snap Ads is an effective way of catching the attention of prospected audience. A Snap Ad is merely a 10-second video always incorporated in stories and appears full screen. These short videos are meant to enhance user experience by giving them an opportunity to swipe up with the aim of viewing more detailed contents. Such content may include articles, mobile websites, long videos and even app install Ads. On most occasions, viewers of Snapchat stories find it interesting to view stories that are combined with short videos that enhance their experience. It is for this reason that Snapchat users, especially marketers, are advised to incorporate such ads in a bid to capture the attention of their viewers while attempting to promote an item or service through Snapchat.
Snap Ads are an effective means of making posts or snaps more lucrative on Snapchat because of the swipe-up speed. According to a recent discovery, the swipe-up rate for the Snap Ads was found to be five times higher as compared to the ordinary click-through rates on other social media platforms. This is a great advantage for Snapchat users because through this, they are able to go through more videos and other related content in a short period as compared to when they do the same on other social media sites. This is thus an invaluable means of attracting viewers to a given snap and subsequently promoting products and services to a larger audience.
A case study on the use of Snap Ads
One of the most popular music app known as the Spotify bought Snap Ads with the intention of promoting its annual 'Year in Music' campaign. This is a campaign in which Spotify users are able to view the total number and the genres of songs they have listened to on Spotify the entire year. This strategy was a success as the Ads of Spotify popped up on the Discovery Channel of Snapchat during which it highlighted different music genres every day. As a result of this initiative, Spotify was able to earn twenty six million views. As if that is not enough, the music app also experienced a 30% increase on the number of subscribers. This was a significant increase. Since then, the mobile app has continued using Snap Ads and has, as a matter of fact, spiced up its marketing strategies on Snapchat using other means. If the use of Snap Ads was able to catapult Spotify to a different level as far as marketing of its product was concerned then it is almost definite that this strategy is valid for internet marketing.
Building impressive Sponsored Geofilters for promotion on Snapchat
Georfilter is one of Snapchat's features that were incorporated into the app in 2014. This feature is important for availing certain special graphic overlays when the user of the application is in a certain geographical place like a city or event. As such, users are able to identify with their locations when they take snaps of images of videos of their surroundings. There are two different types of Geofilters that can be utilized by businesses to take their marketing to the next level. One of the Geofilters is known as the On-Demand Geofilter that can be bought from as little as $5. The other one is the Sponsored Geofilter that is much more expensive and would ordinary cost from hundreds to thousands of dollars.
It is noteworthy that Geofilters have recently proven to be invaluable when it comes to uplifting new online-base businesses. They are always seen as small art graphics that usually appear over a snap. When Snapchat users in a given location take and post snaps, they are able to select specific Geofilters and use them to communicate where they are and at what time. One ought to note that these Geofilters can also be used by Snapchat users to explain the reasons why they took the snaps and the geographical location in which the snaps were taken.
A good example of the use of Georfilters on Snapchat is when a taco truck has a Cinco de Mayo even somewhere, Snapchat users are able to take snaps as they eat tacos and include fun geofilters. These geofilters will in turn show their friends where they are taking the snaps from. Additionally, the geofilters are also able to tell whose tacos the Snapchat users are eating thereby helping in not only promoting the event but also the tacos being consumed at the event. In such a scenario, a less expensive On-Demand geofilter will be sufficient.
Other Details
- 1 Ebook (PDF), 28 Pages
- 12 Graphics (JPG, PNG)
- 1 Salespage (HTML)
- 1 Squeeze Page (HTML)
- Year Released/Circulated: 2016
- File Size: 3,314 KB
License Details:
[ Yes ] Can sell to your customers.
[ Yes ] Can include within website flips.
[ Yes ] Can give away eBook.
[ Yes ] Can be used as a bonus.
[ Yes ] Can include eBook in membership site.
[ Yes ] Can be combined with other offers or sold as a package.
[ No ] Cannot sell Private Label Rights to customers.