Salespage Snapshot: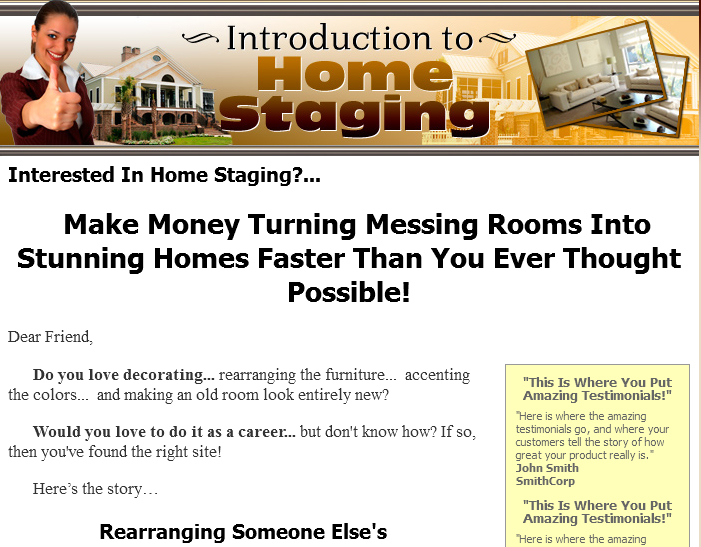 >>> Click Here To View Full Sales Page…
Table of Contents
Introduction
Chapter 1.
What is Home Staging?.
An Overview of Home Staging.
Advantages of a Home Staging Business
Disadvantages of Home Staging
What you Need to Get Started with a Home Staging Business
What a Professional Home Stager Does.
How Much Money can be Made from a Home Staging Business?.
Will Home Staging be Successful in your Area?
Why Should you Start a Home Staging Business?.
Chapter 2.
Getting your Home Staging Business Started
Home based vs. Renting an Office Space.
Rent furniture vs. Your Own Inventory
Do you need Start up Funding?
Start Up Costs
Setting your Pricing Structure
Sample Fee Chart
When to Collect Payment
Sample Invoice.
Marketing your Home Staging Business.
Building a Website.
Literature.
Networking.
Encouraging Repeat Business
Your Portfolio.
Testimonials.
Sample Client Satisfaction Form.
Chapter 3.
Working with Clients.
Your Services Agreement
Dealing with Difficult Clients
The Client that Can't Make up their Mind
The Unreliable Client
The Pack Rat
Chatty Kathy
How to Handle it When a Home you Stage Does Not Sell
Chapter 5.
Home Staging Checklist.
Begin with the Outside
Depersonalize:
Repair and Deep Clean.
The Home's Entryway
In the Kitchen.
De-personalizing and De-cluttering:.
Repairing and Deep Cleaning
The Living Room
Depersonalize and De-clutter:.
Repair and Deep Clean:.
Tips for Furniture Arrangements
The Dining Room.
Depersonalize and De-clutter:.
Repair and Deep Clean:.
Tips to Make the Most of the Dining Room
Make Small Rooms Look Larger by:
Staging Bedrooms
Depersonalize and De-Clutter:
Children's Rooms.
Repair and Deep Clean:.
Make it Stand Out:
Bathrooms
Depersonalize and De-Clutter:
Repair and Deep Clean:.
Make it Stand Out:
Closets.
De-Clutter:.
Utility Room
The Finishing Touches
Troubleshooting.
Conclusion
Sample Content Preview
Introduction
Home staging has swept the country by storm as sellers turn to professionals to help them clear out their homes and make them more appealing in an attempt to attract buyers and seller their homes faster and for more money.
This industry is ideal for individuals who are looking for a start-up business opportunity that offer low start-up costs and an incredible opportunity for profit. Even better, it is possible to operate a home staging business part-time, full-time or however you desire based on your current schedule.
Starting your own home staging business can provide you with incredible opportunity. Like any business; however, there are a few things that you need to know in order to operate a business for long-term success. Understanding more about this industry and possible hurdles you should watch out for can help you to overcome critical mistakes that many people make when starting their own home staging business.
In this guide we will walk you through what you need to know about the home staging industry, how to set your pricing, how to handle difficult clients and how to market your business for the most success. We will also look at some common problems you may run into, including clients that are difficult to work with and how you should handle it if a home that you stage does not sell.
We will also take a look at some critical issues you need to understand about running a successful home staging business, including what needs to be done in each area of the home in order to declutter, de-personalize and really make every room within the home stand out for the best results.
There is even a handy checklist included that you can use with each home you stage.
Home staging provides an excellent business opportunity. Researching and preparing ahead of time can put you on the path to achieve success.
Let's get started!
Other Details
- 30 Articles (TXT)
- 2 Ebook (PDF, RTF), 39 Pages
- 7 Part Autoresponder Email Messages (TXT)
- 1 Salespage (HTML, RTF)
- 3 Ecovers (JPG)
- File Size: 1,216 KB