Salespage Snapshot: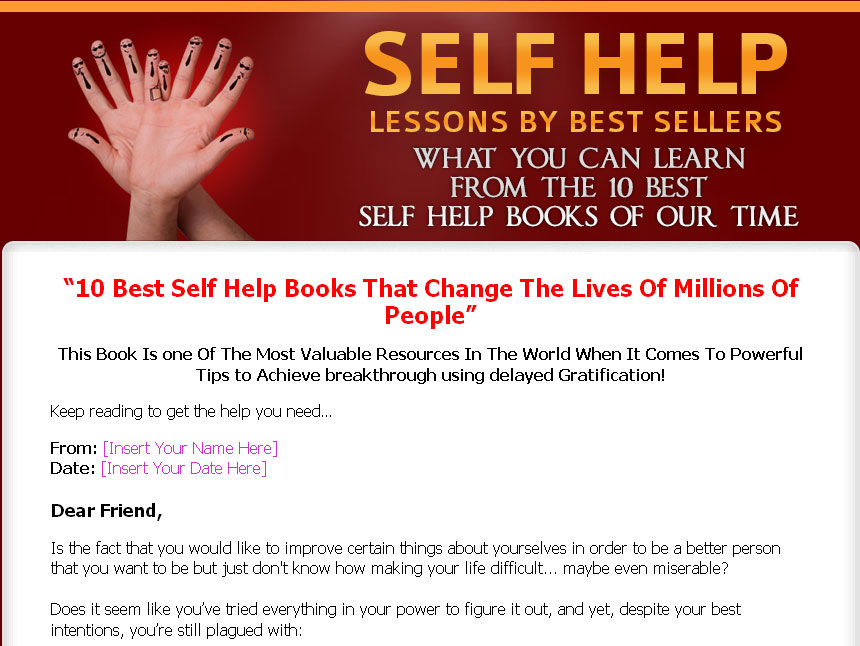 >>> Click Here To View Full Sales Page…
Table Of Contents
Foreword
Chapter 1: Introduction
Chapter 2: Man's Search For Meaning – "A must-read for EVERYONE. A potentially life-changing and eye-opening book."
Chapter 3: The 7 Habits of Highly Effective People – "The best of the best. Arguably the best self-help book of all-time."
Chapter 4: Feeling Good: The New Mood Therapy – "The best book for those who suffer from depression or anxiety."
Chapter 5: Awaken the Giant Within : How to Take Immediate Control of Your Mental, Emotional, Physical and Financial Destiny! – "Supremely inspiring, from possibly the most famous motivational speaker of all-time."
Chapter 6: The One Minute Manager – "Arguably the top management/leadership book ever."
Chapter 7: Eat That Frog!: 21 Great Ways to Stop Procrastinating and Get More Done in Less Time – "The top book on procrastination."
Chapter 8: How to Win Friends & Influence People – "A classic lesson in interpersonal communication."
Chapter 9: Organizing from the Inside Out, Second Edition: The Foolproof System For Organizing Your Home, Your Office and Your Life – "Teaches you everything about getting more organized and less cluttered."
Chapter 10: Flow: The Psychology of Optimal Experience – "This is an amazing, thought- provoking book about being "in the zone" and experiencing life optimally
Wrapping Up
50 Self-Help Classics: 50 Inspirational Books to Transform Your Life fromTimeless Sages to Contemporary Gurus – "Amazing "Cliffs notes" resource with many great ideas from many of the best books all rolled together in one volume."
Sample Content Preview
Chapter 4:
Feeling Good: The New Mood Therapy – "The best book for those who suffer from depression or anxiety."
Synopsis
Feeling Good: The New Mood Therapy is the famous book designed for those people who suffer from depress and anxiety. This book is also a self help book since it covers the best things to do to fight these two negative feelings. Its author was David Burns and it was initially published in year 1980. It discusses the cognitive attitude therapy.
Feeling Good
This particular book was written based on the dissatisfaction and traditional Freudian remedy for depression. The mentor of the author named Dr. Aaron Beck concluded the fact that people will never find empirical evidence designed for the success of all Freudian psychoanalysis in curing people who suffer from depression. The concept about negative feelings like anxiety and depression are caused by the person's thoughts and perceptions.
This book wants to tell you that when it comes to effective self-help for anxiety and depression, cognitive therapy is perfectly applicable. The concept behind this is that if you think that something is usually enough, you start to believe its reality. Depressed individuals are victims of persistent negative thoughts which are known as cognitive distortions that are typically the gross misrepresentation of the truth. To make you understand more about this, you should consider this example: a person who is in severe depression will say to you that he/she is a failure at all things. When you examine this statement in a logical manner, you will see right away that this is too far from reality. The person may not be successful in some things, but he or she may have more success than failures.
For depressed persons, the previous events in their lives instantly fade from the positive view, then they focus more on the negative side. What the cognitive therapy wants to let you know is that you need to refrain from committing logical errors. It will teach you to reframe your feelings in a manner that is more persistent with the truth. When you start on creating more positive and realistic statements regularly, you will be able to help yourself in getting over with the negative feelings you experience.
One of the best things that you should know about this book is that the author takes every one of the 10 usual cognitive distortions. He treats them one by one by providing strong coping techniques for each. This book will be a useful guide for you most especially if you are depressed. It will really help you whether you are taking medicines or therapy or you have these both. This will be an inspirational book for a person who is in the search for the best way to help him or herself without asking for the assistance of a medical professional.
Dr. Burns uses the tactics he use in his own life to fight stress and maintain his positive thinking. For these reasons, it is not a wonder why this book is among the best self-help books you can use to find out the best way to improve yourself.
Chapter 5:
Awaken the Giant Within: How to Take Immediate Control of Your Mental, Emotional, Physical and Financial Destiny! – "Supremely inspiring, from possibly the most famous motivational speaker of all-time."
Synopsis
Awaken the Giant Within is also a self-help book that was published in the year 1992. It is the expansion of the author's personal improvement strategies and techniques discussed over an encouraging self-help type of approach.
Anthony Robbins provided the differences between each one of his techniques. This book will tell you something about the Neuro-Associative Conditioning which is completely different from the NLP or Neuro-Linguistic Programming.
It is for the reason that the distinction between these two is described by the use of "conditioning" to the new personal development strategy or skill.
Awaken The Giant
In this book, Anthony Robbins revealed the "personal power" that is present in millions of people all over the world. In this advanced audio production based on the widely famous "Date with Fate" seminars, the author shows you the unconscious giant that is present within your inner self. It will teach you how to control your untapped capabilities, skills and talents.
This book is known for being the eventual program that will help anyone how to develop the qualities of the life's aspects. This book will provide you with the necessary tools that you can use, so that you will become the master of your own destiny.
The founder of the acclaimed personal development programs together with the author of this book reveals the effective steps for self-mastery.
When you read this book, you will find that Robbins shared the secrets behind of his "Date with Fate" seminars. It describes the way on how unconscious beliefs can control a person's attitude in making quick changes to reach his/her goals. This book is also helpful when it comes to developing your own self.
Other Details
- Ebook (PDF, DOC), 36 Pages
- Salespage (HTML, PSD)
- Ecover (PSD, JPG)
- Thank You, Earnings Disclaimer & Privacy Policy Page (HTML)
- File Size: 64,204 KB