Salespage Snapshot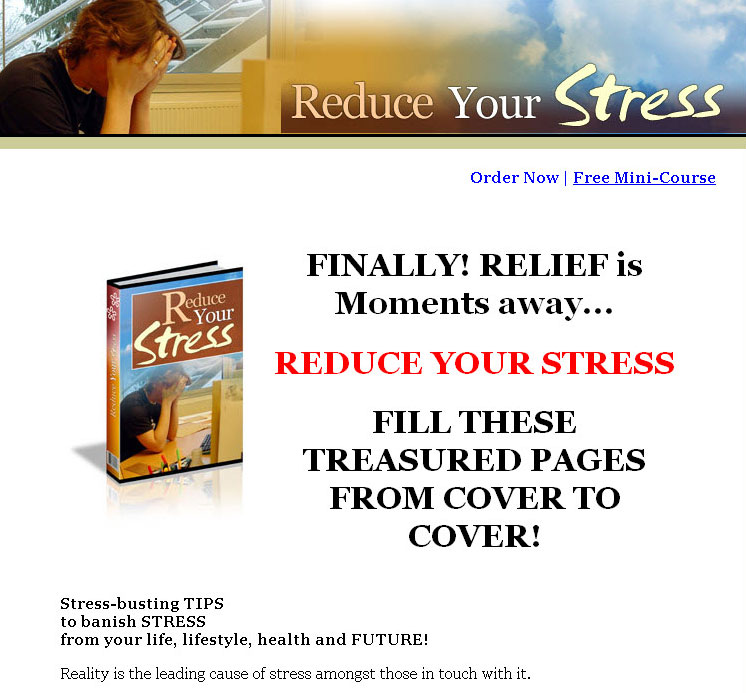 >> Click Here To View Sales Page...
PLR Ebook Table Of Contents
SECTION 1: GETTING STARTED ON THE ROAD TO STRESS-FREE        3-10
AN INQUIRING LOOK AT STRESSS –  QUICK OVERVIEW AND INTRODUCTORY NOTES
WHAT DO THE EXPERTS SAY?
HOW AND WHAT IS STRESS?
WHAT TO DO ABOUT IT?
WHAT OTHERS DO/HAVE DONE?
WHAT WORKS?
SECTION 2: MOVING FROM AND THROUGH THE STRESS DIAGNOSIS, PROGNOSIS, TREATMENT PROCESSES, REALITIES AND DYNAMICS    10-26
HOW TO KNOW THAT YOU ARE "stressed" – what to look for, identify and find evidence of stress, triggers, and other stressors
TAKING A PERSONAL PERSPECTIVE – Recording, tracking and journaling (stress-relief)
SECTION 3: A PRACTICAL APPROACH TO STRESS-BUSTING: TACTICS, TECHNIQUES and STRESS-COPING MECHANISMS FOR LIVING        26-50
EMOTIONAL, MENTAL, Cognitive Coping Mechanics and Dynamics: Mantras, Projections, Objectification, Visualization and other Mental Imagery         26
BODY, MIND AND SPIRIT/SOUL: Physical Response Techniques         27
THE POWERFUL WORLD OF POSITIVE THOUGHT:  Thinking, Thoughts and Actions, Transformational, Awareness building                 28
COMING AT STRESS FROM A DIFFERENT ANGLE – A HANDS-ON APPROACH:    Pro-active Strategies, Humor, Therapeutic Approaches and Techniques    30
LIFE REALITIES muscles, digestive tract, actions and habits, routines, rituals and rites, rest and relaxation       35
NATURAL REMEDIES and alternative therapies for coping with stress    37
An Altered, Balanced, Active Lifestyle: Breathing and Exercises        38-50
SECTION 4: Conclusion: A PERSONAL ACTION PLAN AND CHECKLISTS, RESOURCES, FOR STRESS-FREE LIVING                    50-65
Inspirational Thoughts, Affirmations and Reality Perspectives on Stress to Tickle Your Funny Bone and Inspire YOUR STRESS-FREE PERSONAL ACTION PLAN! 55
Some FINAL Tips for Stress Management                       56
Resources and Links                  62-65
PLR Ebook Sample Content Preview
SECTION 1: GETTING STARTED ON THE ROAD TO STRESS-FREE
AN INQUIRING LOOK AT STRESSS –  QUICK OVERVIEW AND INTRODUCTORY NOTES
WHAT DO THE EXPERTS SAY?
HOW AND WHAT IS STRESS?
WHAT TO DO ABOUT IT?
WHAT OTHERS DO/HAVE DONE?
WHAT WORKS?
If you are interested in the world of physics, you will probably have a totally different view of what stress is. To illustrate: mostly when the term is used in these disciplines, it refers to the force(s), that produce any kind of tension, strain on a physical body, where the stress can be accurately measured and expressed in units of force divided by units of area!
If only, this simplistic formula(s) and calculations, expressions and values,  could explain in full, help do away with, cope better and tell us what to do in order to handle the impact and effects of our stress, tension, strain (emotionally, cognitively, mentally, physically, biologically, holistically!) … If only… we could cope with STRESS better!
We would be well ahead further than ever assuredly, in coping with it effectively, once and for all, for good. Yet, it remains ever elusive and mysterious.
Most of us merely accept that stress is part of life and that we just need to toughen up. Others are oblivious to its effects and realities, even in denial, depressed without knowing why, ignorant to what is causing their underlying stress and not even aware that both internal, external, positive, negative stress can/do impact them, their lives, others, relationships, environment, health, wellbeing, all aspects and areas of their lives.
Here is an illustrative definition for this 'troubling' concept from our modern lives (wider than the aforementioned physics definition!):
(** NOTE: see reference section for full citation for quotes, sources to shed some more light on the topic, suggested readings, online links and other helpful texts, materials, guides)
(stress) (stres) 1. forcibly exerted influence; pressure.      2. force per unit area, which may cause strain (qv) on an object. 3. in dentistry, the pressure of the upper teeth against the lower in mastication. 4. a state of physiological or psychological strain caused by adverse stimuli, physical, mental, or emotional, internal or external, that tend to disturb the functioning of an organism and which the organism naturally desires to avoid;
These negative phrasing and choice of descriptors accurately captures what STRESS is really about. It deals with all those unwelcome things, objects, people, complications, events, effects that inevitably affect us (adversely/negatively), causing physiological OR psychological STRAIN, pressure, tension or stress, that leads to alteration in normal physical functioning, that gets the fight or flight instinct and response up and ready, keeping us on edge, annoyed, tense, disturbed, uneasy, ready to 'bail', so to speak, feeling overwhelmed, desperate, even depressed (in some cases).
Other Details* Sales Page:
Included, HTML, MS Word Doc
* File Format:
MS Word Doc, PDF
* Number of Pages:
64
* Included Graphics:
Ecovers, PSD
* Extras:
5 Part Autoresponder Email Message Series
* Download File Size:
12,412 KB