Salespage Snapshot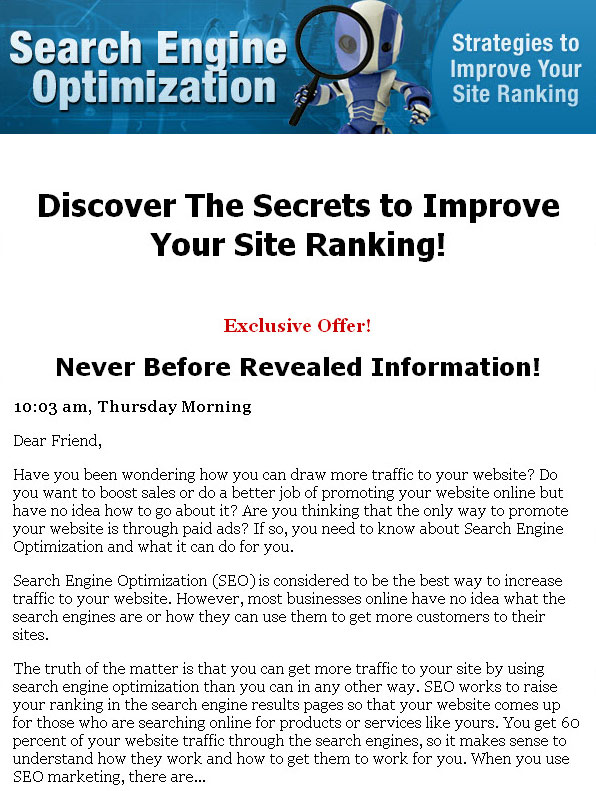 >> Click Here To View Sales Page...
Ebook Table Of Contents
Chapter 1 – What Is Search Engine Optimization?    3
Chapter 2 – Search Engines That Use SEO    5
Chapter 3 – Using SEO In Website Text    7
Chapter 4 – Using SEO For Google Ads    9
Chapter 5 – Using SEO For Article Marketing    11
Chapter 6 – Using SEO In Press Releases    14
Chapter 7 – Using Longtail Keywords    16
Chapter 8 – Using Google To Discover The Best Keywords    18
Chapter 10-SEO In Photos    21
Chapter 11-Blogging With SEO Marketing    22
Chapter 12-Using A SEO Company    24
Ebook Sample Content Preview
Chapter 1 – What Is Search Engine Optimization?
Search Engine Optimization (SEO) is used in all aspects of web marketing.  You need to understand as much as you can about how SEO works in order to get the proper marketing of your website online.
When you use SEO in all of your content – both text and visual, you can draw more traffic to your site.  In order to understand how to use SEO, you need to know why people use this type of marketing and rely on it so heavily in order to get the desired traffic to their website.  SEO is what gets a website noticed in the search engines.
So what exactly is SEO?  This sets up your text, photos and videos so that they are easy to find when someone is searching for them using the various search engines online.  While it is often said that Google relies more on SEO content than Yahoo, which relies more on link building, the truth of the matter is that in order for a website to be discovered online, it must come up in the search engine.
For example, if you have a website that sells cooking appliances, you will want to make sure that you structure your site so that others who may be looking for the products you sell will be able to find it online.   Those who are looking online for what you have to sell may do it in a number of different ways, although the easiest way for someone to find something online is to use the search engines.   Most of the traffic to your website will come from search engine optimization.
You need to know which keywords will work for your website.  These are the words or phrases that people will put into the search engine bars to receive the search engine results pages.  Many people today are putting in longer phrases into the search engines to narrow down their search.
There are tools that the website owner can use to investigate the best keywords for their website, based on what they sell and what words potential customers are likely to plug into the search bars that will lead them to the site.  In order to succeed at this, a website owner must not only know the concept of SEO, but also much about the target market, which is those who are most likely to purchase the products on the website.
If you are just starting out your website, or if you have a website up and running already, you need to know how to use search engine optimization in all facets of your marketing.  While there are other ways to market your website and products without using SEO, the fact of the matter is that 60 percent of all traffic on websites comes from those who found the website in the search engines.  These people are seeking out what you have to offer and are finding you online as long as you are accessible.
Other Details* Sales Page:
Included, HTML
* File Format:
MS Word Doc, PDF
* Number of Pages:
25
* Included Graphics:
Ecovers
* Download File Size:
586 KB