Salespage Snapshot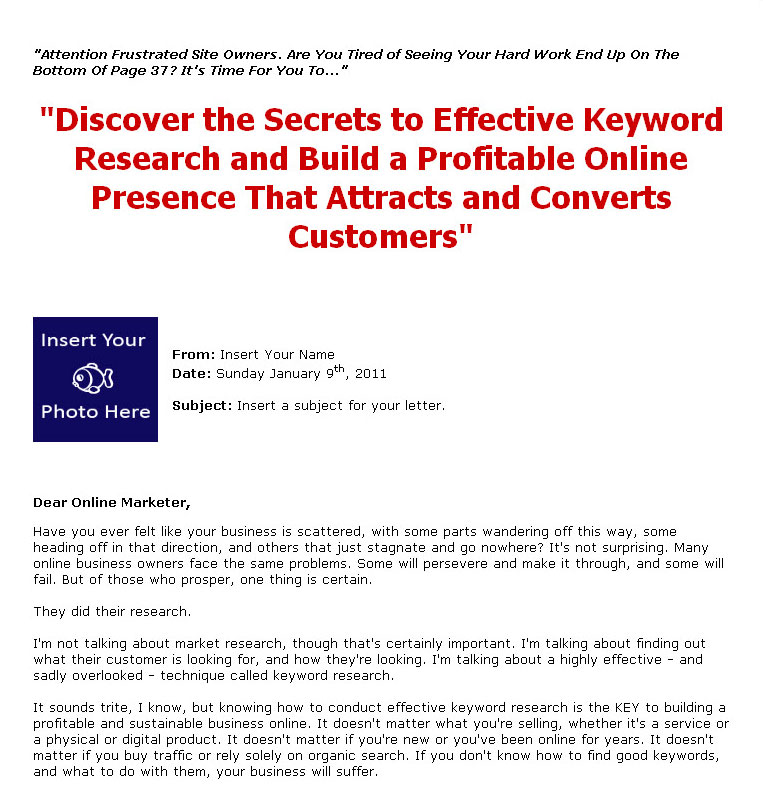 >> Click Here To View Sales Page...
Table Of Contents
What Exactly is a Keyword?    4
What You'll Learn in Keyword Treasury    5
Google, the King of the Keywords    6
Brainstorming Keywords    7
Refining and Sorting Your Keyword List    8
Deciphering Google    10
Exact, Phrase, or Broad    11
Other Keyword Discovery Tools    12
What Exactly Are You Looking For?    16
How many searches is enough?    16
How Much Competition is too Much?    17
Other Ways to Find Great Keywords    19
Types of Keywords    21
Organizing and Using Keywords    23
Using Keywords Effectively    24
Writing with Keywords    28
Using Keywords Offsite    32
Anchor Text Defined    32
Linkbuilding with Anchor Text    33
Internal Linking    35
Ebook Sample Content Preview
Anyone who has ever built a website or done business online knows, the key to great results is good keyword research. Everything you do – from the products you sell to the advertising you buy to the very structure of your website – depends on choosing the proper keywords. And not just choosing them, but using them properly.
What Exactly is a Keyword?
A keyword is a word or a phrase that someone types in to a search engine in order to locate information on the Internet. Think about what you do when you need to find something online. You go to Google or Yahoo! or Bing, enter some words or a phrase into the box, and click search. Those words you entered are collectively called a keyword or key phrase.
For an online business owner, keywords are important because we want searchers to be able to find our site, and in order for them to find us, we have to have a good understanding of how they use the Internet to search for information. That's where keyword research comes in.
By conducting thorough keyword research and discovering the most popular, most often searched terms in our industry or niche, then analyzing those keywords for their money making capacity and their overall usefulness, we can get a good start on building a profitable business.
The other side of the coin of good keyword research lies in understanding the competition, how they use our chosen keywords, and whether or not we can even compete against them. And yes, it's absolutely okay to recognize when we can't compete against a certain page for our chosen keyword.
Other Details* Sales Page:
Included, HTML
* File Format:
MS Word Doc, PDF
* Number of Pages:
36
* Included Graphics:
Ecovers, PSD
* Extras:
5 Followup Emails
* Extras:
Promo Email
* Extras:
Affiliates Programs
* Extras:
Articles
* Extras:
Squeeze Page
* Extras:
Blog Posts
* Extras:
MS Word Doc, PDF Report
* Number of Pages:
9
* Download File Size:
8,805 KB