Salespage Snapshot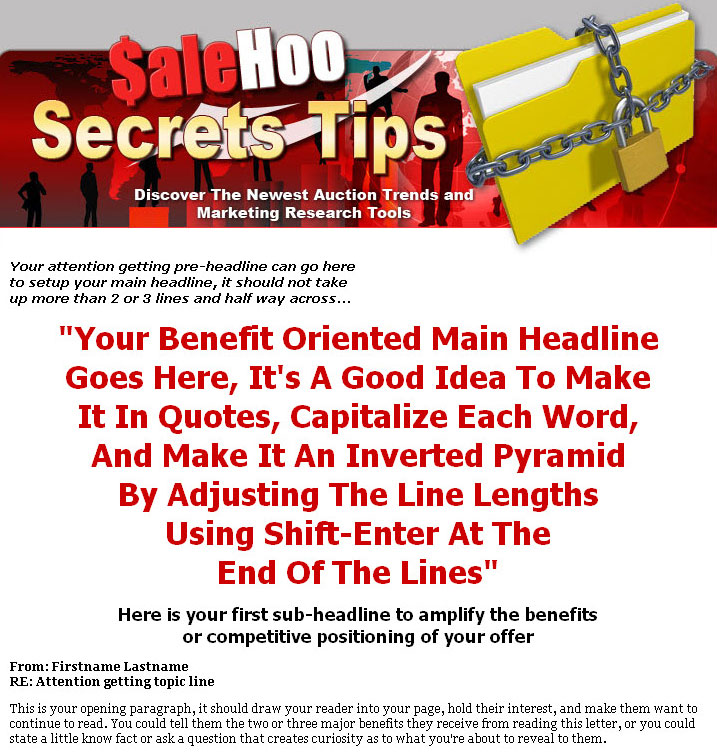 >> Click Here To View Sales Page...
Ebook Table Of Contents
The Features of SaleHoo    3
Buying Wholesale from SaleHoo    4
Consider These Points when using SaleHoo    4
Dropshipping and SaleHoo    5
Getting Products from SaleHoo    6
Getting Started on SaleHoo    7
How SaleHoo can help your Business    8
Importing Goods from Overseas for your SaleHoo Business    9
SaleHoo as a Means of Getting Supplies    10
Setting Up an Account on SaleHoo    11
Some Aspects of SaleHoo    12
What's Special About SaleHoo    13
Some Tips on Using SaleHoo    14
The Power of Dropshipping    15
The Pros and Cons to SaleHoo    16
The Uses of SaleHoo    17
Things to Consider when using SaleHoo    17
Tips for SaleHoo    18
Tips to Using SaleHoo    19
Use Caution in SaleHoo Dealings    20
Trade Secrets of SaleHoo    21
Using SaleHoo to its Fullest    22
What SaleHoo can do for You    23
What to Look for on SaleHoo    24

Ebook Sample Content Preview
The Features of SaleHoo
As with any web site, SaleHoo has a number of features that will help you in buying products from around the world.
Search Alerts
Once you have an account on SaleHoo, which only costs a one-time fee, you can establish up to twenty named searches for products. After that, any time those items become available, you'll be alerted. A nice feature of the search process is that you can input a word and set the search to also look for misspellings. Considering that some of the companies you can deal with are in other countries, they may not speak English as a first language. Also, as some products have very unusual names – like the Playstation – that can make it doubly difficult for people in other countries to get the names right. With the misspelling feature, you can search for any products you want.
Member Forums
If you are new to the online business environment, you can get help and tips from others who have gone through the same issues as you. The forums have answers to just about every question you could ever want to ask. They also have a search feature so you can look up anything you want.
Other Details* Sales Page:
Included, HTML
* File Format:
MS Word Doc, PDF
* Number of Pages:
24
* Included Graphics:
Ecovers
* Extras:
eBay Sales Page
* Download File Size:
1,420 KB