Salespage Snapshot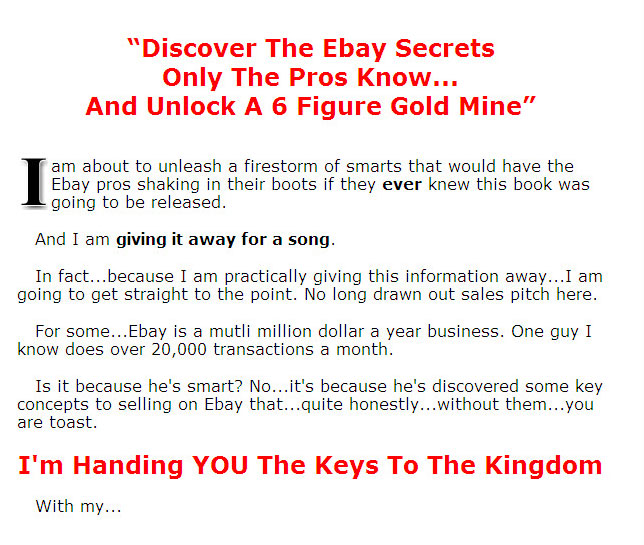 >> Click Here To View Sales Page...
PLR Ebook Table Of Contents
1. Ebay – Part 1 Page 3
2. Ebay – Part 2 Page 5
3. Ebay – Part 3 Page 7
4. Ebay – Part 4 Page 9
5. Ebay – Part 5 Page 11
6. Ebay – Part 6 Page 13
7. Ebay – Part 7 Page 15
8. Ebay – Part 8 Page 17
9. Ebay – Part 9 Page 19
10. Ebay – Part 10 Page 21
11. Ebay – Part 11 Page 23
12. Ebay – Part 12 Page 25
13. Ebay – Part 13 Page 27
14. Ebay – Part 14 Page 29
15. Ebay – Part 15 Page 31
16. Ebay – Part 16 Page 33
17. Ebay – Part 17 Page 35
18. Ebay – Part 18 Page 37
19. Ebay – Part 19 Page 39
20. Ebay – Part 20 Page 41
21. Ebay – Part 21 Page 43
Ebook Sample Content Preview
1. EBAY – PART 1
If you were to take a poll on what was the most popular form of making money on the Internet, you'd probably get about a 50-50 split between affiliate marketing and selling on Ebay. From the people I have spoken to, Ebay seems to give them more of a feeling of really running their own business. I didn't really get that feeling because I'd already created my own products to sell online. But I can understand their feeling of excitement. They had to jump through a lot of hoops to sell on Ebay, especially if they were into drop shipping.
Make no mistake about it. Selling on Ebay is a real rush. There power trip of being totally in control of everything is far beyond the rush you get from selling an affiliate product where you have no control over the commission structure, website or anything. With Ebay, you make or break it on every level.
However, with that kind of rush comes a great deal of responsibility. There's nobody to lean on when you're selling on Ebay. You are your own boss and everything falls on your shoulders. There's no Clickbank to turn to for refunds. All refunds come out of your pocket and if there are enough customer complaints, you can be shut down in an instant. So you better make sure that you run a tight ship.
So, you want to sell on Ebay. Okay, if that's the case, you better have a solid game plan. I don't mean just what products you're going to sell. I mean how you're going to advertise, how you're going to price, where you're going to get the products from and a lot more. Everything will have to be in place and ready to go before you even place your first Ebay ad. Just one thing not taken care of and the whole operation falls apart.
If you're really efficient and a quick worker, you can probably get an Ebay campaign going, depending on how complex it is, in about a week. Some take a month or longer to put together. My particular campaign, when I first started, was simple and took me a week. If I knew what I was doing back then, it probably wouldn't have taken me as long, but everybody starts out somewhere.
Other Details* Sales Page:
Included, HTML
* File Format:
MS Word Doc, PDF
* Number of Pages:
44
* Extras:
Articles
* Download File Size:
307 KB