Salespage Snapshot: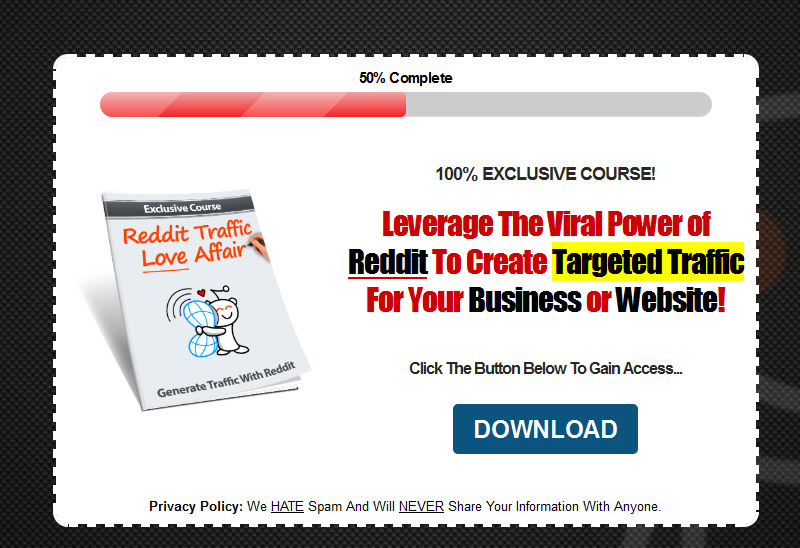 >>> Click Here To View Full Sales Page…
Sample Content Preview
The Best Type of Content To Post On Reddit
Reddit's an amazing website, thanks in part to its great variety of sections for people to search through and more than enough ways for people to interact with each other. However, this doesn't mean that every single bit of content should be posted there. There are a number of specific types of content that you can contribute to Reddit that will help you better leverage the power of the community.
Listed below are just a few kinds of content that Reddit users seem to react best to: Questions Can Be Great
You should consider asking creative questions on Reddit. You can ask questions relating to what people would do in certain situations or what ideas can be found around the world. If you ask questions on occasion then people will interact with you and give you their own special ideas in response to your topic. If you are smart you can find a way to link to your own site.
Make People Laugh
Comical content can be perfect for you to post on Reddit. It's often easier for people to share content on Reddit if it's funny. This is because people always enjoy a laugh every once in a while. Also, people want a respite from all the hostile and negative content that's all around the online world. They'll want to feel happy and excited about whatever it's they are finding online.
Add New Ideas
You should think about new ideas that you want to share with other people. Whether it's to offer a new recipe to people or to showcase some new innovations or creations that have been developed over time, you should share new ideas with others. People want to learn new things and are willing to go online to find them.
Solve people's problems
Some of the highest rated self posts on Reddit are ones that solve a problem that individuals or a community has. When someone is able to offer genuinely useful content, people feel obliged to upvote it. Therefore, when you are posting make sure that what you a writing is just rubbish and that it will be helpful to someone.
Check Out the Videos
Media is more easy for an audience to consume than text, so if you're posting a video of yourself or a link to Youtube then you can expect it to do better than text. Online viewers are lazy, appeal to this laziness with images, video and
How To Get More Upvotes On Reddit
Let's be honest, there's really no other place on the web that is more coveted for online entrepreneurs than the first page on reddit. If you operate or run an online venture, you have probably realized that it's a huge task to get up-votes on reddit especially if your site is new.
Do you have low rankings on the search engines and no clue on how to get visitors to your website? I feel your plight and pain. I've been there before, but I learned how to utilize reddit in the right way to drive quality traffic to my website.
Reddit's the online home away from home for millions of people every month. It helps start memes, create overnight celebrities, change the world and shape the news in a wide array of ways. So it's no surprise to any online entrepreneur that submitting a post on Reddit, something which almost everyone can do is one of the gold mines for traffic generation in the online world. Likewise it can also prove to be a hard nut to crack. And there is no guide that guarantees success.
1) Have a stunning title.
Make sure your title is correct and accurate. There is no room for typos otherwise you will be embarrassed in the comments. Typing errors tend to annoy most Redditors who will definitely down-vote your site out of existence.
2) Have a good thumbnail.
Just like blog posts and YouTube videos, your thumbnail has everything to do with convincing visitors to click your content. The same applies to Reddit. Most people like great photos, if the thumbnail is an image of an empty field it's likely not to contribute towards your post getting click-throughs or more upvotes. But if you get an attention snatching photo like Kanye West playing soccer, and you make the photo him dribbling- you will be onto something. The thumbnail continues the information but does not give it all. This means many people will click onto the post to try and see the full thumbnail and if they like it.
3) Be relevant.
Before you post anything, spend some time finding out what is trending on Reddit. Know what most people are talking about and what is getting up-voted. If people are talking about the Kardashians at the moment, then write a good article about the Kardashians and then submit it on Reddit.
4) Submit at the Right Time
The best way to find out this, is to check your statistics. When is usually the best day for your blog or site? When do you always get the highest number of
General Tips For Using Reddit As An Online Marketing
Reddit was founded by university roommates Steve Huffman and Alexis Ohanian. The social networking, entertainment and news website calls itself 'The Front Page of the Internet' and comes with an interesting blend of links, news and commentary. If you know how to use Reddit effectively and you sign up and create an account, you can get multitudes of visitors to your blog and an increase in your online earnings.
Reddit Rankings Are Determined by Upvotes and Downvotes
To many marketers Reddit's an essential resource that has become indispensable. The difference between Reddit and Twitter for instance is that with Reddit, the stream of content is curated by the community. A post's position on the site is either of value and it's up-voted or it's deemed unworthy and down-voted. You need to submit interesting topics to get up-votes, otherwise your account can get banned.
People Want Content of Value
But how often should you try to drive traffic from Reddit? How often should you be submitting links? Other social bookmarking sites allow you to submit lots of links every day, but not Reddit – in fact they won't allow you to do so.
In spite of Reddit's strict rules, you can drive huge traffic from Reddit to your blog by using it the right way and in the long run you benefit more than with other social networking sites.
Timing is also a key factor to submitting links and according to experts the best time to submit a link is before 5pm EST because this is when most people are browsing Reddit.
Making it to the Front Page
Items that do make it onto the front page are seen by countless numbers of people sending large amounts of traffic to the linked website.
The front page is made up of content which is submitted to the site's subreddits – music, gaming, news, pic etc and visitors to the site are subscribed to these top channels. As you discover niche communities, you can subscribe to subreddits, which will push popular posts from those channels to your homepage.
If a subreddit gets enough subscribers, it becomes part of the default homepage, and this in turn drives more subscribers and traffic. If you don't want to see content from a certain subreddit on your homepage, you just have to unsubscribe from it.
Three Tools To Help Your Reddit Marketing Efforts
Are you tired of the usual social marketing strategies such as leveraging Twitter, Facebook, Instagram and Pinterest? Well, you may consider using Reddit for your internet marketing campaigns.
Reddit's one of the most popular websites in the world with over 56 billion views each year. It's one way of ensuring that you are ahead of the pack as most business have saturated other social media networks.
If you are going to use Reddit for your marketing campaigns, it's important that you get it right the very first time. If you are already using Reddit for your marketing, it's time to take it to the next level.
Other Details
- 1 Ebook (PDF), 13 Pages
- 3 Graphics (JPG, PNG)
- 1 Squeeze Page (HTML)
- 5 Promotional Ad Materials (Emails)
- Download Page, Affiliate Program, Cheat Sheet, Twitter Tweets
- Year Released/Circulated: 2017
- File Size: 8,471 KB
License Details:
1. You CANNOT put your name or pen name on the product as the creator.
2. You CANNOT edit the contents of the product in any way
3. You CANNOT change the title and sub-title of the product.
4. You can sell the product (Report) in PDF format. The recommended selling price is $1.00 to $7.00
5. You are granted the master resell rights, resell rights or to resell with personal use rights. Nothing else.
6. You CANNOT offer private label rights to this product. You are granted only the Master Resell Rights.
7. You can add the product into a membership site (paid only).
8. You can add the product into your product bundle or package and sell for a higher face value.
9. You can offer the Basic Resell Rights to the PDF Report. The recommended selling price is $17.00 - $67.00
10. You can produce audio and/or video content from the materials found in this product.
11. You CAN give the product away for FREE, in exchange for an optin (email address) or lead.
12. You CAN offer the product as a bonus to another product you are selling. Or as a bonus when people purchase through your affiliate link.
13. You CANNOT sell the product on auction sites such as eBay.com.
14. You CANNOT use sell product in a dime sale event, under any circumstances or situations at all.
15. You CANNOT sell this product as a WSO, under any circumstances or situations at all.