Salespage Snapshot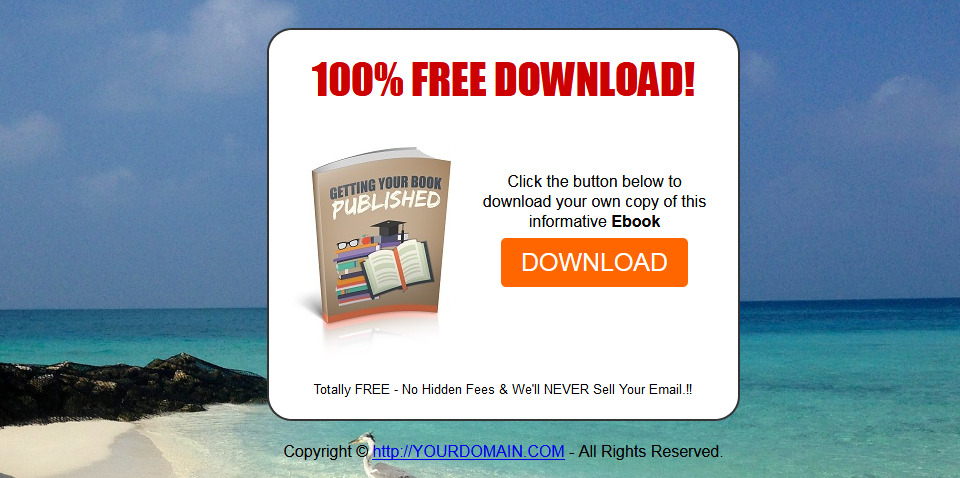 >> Click Here To View Sales Page...
Table of Contents
INTRODUCTION3
OVERVIEW OF THE PUBLISHING INDUSTRY….4
Traditional Print Publishers..4
Self Publishing4
Electronic Publishing….5
Getting Started…..5
THE WRITING PROCESS – AN OVERVIEW….6
FINDING IDEAS…..6
WHAT WILL PEOPLE BUY?.7
WHAT TO CONSIDER WHEN CHOOSING AN IDEA. .8
STICK WITH WHAT YOU KNOW…10
ALL ABOUT AGENTS….11
WHO NEEDS AN AGENT?..11
THE BOOK PROPOSAL12
REPRESENTING YOURSELF….13
HOW TO LOCATE AGENTS13
CONTACTING AGENTS…..14
CHOOSING A GOOD AGENT….15
ALL ABOUT PUBLISHERS…17
BEHIND CLOSED DOORS..17
Sending In Your Own Submissions.17
When An Agent Submits to Publishers..18
THE PITCH MEETING.18
THE OFFER…WHAT A DEAL!…19
The Offer19
The Advance.20
Royalties20
Book Delivery and Publication Dates…..21
NEGOTIATING THE CONTRACT….22
MARKETING A BOOK…24
PRE-PUBLISHING MARKETING….24
POST-PUBLISHING MARKETING..25
ON THE ROAD…NEAR AND FAR….26
SELF-PUBLISHING AND ELECTRONIC PUBLISHING ..28
CONCLUSION..31
Sample Content Preview
GETTING STARTED
With so many great options available today in the publishing industry, it's easy to get confused. It is important to keep in mind that most of the publishing concepts are the same. Many of principles behind the writing process, editing, finding a publisher, and marketing apply whether you are talking about a traditional print book or an electronically published book. The principles are the same but the process may differ. For example, marketing principles underlay the strategies for selling a book but the actual tactics can differ if the book is only available electronically. In the following sections the principles that are discussed assume a book is being published in print form. In the chapter Self Publishing and Electronic Publishing the process for publishing and marketing eBooks and other electronic book versions are reviewed.
THE WRITING PROCESS – AN OVERVIEW
This is an eBook about publishing and not about writing per se, but you will have a much greater chance of getting your book published if you choose your idea carefully and keep your ultimate goals in mind. Your idea should not be strictly driven by the desire to get published, but you also do not want to write a book that only five people will read. For most writers coming with the desire to be published is the desire to make some money too. As you will learn later the amount of money you will make will be dependent on the number of books you sell and the negotiated contract.
FINDING IDEAS
So where do you get ideas for a book? The answer is you get them everywhere! If you want to know what sells and what people are interested in reading, you can start with a visit to the bookstore. Just simply visit a neighborhood bookstore and look at the prominent displays. What are the tables displaying? What types of books are present in the largest quantities?
With the internet it is also easy to search for lists of the most popular books that are selling. Bestseller lists provide a quick view of the book market and what the public is reading. There are even lists by type of book. If you are determined to write a nonfiction book then look at the nonfiction bestseller lists.
The ideas you get from the bookstores and the library are just the beginning. There are many other ways to get ideas.
– Talk to friends and family and ask what they enjoy reading
– Quiz co-workers or the chat with people at the gym
– Brainstorm and make a list of where your thoughts take you in the way of ideas
– Think about your hobbies and any areas of expertise you can claim
– Consider your unique skills or abilities
– Recall the times you have told yourself someone should write a book about….
– List the topics you find interesting like politics, sewing, caring for the elderly and so on
Once you have listed the ideas you can then sort the list into a descending list of topics that hold the most interest for you. You are almost creating a funnel into which you pour all your ideas and coming from the narrow tip will be those that have the most interest. You can work your list over several times and eliminate the topics you do not feel qualified to write about. Eventually you will find yourself with 2 or 3 topics and from those you will find one that has potential to be turned into a full book.
At this point other considerations come into play. You have a good idea for a book, but will it sell? At this stage you must match your idea to the market. This is where your visit to the bookstores, the bestseller lists, and the market needs are matched to your book idea. Does your idea fit? That is the question you must answer.
WHAT WILL PEOPLE BUY?
The process of writing a book requires a significant investment of time and creative energy. If your goal is to express that creativity in a way that will enable your book to get published, then you do not want to fashion your book into a tome that few people will read.
Realistically you will probably not write a best seller on the scale of a Stephen King book the first time you are published. It can happen, but it is just not likely. Yet the goal is to write a book that will be published and sell. Publishing a book that does not sell really does serves no useful purpose to anyone.
To determine the type of book people will buy, is necessary to understand the audience that will be the most likely to the book. Is it going to be stay-at home-moms, nonprofit organizations, golfers, teenagers, mystery lovers, or any of the hundreds of others who read books. Once you decide what the most likely audience will be, you then must decide if it will be large enough. Once again you are back to the question of how to publish a book that will sell. Selling five copies will probably leave you in debt even if you decide to self-publish.
There is a bigger consideration to keep in mind also. Publishers will only assume the risk of publishing a new author if it believes the book will sell a minimum of 5,000 copies. That is the absolute minimum and many of the large publishing houses will expect many more than that to sell. In the publishing business, sales estimates assume that approximately 5 percent of the potential reading audience will actually invest in the book.
It becomes much clearer at this point as to why you want to write to a large audience!
The book you write will have to meet a need or a desire for information. People who buy a self-help book need answers to life questions. People who read mystery books have a need for a mental challenge. Those who buy diet books need to lose weight. People who buy romance books need to have the satisfaction of knowing romance is alive and well in the world and may even be living vicariously though the book.
Of course all of this is speculation because there is no way to prove exactly why people buy a certain book to read. But people will buy a book that captures their interest, inspires the spirit, conveys information, lets them travel to exotic places, or enables them to experience adventure. Your goal is to match your talents, interests, and writing abilities to a market need. Once you succeed at this task, the chances of your book getting published have greatly improved.
WHAT TO CONSIDER WHEN CHOOSING AN IDEA
Surely you need to consider a lot more than just what books are sitting on the bookstore tables by the front door and what you enjoy doing or talking about. To choose a marketable book idea there are several concepts to keep in mind.
Other Details
- 25 Articles (TXT)
- 1 Ebook (PDF), 32 Pages
- 1 Squeeze Page (HTML)
- 2 Ecovers (PNG)
- Year Released/Circulated: 2018
- File Size: 1,827 KB
License Details:
[YES] Can sell and keep 100% of the sales.
[YES] Can edit the squeeze page.
[YES] Can be bundled into another paid package and sell at a higher price.
[YES] Can be used as a bonus to another product you are selling.
[YES] Can be sold in a Dime sale event.
[YES] Can be added into a paid membership site.
[YES] Can pass on the Master Resell Rights privilege to your customers.
[YES] Can be given away for free AGAINST an email address (lead generation)
[NO] Contents of the product can be edited, modified or altered.