Salespage Snapshot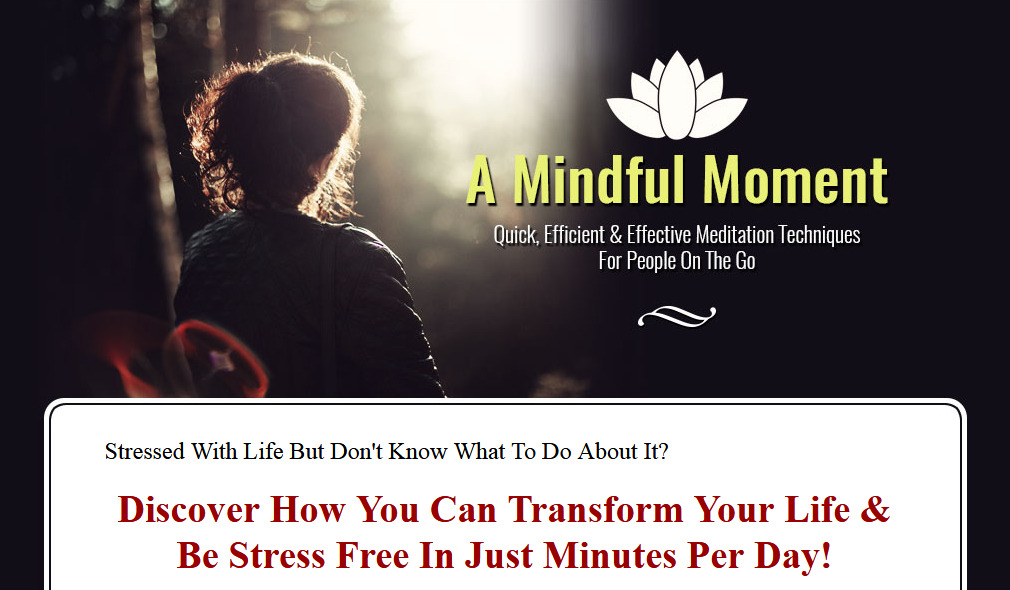 >> Click Here To View Sales Page...
Table of Contents
Introduction … 5
Chapter 1 – Meditation: What, How, and Why? …. 8
Meditation Is All About Getting Back In Touch ….. 10
Meditation's Power Lies In Its Focus On The Present Moment ….. 11
Why Meditate? …… 13
Dial Down Your Personal Drama … 15
Get Focused By Achieving Perspective.. 17
Chapter 2 – Preparing To Meditate ….. 19
Do This First: Find The Time . 20
Second Step: Get Your Mind Right About Meditation … 21
Keep The Following In Mind .. 23
Don't Make Things Harder on Yourself With Unrealistic Start Dates …. 25
Pick A Start Date You Can Commit To .. 26
Chapter 3 – Simple Meditation Techniques . 27
Method 1: Waking Single-Focus Meditation .. 27
Step 1: Select A Location Where You Won't Be Distracted Or Disturbed….. 28
Step 2: Sit For Maximum Comfort 28
Step 3: Keep Your Eyes Open …… 29
Step 4: Eventually, Let Your Eyes Relax And Settle On A Single Object ….. 30
Step 5: After You Have Selected A Single Object, Thoroughly Observe It… 30
Step 6: Revert Back To Normal Consciousness …. 32
Chapter 4 – Observe Your Breathing – Method 2 34
Step 1: Select the location where you won't be distracted or disturbed ….. 34
Step 2: Sit Comfortably 35
Step 3: Slowly Shut Your Eyes ….. 35
Step 4: Take 3 Deep Breaths Quickly … 35
Step 5: Observe Your Breathing … 36
Step 6: Shift Your Mind's Eye To The Air Going In And Out Of Your Nostrils …… 36
Step 7: When You Get Closer To The End Of Your Meditation Session, Allow Your Breaths To Get More Shallow And Faster ….. 37
Chapter 5 – Quick Transcendental Meditation …. 38
Step 1: Select The Location Where You Won't Be Distracted Or Disturbed . 40
Step 2: Sit For Comfort . 40
Step 3: Slowly Shut Your Eyes ….. 40
Step 4: Deep Breathing. 41
Step 5: After You've Relaxed Enough, Focus Your Mind's Eye On Your Exhale … 41
Step 6: Focus On Your Mantra ….. 42
Step 7: Slowly Unwind Your Mantra ….. 43
Conclusion … 44
Sample Content Preview
Chapter 1 – Meditation: What, How, and Why?
Meditation is all about actively triggering your mind's internal relaxation processes. That's all it is.
A lot of people are under the impression that meditation is some sort of quasi-religious, mystical, or even deeply personal philosophical journey into your inner world. Actually, if you were to strip out the fluff, packaging and mass media imagery surrounding meditation, it really all boils down to tapping into an internal mental process that we all already have.
I know that sounds shocking because when people think of meditation, they often think about Buddhist monks high on top of some solitary hill, or some Christian monk hidden away in the stony interior chamber of a monastery somewhere in a distant forest. Nothing could be further from the truth.
Meditation, when stripped down to its essentials is really all about rediscovering the internal processes and mental machinery you already have to achieve a deep state of relaxation. Your mind in fact has existing processes that protect it from overheating and breaking down from the wear and tear of all the data processing it does at any given day.
If you focus on what you think about, and what you choose to perceive in any given second, you'd be surprised as to how much information actually flows through your mind. Some peg this data flow to around ninety thousand to a hundred twenty thousand thoughts. It really varies from person to person, but that's a lot of information, and to think that those are only conscious thoughts. This means there are many other things we perceive that we do not think about. So, given all that data you should be able to understand how much stress and pressure your mind is under.
This is why you have to sleep. The more you sleep, the clearer your mind would be the following day, and the more relaxed you would be. In addition, when you sleep, you recharge your willpower, and you will be able to focus more on whatever you need to do the next day. Sleep, and this internal relaxation process formed your personal relaxation core. This core is required for your mind to stay healthy and remain up to the job.
Meditation Is All About Getting Back In Touch
The bottom line with meditation is that it's all about getting back in touch with your relaxation core. This sounds great and everything, but what complicates it is that you are going to have to do it in a conscious and purposeful way. That's right. You're going to have it operate on purpose.
It's already operating. The problem is if you find yourself in a high-stress environment pretty much all the time, this internal process is going to face a lot of pressure. You're going to essentially wear it down.
It is no surprise that people often space out, or achieve a relaxed mental state on an erratic or sporadic basis. Wouldn't it be nice to consciously and purposefully tap that relaxation process based on your agenda and schedule? You have a lot more power over this relaxation core than you give yourself credit for. In fact, you have a lot more say in how your mind processes things than you realize, and believe it or not, people achieve meditative states quite a bit. It's unplanned, random, even the results are often erratic and unpredictable, but it does happen.
For example, have you ever talked to somebody, and in the middle of the conversation, you catch yourself drifting? From the eyes of the person that you're talking to, you would have that distant gaze in your eyes. It's as if you have entered a different state of mind. That is part of your relaxation core. If you were to explore that further, dig deeper and further, and trigger it on purpose, you would actually achieve a level of mental and physical relaxation that can be quite deep.
Meditation's Power Lies In Its Focus On The Present Moment
So, what is it about this internal self-correcting mechanism that all people already have? It really involves an interplay between the data that your mind chooses to perceive and how your mind acts on that data. These two things have to be present.
The good news is that meditation simplifies it quite a bit. Instead of you waiting for the right thing to happen at the right time, so you can feel and the right range of emotions that would put you in the right frame of mind, you just need to focus on the present moment. That's all you need to do.
Using the simple meditation techniques that I will outline in this book, you just have to wrap your mind around the present moment, and everything pretty much falls into place.
A deep sense of calm, relaxation and inner serenity will come over you if you practice these enough times. Of course, at first, you probably would have a pretty difficult time achieving that state, but the more you do it, and the more you try, the closer you get to achieving that state. It's easy to see why this is the case because when you focus in the present moment, the moment that you're in takes all your focusing energy.
Your thoughts take up less and less energy. There's no past to have regrets over, or feel guilty about. There's no future to worry yourself sick over. Instead, all you have is the present moment. All you have is the second of time that you're currently in. You live that time moment by moment, second by second by focusing all your mental and emotional processing energies on each and every passing second.
Why Meditate?
Just in case we're not on the same page yet, or you're kind of hazy as to why you even picked up this book. Let me tell you; people want to meditate because they want to get a handle on stress on so many levels.
Mental stress actually plays out on many different levels. It's not just about stress on your intellectual faculties. You're not just feeling pressure on how you think about things, and whether your decisions would be the right ones. While that is important there, there are actually a lot of other things going on.
One is your ability to maintain some sort of emotional distance between your thoughts and the decisions you need to make.
Other Details
- 5 Articles (DOC)
- 1 Ebook (PDF), 45 Pages
- 1 Salespage (HTML)
- 11 Ecovers (JPG, PNG)
- Promotional Ad Material (Banners)
- 4 Keywords List (EXCEL, DOC, PDF)
- Report, Cheat Sheet
- Year Released/Circulated: 2017
- File Size: 8,135 KB
License Details:
[YES] Can be sold
[YES] Can be used for personal use
[YES] Can be packaged with other products
[YES] Can modify/change the sales letter
[YES] Can be added into paid membership websites
[YES] Can put your name on the sales letter
[YES] Can be offered as a bonus
[YES] Can be used to build a list
[YES] Can print/publish offline
[YES] Can convey and sell Personal Use Rights
[YES] Can convey and sell Resale Rights
[YES] Can convey and sell Master Resale Rights
[NO] Can modify/change the main product
[NO] Can modify/change the graphics and ecover
[NO] Can be given away for free
[NO] Can be added to free membership websites
[NO] Can convey and sell Private Label Rights