Salespage Snapshot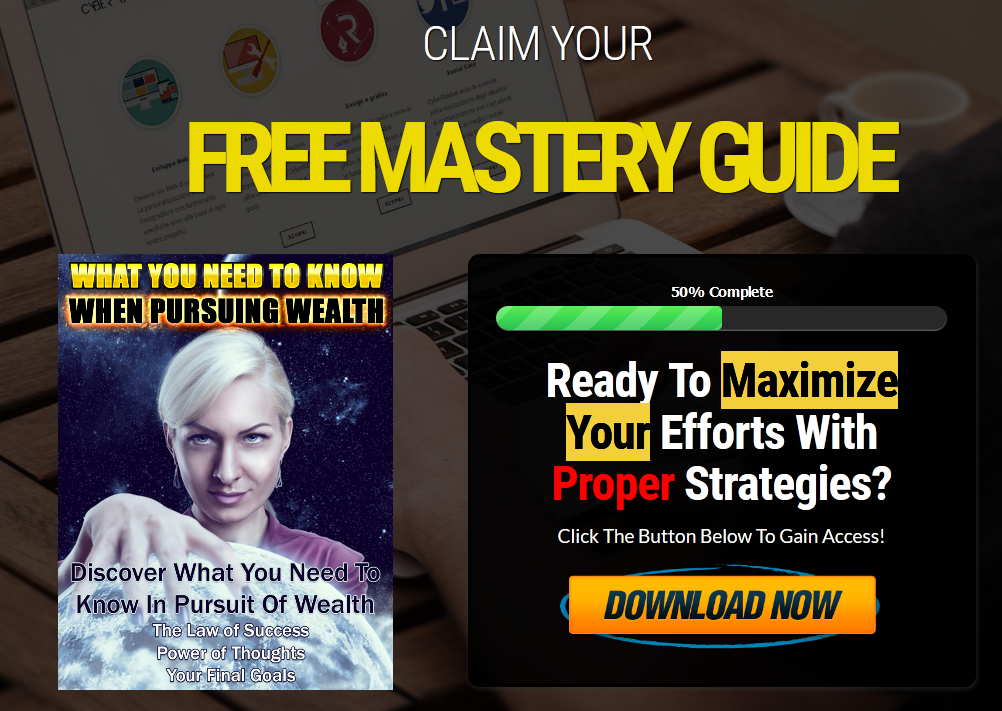 >> Click Here To View Sales Page...
Table of Contents
Introduction 7
The 5 Principles to Unlocking Wealth 8
It Can Never Happen? 9
Pursuing Wealth 10
Has This Happened to You? 11
The Ladder to Success 12
Formula to Success 15
The Basic Steps 16
Steps to Personal Wealth 18
Achieving Your Goal 19
The Keys to Success 20
The Power of Thoughts 23
Factors that Bring Inertia 26
The Risk Factor 28
What You Must Avoid 30
The Inevitable Mistakes 33
The Law of Success 35
Time to Learn Who You Are 37
The Need for Change 38
Understanding Failure 40
The Final Goal 42
Paving Your Path to Success 43
The Law of Prosperity 46
Power of Words 48
The Power of Unconditional Love 50
Conclusion 52
Sample Content Preview
As far as your theme/subject matter is concerned post questions, polls, surveys, and determines what people are looking for, and then simply find the need and fill it.
Every little will help, but it is the force required to get the momentum going and that is the key point. Another useful point is not to just try, try and to continue trying – instead develop an attitude whereby you DO the thing you have decided to pursue, implement and apply the strategies shown in this book.
Finally do not just stop at that – keep faith and do not yield to any defeat. Once you have decided to put the 'plan' into action, make sure that it is kept ignited and glowing…rejections and disappointments should in no way curtail your hope, progress and your desire to success. People who have succeeded despite all the hardship, pain and struggle have inspired countless millions around the world – it is time you too set an example for others to follow in your footsteps.
You must remember that the methods employed by different individuals in procuring wealth may be distinct, but the goal is common to all, and the steps spoken of earlier are in effect your tools to your overall success.
Very strong willpower is needed in order to develop internally, and the need for two most important attributes, namely courage and confidence are essential ingredients. Thus poverty and prosperity does not necessarily depend on knowledge wholly (e.g. business acumen, marketing strategies and so on) but it certainly depends on the three C's and they are character, creativity and your innate capabilities.
Courage and confidence alone can bring about unique transformation while the opposite will only bring much sorrow and despair in times of distress and crisis. However, despite life's problems we should resist obstacles and hindrances and as such constantly remind ourselves of the supreme inherent or innate power which we all posses and which we can all successfully develop through spiritual insight. Thus ignoring our abilities and potential for developing the personal power that we need for going through ego-breaking experiences requires immense fortitude and discipline, and I explain to you in this book on how you could achieve all this here and now.
Without these qualities you are destined to fail, and that is the reason why a large portion of people feel despondent because they got into competition or they simply gave up under pressure, through lack of self-courage and dynamic willpower.
When our fantasies and expectations are not fulfilled, there is a tendency for us to revert to our old ways – the hollowness we experience can be most annoying and we cannot ignore it forever. A lot of the time what exactly happens is that whatever good we undertake in life, it does not mean we will continue. This is not because an impossible discipline is required but because we lack courage and confidence we are overwhelmed with negative attitude – this is what stops everything in its tracks!
The initial burst of enthusiasm begins to fade, and what seemed so wonderful becomes a peril a dilemma and a problem. The mind takes over and questions surmount raising doubts after doubts whether the whole idea or concept is worthwhile – a conflict ensues, the mind says the one thing and the intellect and our intuition urges us to follow the path to 'success'.
Even before we begin the journey the end is imminent, because we are undecided what true path to follow. Success lies in what you make of it not what you 'think' it ought to be (do not fantasize success).
So how can we get started?
Formula to Success
What you think and how you then act is the deciding factor that will help you discover the goal of success. These two attributes are important together with a set of consistent principles, which you follow through. Thoughts based on reason are a powerful catalyst to start any reaction, and once you set off, you will soon realize that courage is the simple virtue needed for a human being to traverse the rocky road.
Obstacles are natural, and they are a means to the source of acquiring wealth, as I am sure you will agree. Persistence, patience and perseverance will have to be practiced religiously to reach the goal and to overcome the obstacles. Of course that said, I would now like to point out the P's that you should frown upon.
Do not procrastinate, do not pretend that you know it all and finally do not prolong your 'venture(s)'. Be prepared to fight the stumbling blocks that may confront you, but pursue your goal and allow your potential willpower to predominate.
In any situation in life, it is unequivocally important to remain level headed, despite all the 'ups and the downs' that we are likely to face. Remember life is dualistic by nature – the obverse and the reverse sides of the same coin to put it simply. I am compelled to add that though we know that the past is the
cause and the present is the effect, it is self evident that with time the present itself becomes the cause with reference to the future.
There is a very deep meaning embroiled in this syntax, and if you can relate this to success, then it can be said that if we intelligently live in the scientific self-discipline, we can become the architects of our own future.
Other Details
- 1 Ebook (PDF, DOC), 55 Pages
- 1 Squeeze Page (HTML)
- 2 Ecovers (PSD, PNG)
- Year Released/Circulated: 2022
- File Size: 132,990 KB
License Details:
[YES] Can be sold
[YES] Can offer Resell Rights
[YES] Can offer Master Resell Rights
[YES] Can resell Private Label Rights
[YES] Can be edited
[YES] Can put your name as the author
[YES] Can be broken down into articles
[YES] Can be used as web or e-zine content
[YES] Can be added into membership sites
[YES] Can be sold in any format
[YES] Can be packaged
[YES] Can be offered as a bonus
[YES] Can be sold on auction sites
[YES] Can be published offline
[YES] Can be given away (in any format)